---
The Most Romantic Spots Around Sunset Beach, NC
Posted On Monday, January 13, 2020
---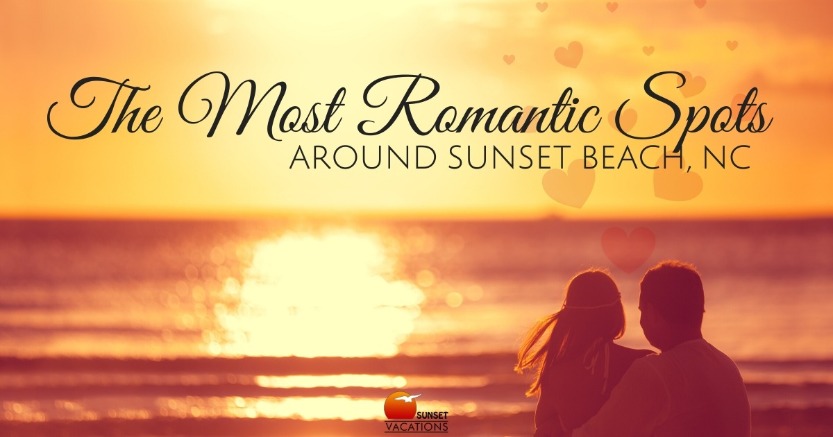 The beach is always a great place for romance. Between the beautiful views, the calming landscape, and the vastness of the ocean, a vacation to the shore can give your relationship a boost.
Here in Sunset Beach we have several spots that will enhance your romantic vacation. Are you on a trip with your whole family? See if you can steal away for a minute away from the kids. Even a quick look at the sunset while the kids play under the pier can bring romance to a whole new level.
Here are our picks for the most romantic spots around Sunset Beach. How many will you check off next time you're in town?
The Sunset Beach Pier.
The pier's website says it all: "Take a stroll to the end of our 900 feet long pier and look back at the distant beach with a whole new perspective. At high tide you'll be amazed just how far you really are from the thundering surf. It becomes almost silent as if you were floating on a sailing ship."
Open the first Saturday of March through the Sunday after Thanksgiving.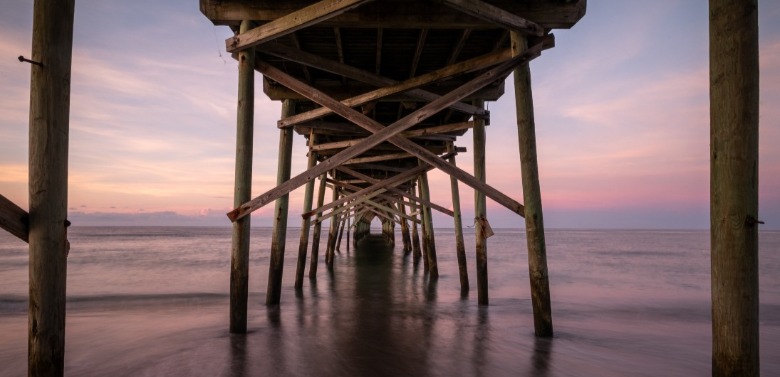 A romantic restaurant.
The best date night usually involves going out to eat! Trying new foods in a beautiful new atmosphere (and not having to do dishes) is one of the greatest way to spend time together as a couple. Try the Parson's Table in Little River, with local specialties like Fried Green Tomatoes and She Crab Soup. We also like Roberto's Ristorante (in Ocean Isle) or La Cucina (right here in Sunset Beach), because what's more romantic than decadent Italian food in a warm and inviting setting?
Trying a new sport or activity.
It's true.... trying something new together can bring you closer! It could be something like taking a cooking class, learning to paddleboard, or renting bicycles to explore Sunset Beach. In a previous blog post we listed some of the fun adventures to be had here, like renting a kayak, fishing, visiting a lighthouse or taking a boat for a spin. Read all about how to have a great adventure in Sunset Beach here.
The Kindred Spirit Mailbox.
If your idea of romance includes a long walk on the beach, ending in a mailbox filled with mysterious messages, then you will love the stroll to Bird Island. You have probably heard about the famous Kindred Spirit mailbox if you have been visiting Sunset Beach (or reading this blog), but have you ever made the trek yourself?
Getting to Bird Island is easy... just drive to the intersection of 40th & Main St. (in Sunset Beach). There should be some parking available near this spot. Find the 40th St. beach access and turn right. Follow the beach until you reach signs indicating the boundary of the Reserve. From there, you can explore the beach and find the Kindred Spirit Mailbox.

Then, write out a message of your own, or simply read through the musings of those who have arrived before you.
The Silver Coast Winery.
This little winery is perfect for a romantic day out since it's open all year round. Stop in for a tasting, or just get a glass of your favorite pour.
Click here for a schedule of events and happenings at the winery.
Open every day from 12:00 pm - 5:00 pm (on Fridays they are open until 6:00 pm)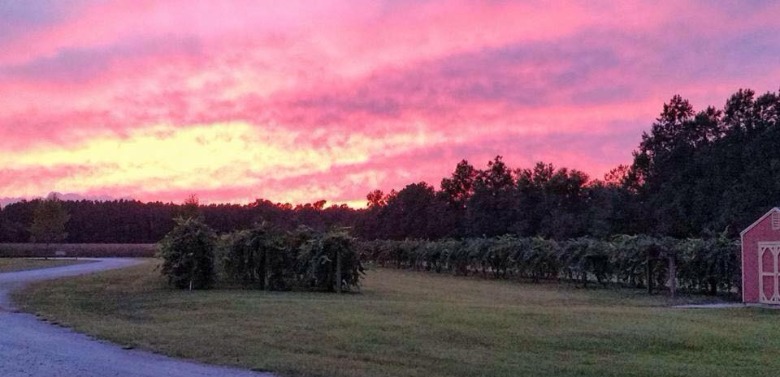 On horseback in Myrtle Beach.
Ride horses on the beach year round with
Inlet Point Plantation Stables
. They offer a couple of different options depending on your budget, skill level, and sense of adventure. For $60/person, you can enjoy a "Waterway Trail Ride", or if you want to ride on the beach you can opt for the one (or two) hour oceanfront rides on Waites Island. This place gets fabulous reviews for their knowledgable and caring staff, not to mention the sweet, gentle horses. You will love their special touches, including the option to purchase photographs from your day and a delicious ice cream treat when your ride comes to an end.
Reservations are required! | Phone: (843) 249-2989
InletStable@gmail.com | 5800 Highway 236 • N. Myrtle Beach, SC 29582
The swings at the Sunset Beach Waterfront Park.
Situated on the Intracoastal Waterway, the Sunset Beach park is the perfect place to watch boats float by or enjoy a sunset. Dotted with beautiful oak trees, this park is known for its porch-type swings along the shoreline. Additionally, the park often hosts events like concerts and the Summer Market (Thursdays from May to October).
A picnic on the beach.
If the day is warm enough, grab a blanket, some simple picnic foods (cheese, crackers, fruit, sandwiches from the grocery store deli, chocolate, and wine) and plop yourself down in the sand for a romantic picnic. If you don't feel like pulling together a collection of grocery items for your picnic, just get some takeout from a local restaurant or deli. The key is to keep it easy going and romantic, not stressful. Then you can focus on the beauty of your surroundings (and each other).
Your Sunset Vacations rental home.
This is it. The most romantic spot on Sunset Beach! Your vacation rental becomes your own private sanctuary while you are on vacation. By choosing a vacation rental home instead of a hotel, you have chosen to enjoy complete privacy. You don't have to share an awkward elevator ride with hotel guests, or hear kids running up and down the hallways late at night (well, unless they are YOUR kids). Keep your favorite bottle of wine in your rental fridge, watch whatever movies you want on TV, and spread out so you don't drive each other crazy. Now THAT'S romantic. 🌹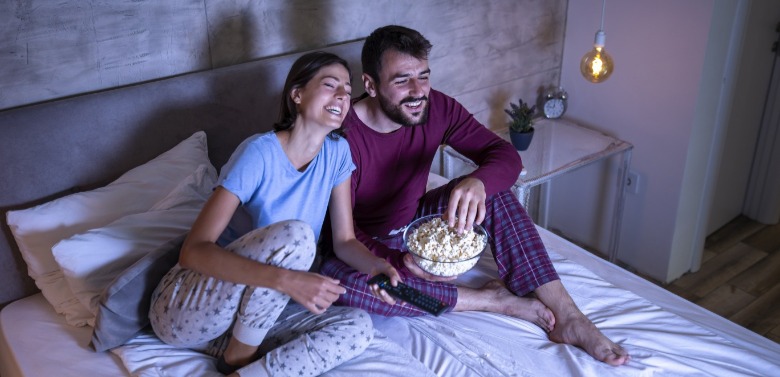 It's true that Sunset Beach is most referenced as a family-friendly destination for vacations, but we hope this blog can guide you through a trip to the beach that is filled with romantic moments, gestures, and connection.
Want even more ideas about how to make Sunset Beach your romantic vacation destination? Read our previous blog post, "How to Have the Most Romantic Getaway on Sunset Beach."
If you are ready to start planning, get in touch with us here at Sunset Vacations. We can get you started on your most romantic vacation yet.
What's your favorite romantic spot in Sunset Beach?
Share it with our readers!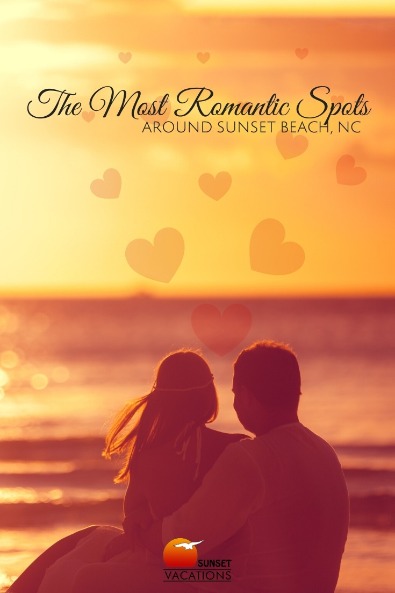 Comment on this post!