---
The Best Meals Before and After Your Holiday Celebration
Posted On Monday, December 17, 2018
---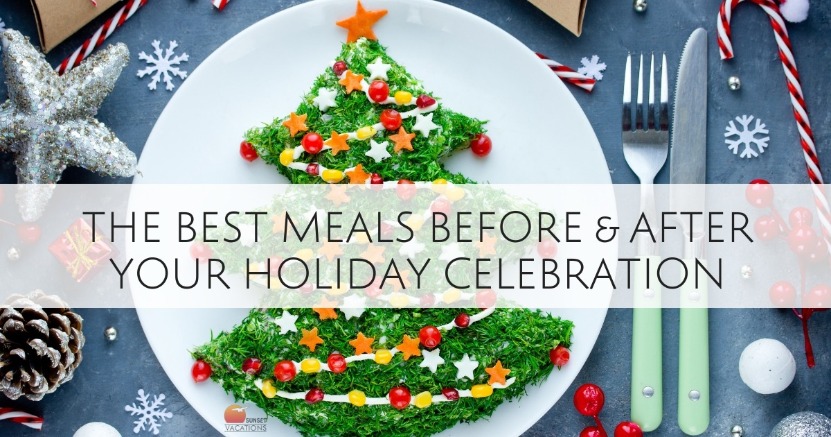 Sometimes it feels like holidays are more about F O O D than anything else! What to cook, what to bring to the neighbors, what to have on hand for when the family comes into town, and what to do with all those leftovers.
It's all fun and games until your pants don't fit and the kids are tired of eating weird casseroles! Do yourself a favor and plan out a few simple meals to serve before the big holiday meal, and a few to have on hand afterwards.
We think there should be four components to any meal you prepare before or after a big holiday feast:
Meals should be...

...quick and easy to clean up:
We don't want to be doing a ton of dishes at this point. We might even bust out the paper plates.
Honestly, we don't even want to follow a recipe! Meals should rely on just a few ingredients that we probably have on hand.
...made with lighter ingredients:

Save the heavy roasts, sauces and cheese-laden veggies for the main holiday meals.
Meaning...you should be able to use leftovers to make it, or it will provide yummy leftovers after you make it. Either way, you just made your life easier.



We have complied a
pin-worthy
recipe roundup of easy recipes that will hopefully tick most of these boxes.
This recipe is easy, delicious, and relatively healthy (just ignore the fact that you add butter and cream). This soup is even better the next day so we usually double the batch. Also, if your kids hate "chunks" in their soup just give this a whirl with an immersion blender for a smooth, creamy consistency. Don't forget the grilled cheese!
This salad is light and easy to prepare but also suitable for your holiday table if you are so inclined. It includes favorite holiday fruits (pears & dried cranberries) and nuts are always a great, crunchy addition. We also like this salad made with creamy goat cheese instead of feta, or pecans to replace the walnuts. Store-bought poppyseed dressing is fabulous on this salad (try Ken's).
Thanks to Onion Rings and Things for this recipe.

If you have had to entertain at all this month, you probably purchased a bunch of items you don't normally have on hand, like fancy olives, luscious cheeses, delicious Italian salamis and fancy crackers. That sounds like a great meal to us! If you don't want to cook one night, just put this out there and your family will love grazing on these unique offerings. Add fruits like apricots, pears and berries for color and sweetness.
You can seriously just grab random stuff out of your refrigerator, mix them all together with some eggs and cheese, and have yourself the most amazing meal you never expected. A frittata is a one-pan meal that is a cinch to put together. We are linking you to a recipe that calls for salami, artichokes, tomatoes and mushrooms, but you can use ANY veggies, meats or cheeses you want. It's magic!
Thanks to All Recipes for this recipe.
Sandwiches are often overlooked as a dinner option but when you break it down, they have all of the components of a well-rounded meal! These would go especially well with the tomato soup listed above. Meat lovers could add bacon to this sandwich for some crunchy saltiness. Otherwise, it's a great vegetarian option (especially if you add some avocado).
Sheet pan meals are kind of a thing right now, and for good reason. Preparing your entire meal on one pan is pretty awesome, clean-up wise. You can chop up your veggies for this recipe ahead of time (and just look at those beautiful fall vegetables like brussels sprouts, sweet potato and garlic). This meal is healthy, easy, and would be great the next day, too.

Thanks to Some the Wiser for this recipe.

Will you be visiting Sunset Beach this winter? Or perhaps you have already booked your trip for this summer? It just occurred to us that these meals would also be perfect to prepare in a vacation rental! Since they don't require any special appliances or fancy ingredients, keep these ideas in your back pocket for your next vacation.
Comment on this post!