---
5 Cheap Day Trips That Will Add Value To Your Sunset Beach Vacation
Posted On Monday, August 6, 2018
---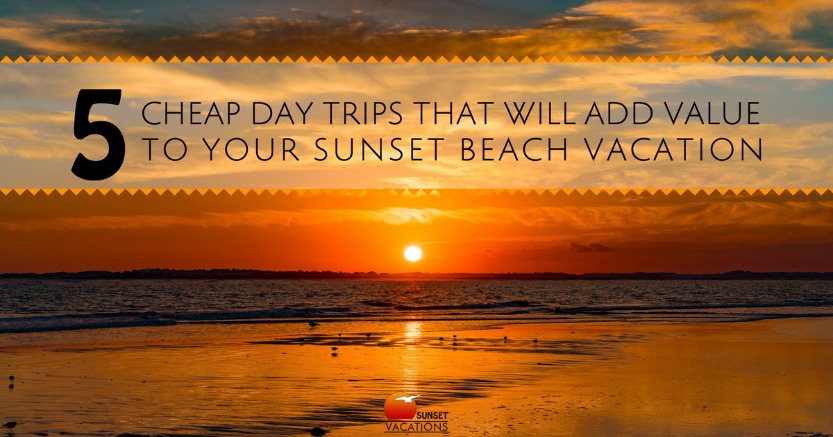 There may come a day during your Sunset Beach vacation when the members of your group decide to tell you that instead of going to the beach, they want to "do something else." If and when that happens, don't panic! We've got you covered for ideas that you can use to effectively solve that vague and inevitable dilemma.
Be prepared to dazzle your crew with your quick thinking by reading through our list of five cheap day trips that will add value to your Sunset Beach vacation!
Battleship NORTH CAROLINA
Battleship NORTH CAROLINA is one of the state's must-see attractions! Commissioned in the spring of 1941, this beast of a battleship played a major role in maritime operations during the Second World War. Despite only serving the military for just over six years, this marvelous watercraft and the men and women who served aboard her earned multiple honors and wartime distinctions.
This trip will appeal most to history buffs, engineering enthusiasts, and people who love exploring interesting places. The battleship is open every day of the year (including holidays!). Tickets are required to board the ship.
NOTE: This activity does involve some amount of walking and climbing. The attraction does have an option for guests with limited mobility concerns.
NC Aquarium at Fort Fisher
Sea turtles and albino alligators and hammerhead sharks - oh my!
While this day trip is the longest of all in terms of travel time (about an hour and a half), it is well worth the effort to take a trip to the North Carolina Aquarium at Fort Fisher. This experience also includes the cost of tickets, but the reasonable price you pay for admission includes hours of enjoyment through activities such as hands-on exhibits, educational programs, and seasonal displays.
Visitors young and old will be delighted by the creatures they discover both in - and out! - of the aquarium's tanks.
Myrtle Beach Pelicans
The sports lovers in your group will not want to miss out on the opportunity to catch a baseball game in the stadium recently voted as "South Carolina's top ballpark experience!"
Ticket prices to these games can vary in cost. Military members, locals, and first responders may all receive preferred pricing, and the club often offers promotions and other discounts. Large groups (15 people or more) can also qualify for reduced ticket prices.
You could even win four tickets to a game if one of your smallest sweeties is selected as the Tire Town Play Ball Kid!
Barefoot Landing
There is something for everyone to enjoy at Barefoot Landing in North Myrtle Beach!
Touted as "South Carolina's premier waterfront shopping, dining and entertainment destination," Barefoot Landing is a retail and activity complex not to be missed. The serious shoppers in your group will find everything from high end merchandise to great deals. Those folks looking for a great show or something fun to do can wander into one of several venues. The excellent restaurant choices in the area will leave the foodies in your group debating the "best" place to eat. And finally, the people and nature watchers in your crew will rejoice in Barefoot Landing's excellent incorporation of places to just sit and relax and witness the beauty and diversity of the local area.
In fact, Barefoot Landing may end up being a place that you come back to more than once during your trip!
Lake Waccamaw State Park
It doesn't get much cheaper than free, and that's exactly what our final day trip suggestion costs!
Camp, hike, picnic, boat, swim, or fish - you can do it all in Lake Waccamaw State Park! Their website explains: "A visit to Lake Waccamaw State Park unveils one of the most unique bodies of water in the world and one of the greatest geological mysteries - the phenomenon of Carolina Bays with species of aquatic life found nowhere else. A 700-foot boardwalk reaching into the shallow, tea-colored water accommodates wildlife viewing and fishing, and more than seven miles of trails allow hikers to explore multiple ecosystems and rare plants. Fifty-two species of game and non-game fish are at home in Lake Waccamaw. Camping is primitive at five hike-in group sites (one of which is a yurt tent), and a boat ramp allows lake access for paddlers and small boats. A visitor center with exhibit hall and free interpretive programs explore the region's diverse natural and cultural history."
Lake Waccamaw State Park also offers free educational events and programs. Call the park office at 910-646-4748 between the hours of 8:00 a.m. and 5:00 p.m. daily for more information.
Choose one or all of the cheap day trips listed above to enhance your already awesome Sunset Beach vacation! We've also listed even more ideas for fun things to do near Sunset Beach here.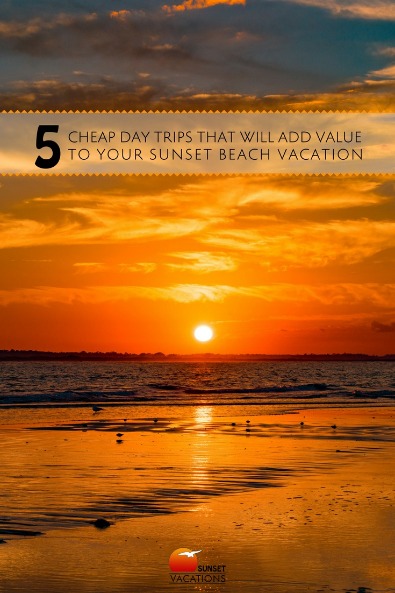 Did you have a great day trip? Yay you! Help your friends have a fun day too by SHARING this post with them on social media.
Comment on this post!