---
Family Friendly Games to Play On Your Next Beach Vacation
Posted On Monday, March 11, 2019
---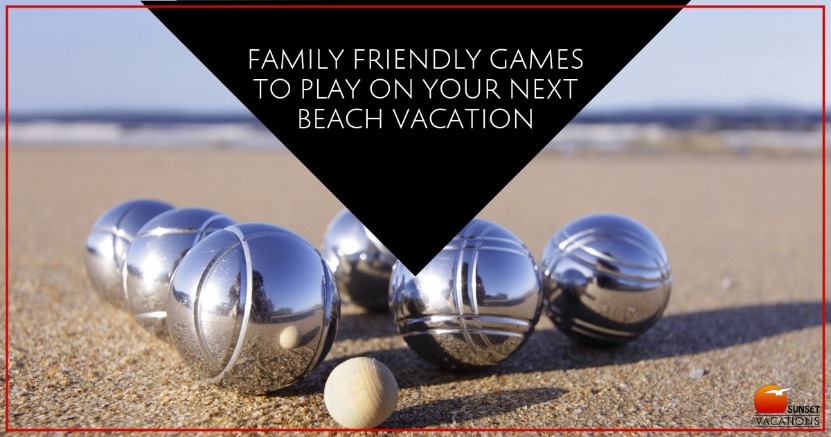 Playing a game with your family or friends is one of the best ways to ensure laughs, fun, and memories. Games are super budget-friendly to boot, so if you are searching for an activity for your next vacation on Sunset Beach, consider lining up a few games.
We are going to list a variety of games below. Some are ideal for the beach (or the lawn of your vacation home), while others are great for those lazy nights at home after a long day in the sun. Making memories together doesn't need to cost a fortune. Kids love hanging out with you and we think a simple game is a lovely way to spend an evening!
If you have an active crowd, you will love these simple and fun choices that are perfect for the beach. While you might be happiest sitting under your umbrella and the kids could play in the waves all day, there is something to be said for bringing everyone together outdoors. If you choose to play during the day, please don't forget lots of sunscreen and a hat! These games are also ideal for those peaceful evening hours when the beach quiets down and the sun is starting to set.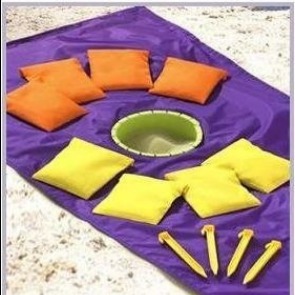 Sandhole
If you love Cornhole but can't bring your large, heavy boards from home, consider this lightweight alternative!
Sandhole is the exact same thing, except you dig a hole in the sand instead of using a board. Players receive three points for getting the beanbag in the cup, and one point for getting it on the mat.
Easy and fun!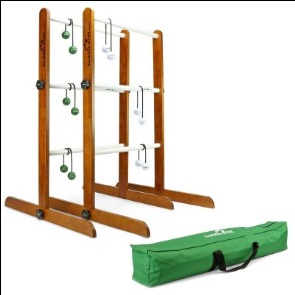 Ladder Golf
Another classic yard game that works really well on the beach, the rules are simple:
Toss a "bolo" (which looks like two golf balls tied onto a string) towards the 3-runged "ladder". You get three points for hooking your bolo on the top rung, two points for the middle, and one point for the bottom. Taking turns, you might knock your opponent's bolo down (which is part of the fun)!
See official rules here.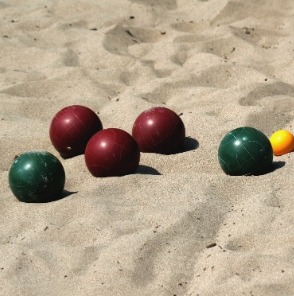 Bocce
Channel your inner elderly Italian man and play this centuries old game. Grab 2-8 people and the object is simple, get your balls closest to the "pallina" without going out of bounds. Fun for all ages. See official rules here. We found a "soft" version of Bocce that would be good for the beach because it's lightweight to carry and perfect for little ones to manage!

Don't ever underestimate the simple fun that a frisbee, volleyball, soccer ball or beach toys can bring, too. You might even find some of these classic toys at your vacation rental so feel free to borrow them for the day. You can also pick up toys at our beach supply stores or even the local Walmart in Shallotte.
You have enjoyed a nice, long day on the beach. Perhaps you went fishing, or indulged in a day trip to Myrtle Beach or Wilmington. You can still feel the sun on your skin, and you have already enjoyed a cool shower and delicious meal.
One you are settled in at your awesome Sunset Vacations rental home, how can you pass the next few hours with your family that doesn't involve everyone sitting on their phones or iPads? A game is the perfect answer. Here are some of our favorite, family-friendly games that might surprise even your eye-rolling teen … they are that fun!
Which game you choose will obviously depend on the ages of your kids and their relative attention spans. If you have really little ones, your options might be limited to Go Fish, Candyland or if you are feeling brave, something like Pie Face!
Once the babies are in bed, it's time for some fun with the older children. Elementary-aged kids will love simple games like Dominos, Suspend, or Jenga. We also love card games that are easy to travel with, especially if you are trying to pack something from home. Try Exploding Kittens, Sleeping Queens, or just grab a regular deck of cards and the choices are endless! "War" is surprisingly addictive and fun if there are just two of you, and you can carry on a conversation while playing.
Some other classics that we love to play with middle schoolers or high schoolers include Taboo, Catch Phrase, or Head's Up. Pictionary and Charades are some other awesome party games that you may have forgotten about! No special equipment needed (except paper and pens).
Here are a few newer games that are worth a try, according to their Amazon reviews: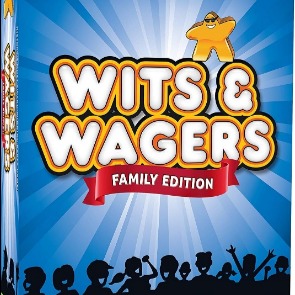 Wits & Wagers
Suitable for ages 6 and up and only requiring three players, this is a nice option for younger kids. "Wits & Wagers Family Edition brings history's most award-winning party game to the entire family! Now, the parents are finally the underdogs! Do you know the average number of times a person blinks each day? Of course not – and you don't need to! That's the fun. No one knows the answer."
If your kids really like things like Ripley's Believe it or Not facts or those awesome "Weird But True" books, they will really like this game! The family edition is very simple and kids can even play together (no parents needed).
It's In The Bag
This game is described as "Charades on steroids". "1st Round: Describe the word. 2nd Round: Describe the word using only one word. 3rd Round: Act out the Word!" Reviews promise that you will love this game, even if you aren't really comfortable acting out traditional Charades.
It's In the Bag is easy to play and pretty good for all ages. Players insist that the best part isn't the actual game, it's laughing at the reactions of your teammates as you try to get them to guess your word.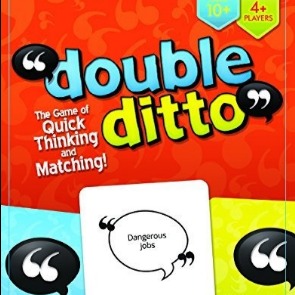 Double Ditto
Easy to play right out of the box, Double Ditto is great to play with a group of people (perfect for your home game night, too). "Pick a card, read it out loud, and then quickly write down 2 answers you think other players will also write."
For example, your card might say "Foods that are slimy" and you write down two things that fit that description. Then you go around and see who wrote down the same things. Reviews say that it's best for ages 8 and up, but smaller children could play with some help! Ideal for groups of 6 or more.
More Ideas For a Great Night In
Try a puzzle
Feeling less competitive but still want something fun to do as a family? Grab a bowl of chips and sit down to a puzzle. There is something so calming and satisfying about putting together a puzzle, and some wonderful conversations can happen when you aren't even expecting it. Keep the puzzle going on an out-of-the way table and you might be surprised how often people are drawn to it, just craving a quiet moment.

Download an App
Try some of these games on your phone. We know, the whole point of Game Night is to put the devices away, but there are actually ways to make your devices work with you, not against you. Here are a few games worth downloading before your next trip:
Play some tunes
In our family, we sometimes fight over what music we will listen to. The husband wants something from an 80's hair band, mom wants early 90's pop music, the tween just doesn't want anything "lovey dovey" and the little one wants the Disney soundtrack. To combat this, we like to create a playlist with a little bit of everything. You can do this using Spotify or Apple Music, and try to include something for everyone. Put it on shuffle and enjoy the fun of seeing what pops up next. Nothing like hearing Ariel sing "A Whole New World" right after Guns & Roses! Music is a great background for your game night.

Snacks Matter
Don't forget food for your game night. If you are already planning on staying in for the evening, keep it simple and eat at home (read our Meal Planning blog for some inspiration). Grab a few groceries from the local store and take a night off from expensive restaurants. Put some yummy chips or m&m's on the table and enjoy the best night your family has had in a long time!
What is your favorite choice for family game night?
Share it in the comments!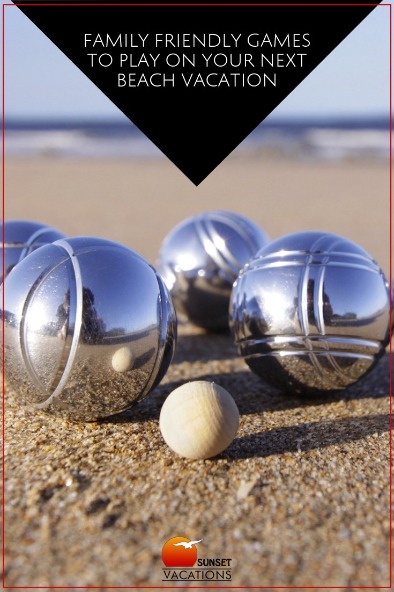 Comment on this post!