---
Did You Know You Can Rent That?
Posted On Monday, March 18, 2019
---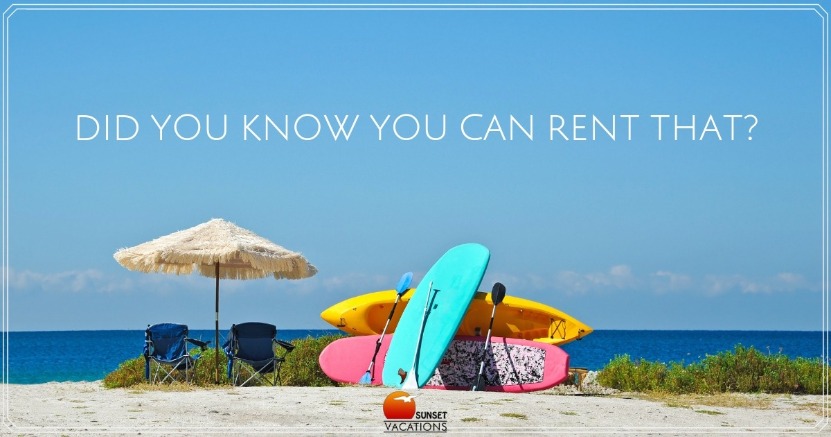 Packing for a trip can be the most stressful part! There is so much to consider, especially when you are going away for a week or more. A beach vacation is no exception. You need to think about meals, clothing, medications, toiletries, baby items, sports equipment, games and so much more. Then there is the matter of fitting it all into the car or luggage!
We wanted to let you know that there are ways to make this a little easier on yourself, especially when you travel to Sunset Beach, North Carolina.
Sunset Vacations can put you in touch with several local businesses that offer rental services, especially for larger items that you can't feasibly bring from home (like a kayak). Read on to learn exactly how to rent bikes, kayaks, paddleboards, and more.
6 Beach House Essentials You Can Rent:
1. Linens
Most vacation rental companies require you to provide your own sheets and towels, and Sunset Vacations is no exception (read more about what to bring). If you don't want to worry about bringing all those linens, try renting them.
Sunset Vacations will work with the linen rental company by giving them access to your rental, and you can arrive to a vacation home already set up with fresh sheets and towels. Or, you can simply have them delivered and make the beds yourself.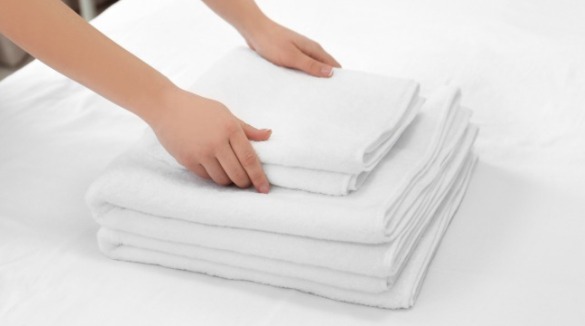 2. Baby Items
Why do the tiniest humans require the most stuff? Before you know it, your SUV or minivan will be at capacity with a highchair, pack & play, baby gates for the stairs, not to mention the stroller.
Save room in the car and rent these items for the week. If you are flying into Sunset Beach, you definitely need to take advantage of this! It's also great to know that you can rent this important kid gear in case you forget anything. Call Patricia Reed at
Baby Quip 910-880-5327
3. Beach Gear
Several local companies allow you to rent large items like beach chairs, umbrellas, coolers, beach wagons, utility carts, and life vests. You can even rent a beach wheelchair with huge wheels to help make the beach accessible to everyone in your group!
For the ultimate splurge, consider a "Beach Setup" from a company like Vacation Equipment Rentals. They will deliver your beach gear, set it up, and take it down each day. Yes, it's pricey but will make your beach vacation so much more indulgent.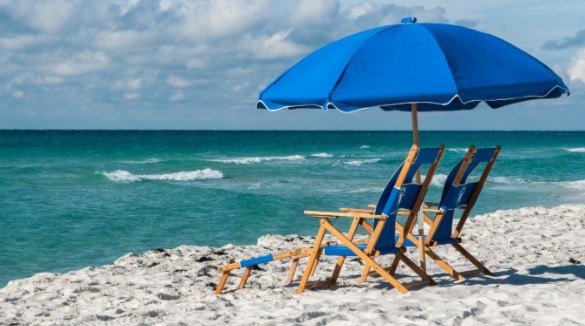 4. Golf Carts
A golf cart is such a fun way to explore a town like Sunset Beach! Several companies provide golf cart rentals. Rentals are available to those 21 years and older with a valid driver's license. According to the Sunset Beach town website, "Golf carts may only operate on roads with speed limits designated under 35 mph, but may cross over a roadway that is of a higher speed." It's nice to leave the car in the driveway of your vacation rental and just use the golf cart to get around.
5. Bikes
Renting a bike is another great way to explore the area! Go grab an ice cream, zip between the rows of pretty vacation rentals, and leave the car behind.
There are a lot of bicycle options that you might not have thought about, like an adult bike with a trailer for the kids or a trailing "tag along" bike for an older kid... mine have always wanted to try a "bicycle built for two".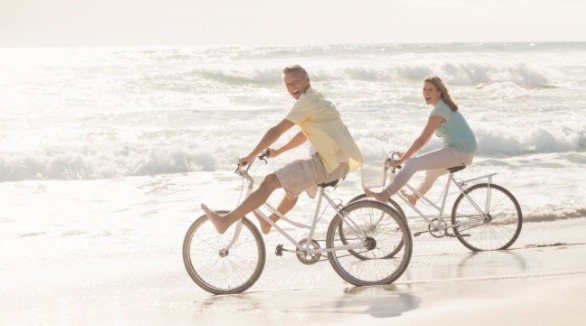 6. Kayaks, Paddleboards Jetskis & more...
Ok, this is where it gets really fun! There are so many exciting options for gear rentals on Sunset Beach. Kayaks (double or single), Stand Up Paddleboards, Boogie Boards, Surfboards, Jet Skis, as well as any safety equipment you might require. You can also charter a fishing boat or just rent a fishing pole for the day.
Check out Vacation Equipment Rentals or Julie's Rentals for these items.
And, here are a few more spots that will help you out (thanks to the awesome website, www.ncbrunswick.com for these resources!):
☀️ Blue Planet Watersports
7156 Beach Dr
☀️ Mr. Beach Rentals
910-250-9960
www.mrbeachrentals.com
Bike, Kayak, Surf & Stand-Up Paddleboard Rentals, Beach Equipment Rentals, and more. Free Delivery to Oak Island, Southport, Holden Beach, Ocean Isle Beach, & Sunset Beach.
☀️ Ocean Isle Fishing Center
65 Causeway Dr
Ocean Isle Beach, NC 28469
910-575-3474 or 910-616-4754
www.oifc.com
Boat & Jet Ski Rentals
☀️ Salty's Surf Shop
12 E First St
Ocean Isle Beach, NC 28469
910-579-6223
www.saltyssurfshopoib.com
Bike, Kayak, Stand-Up Paddleboard, Surf, and Beach Equipment Rentals
☀️
Julie's Rentals
(910) 579-1211
www.juliesrentals.com
Beach gear, baby items, golf carts and a fleet of rental bicycles.
CARE Linen Services
(910) 619-7190
Here you can rent sheets, pillows and bath towels as well as beach chairs, coolers, and a beach umbrella. Rental prices are for one week at a time, and they will deliver to your vacation rental with a minimum $20 order. They also offer a bed-making service, so that you can take one thing off your to-do list upon arrival.
If you are renting a very large beach house with lots of beds and people, it might be worth splurging on their Vacation Linen Rental Package, which will include enough sheets and towels for the entire house.
Vacation Equipment Rentals
(910) 575-2700
6741A Hwy 179 Ocean Isle Beach, NC 28469

They have a little bit of everything to rent, in particular, awesome gear for families like beach strollers, bikes with an attached kiddie cart or child seat, tandem bikes, baby gates, cribs, and more.
They also rent out cornhole games, bocce ball or ladder golf, beach chairs and umbrellas, golf carts, grills... the list goes on and on. They provide every service, including delivery and setup for an extra fee.
Definitely the go-to for all your rental needs.
Brunswick Golf Cart Rentals
(910) 512-4561
These guys stay busy so if you want to rent a golf cart, reserve it early! The only thing they rent are 4 passenger Street Legal golf carts. The cost is $350 per week from Saturday to Saturday, or $85 per day with a 3-day minimum. The golf cart is dropped off to you on Saturday morning all cleaned and charged, and is picked back up the following Saturday morning.
Julie's Rentals
(910) 579-1211
424 Sunset Blvd S.Sunset Beach, NC 28468
Julie's has everything you need to complete your vacation, like beach gear, baby items, golf carts and a sweet fleet of rental bicycles.
Julie's is located right on Sunset Beach and they will take great care of you!
As you begin planning your next Sunset Beach vacation, unload some of your work and worry by researching these amazing options. Renting items like linens, towels, beach chairs and baby gear will save you space in your vehicle and ease your workload as you make your way here. After all, that is what vacation is all about. If you have any questions about rental items or anything else, please contact our helpful staff here at Sunset Vacations. Our goal is to make your vacation as fun and worry-free as possible!
Ready to book?
Browse our available rentals now, because they are going quick!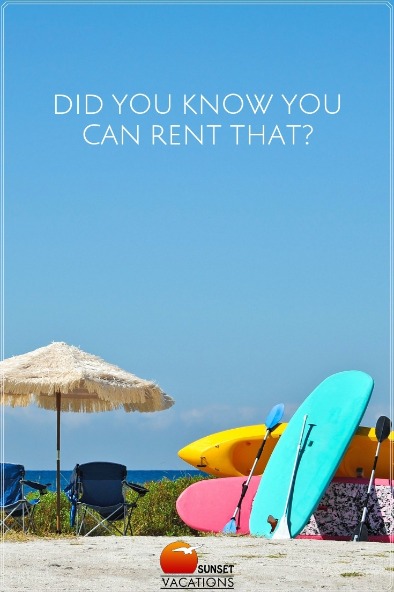 Comment on this post!