---
6 Exciting Bicycle Rides You Can Take Around Sunset Beach, NC
Posted On Monday, January 23, 2023
---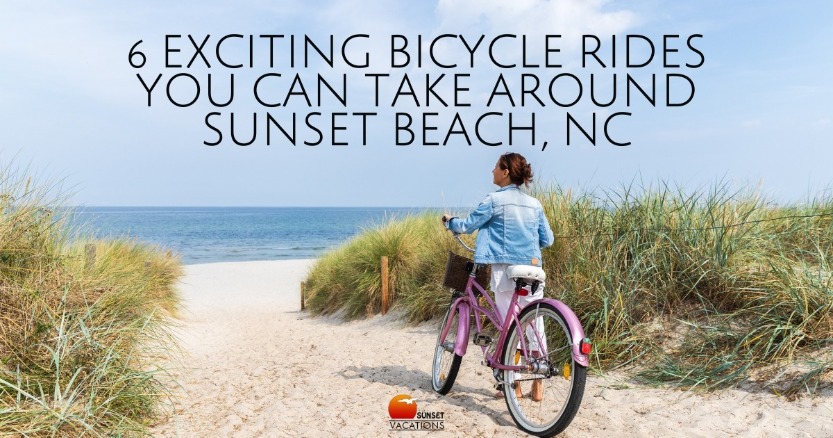 6 Fun Places to Ride Your Bike!
If you're looking for great places to ride bikes around Sunset Beach, NC, this blog gives you great ideas! Here are six great ideas to get you out into fresh air and nature while riding your bike on vacation. It is a great activity the entire family will love!
And if you're looking for the perfect vacation rental on Sunset Beach, we have many gorgeous properties for you and your family. We offer stunning views, convenient locations, and all the comforts of home. Browse our properties and reserve one today!
1. Sunset Beach Fishing Pier
During the summer, you can take a sunrise ride to the Sunset Beach Fishing Pier, where the sun mesmerizes you as it rises over the gorgeous landscapes and vast ocean. It is a spectacular view from the beach or on the 900-foot-long pier.
After the magnificent show from nature, you can explore the pier and learn its history on a self-guided walking tour. Or you can check out their store, billiards, jukebox, and bar and grill. It's a great place to catch lunch after a morning exploring the area!
2. Visit Bird Island Reserve
Bird Island is a small barrier island near Sunset Beach. You can get there by the boardwalk beach access on 40th street. Visiting on your bike is a wonderful experience that gets you out in nature to enjoy the beautiful scenery. It's a popular spot for birdwatching and nature photography, with all the vibrant bird species that thrive there. It is also home to Loggerhead turtles. Be sure to take care if you happen to see any!
3. Kindred Spirit Mailbox
The Kindred Spirit Mailbox is a small mailbox located on the beach near the town of Sunset Beach. There are many theories about who put the mailbox there, but it is a world-renowned spot near Sunset Beach. Many people leave messages and trinkets in the mailbox to connect with others and share their thoughts and feelings, often about deep and emotional subjects. Visiting the mailbox is a popular activity among beachgoers.
4. Sunset Beach Town Park
Sunset Beach Town Park is a popular spot for outdoor activities such as biking. Visitors can enjoy bike riding on the park's scenic trails, watching local wildlife, and taking photos of the ocean and the nearby islands. The trails meander through 5 acres of oak trees, perfect for cruising around on your bike. Additionally, the park offers restrooms, picnic areas, and a fishing pier to enjoy.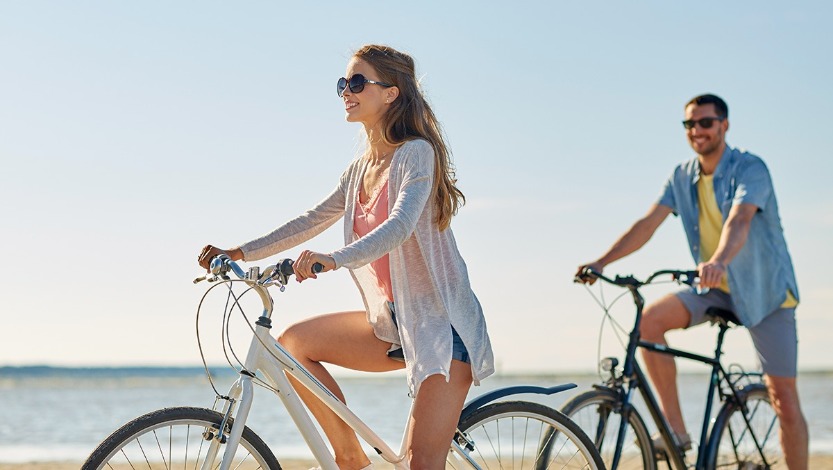 A favorite in Sunset Beach, the Ingram Planetarium is a great place to go on a bike ride. Enjoy a refreshing ride out in the sunshine and then catch a show learning about our universe. They have many 1 hour shows to choose from, like the history of Mayan cultural beliefs, mythology, science, and art about the skies.
Or there are shows about exploring the science and power of telescopes and how they help us understand our place in the universe. They have other shows like their Sky Theater and Laser Light Music shows. It's an exciting place to take your family, and bike riding there can be a great way to spend the day getting sunshine, exercise, and a fun learning experience!
6. Go Somewhere for Dinner or Refreshments
The best thing about Sunset Beach, NC, is you can go just about anywhere on a bike and see the island's beauty. If you want to grab
pizza
somewhere, check out these great restaurants. Or maybe you'd like to try a new
café or deli
, or you're up for some
dessert and coffee
! It will surely be a little bike adventure wherever you want to go.
A Great Place to Rent Bikes
There are many places to rent bikes near and around Sunset Beach. We like
Julie's Rentals
, where you can rent men's, women's, and children's bikes, plus accessories. They also have baby seats and Kid Kabs. Make sure to check their website to ensure availability and make a reservation.
Sunset Beach is filled with many areas to go bike riding and is a favorite thing to do with many beachgoers. Just make sure to follow all the rules and local laws and be safe. Always wear a helmet and make space for vehicles and pedestrians so everyone can have a fun and safe time!
And if you're looking for the perfect place to stay in Sunset Beach, NC, be sure to check out our available rental properties. We have gorgeous beachfront homes with stunning views we know you and your family will love. Spend the entire week exploring Sunset Beach while staying in a comfortable home away from home! Start planning today!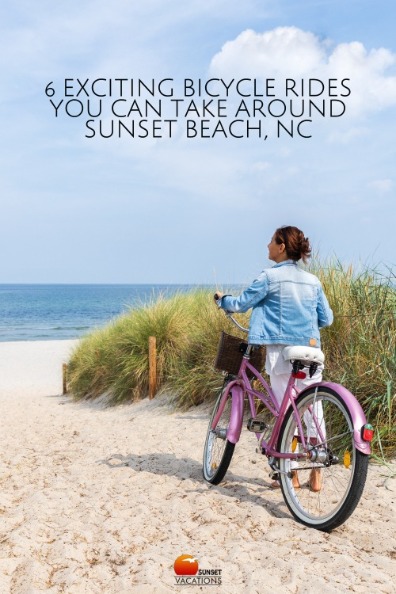 Bike to the Beach and Try these unique things to do in the sand!
These activities will have your kids giggling!
Comment on this post!