---
5 Coffee Shops and Delis You'll Love
Posted On Monday, September 12, 2022
---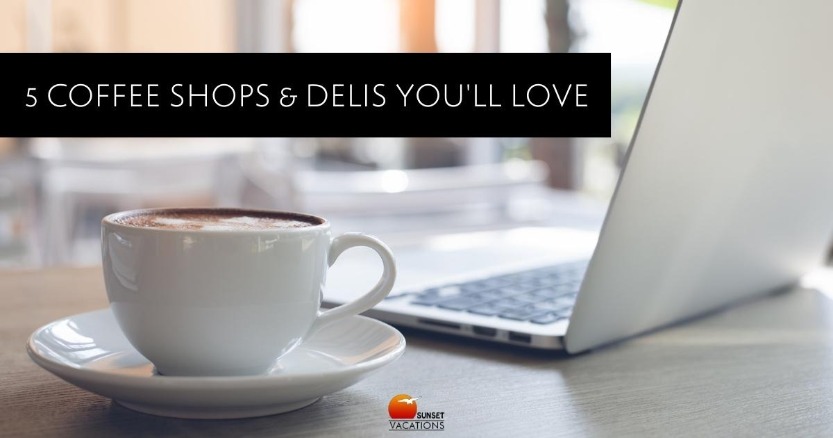 It's a beautiful time of year to relax in your favorite coffee shop and enjoy the cooler air, or even grab something to go. Here are five coffee shops and delis we think you'll love!
If you are still looking for that perfect vacation rental for the fall season, check out all the beautiful properties we have to offer. We'd love to have you stay with us for your beach vacation and work to make sure you have a wonderful time.

What could be more beautiful than enjoying a delicious drink and treat while watching the sunset rise over the ocean?
59 Causeway Drive, Ocean Isle Beach, NC


This cute cafe has coffee and so much more. If you like regular drip coffee. They have it. If you're in the mood for something a little more interesting to the taste buds, they have delicious drinks like Cinnamon Hazelnut, Flower Bouquet, and Sweet Cocoa. Have you heard of Jade Cloud tea? They have that too and a few other types of hot tea to try.
But if you're more in the mood for something cooler like a smoothie or summer drink, they have Raspberry Matcha Lemonade, Orange Berry Espresso Soda, and Peach Dream Latte. They also have a list of alcoholic drinks you can order from morning to evening, such as a Bloody Mary or a Mimosa to go with your brunch.
Speaking of food. Try a great selection of breakfast bagels like egg and cheese, but you can pick from numerous cheese, veggie, and meat options. Their Bagelwiches include options like the Veggie Western with eggs and veggies, or the Scrap Heap, a bagel with bacon, pork sausage, egg, cheese, and country ham.
Don't take our word for it. Their menu is worth checking out and will surely get your mouth watering. If you'd like to see their menu and get more information, visit their website 59 Causeway OIB, or visit their Facebook page.
The Original Famous Bagel Dock Cafe
1162 River Rd, Calabash, NC 28467
This company has received the "Best Bagel Award" three years in a row! It's worth a visit on that merit alone. They have a menu from dawn to lunch, featuring bagels baked fresh daily and they make their cream cheese from scratch.
For breakfast, they offer a variety of bagel and cream cheese flavors, or you can order from a selection of sandwich toppings and make it a bagel sandwich.
If you're more in the mood for lunch, they have a great selection for that too. Just to name a few of the delicious selections, they have The Reuben, Turkey Melt, and The Cheesesteak all of which can be put on a bagel or your choice of bread.
They have many types of sandwiches including tuna salad, chicken salad, egg salad, or ham sandwiches. These are just a choice few of the many options to choose from, check out their menu to see them all.
If you really love their food, they offer catering for your event and bagel subscriptions if you like eating there on a regular basis.
Check out their website The Famous Bagel Dock or Facebook page to see their menu and get more information about what's going on at their place!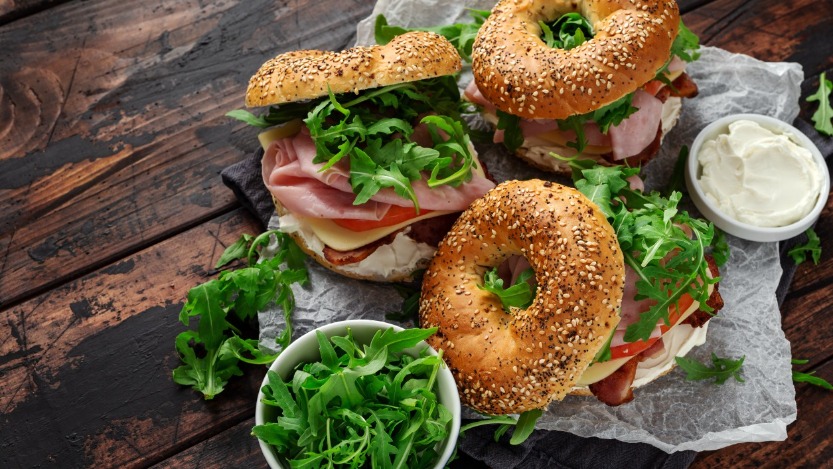 Calabash Deli Bakery & Gourmet Shop
9929 Beach Dr SW, Calabash, NC 28467
Established in 1997 this deli has a long list of items that will surely delight morning or night! Open from 7 AM – 7 PM come check them out to try any one of their delicious dishes.
If you want a morning meal from 7 AM to 11 AM you can order any number of their egg, cheese, and selection of meat breakfast specials with eggs cooked to order! For sides, you can add blueberry pancakes, cheese, grits, oatmeal, and much more from their sides menu.
Bagels, rolls, bread, muffins, and pumpkin bread are available too. For those who are gluten intolerant, they offer some gluten-free bread options as well.
During lunch, a variety of salads are on order such as garden salads, pasta salads, and potato salads like German Potato Salad and Homestyle. There are many meat varieties like tuna and chicken salad available as well. Then a full menu of sandwiches like The Calabash Club, The Triple Honey, and the Meatball Parmesan or the Chicken Cutlet Parmesan on a 7" sub.
If you want something grilled, choose from hot dogs, grilled cheese, Bratwurst, Philly Cheese Steak, hamburgers, or a Gyro.
They cover just about everything on their extensive menu. Their staff is friendly and ready to help. The rave reviews they have on their Facebook page show it's a great place to try. Plus, they were just recently named one of North Carolina's Top 10 Delis!
Check out their website Calabash Deli for more information.
Drift Coffee Shop & Kitchen Ocean Isle Beach
20 E Second St, Ocean Isle Beach, NC 28469
This shop has multiple locations in North Carolina, and you can scroll to the bottom of this page to see which one you're closest to. The cool thing about their website is you can just jump on their app, downloadable from the Apple Store or Google Play, and order ahead of pick-up so your items will be ready when you get there!
On their website, you can get fun merch like hats, reusable mugs, and t-shirts some of which might also be available at their multiple locations. But if you use their app you can earn rewards and gain status to apply to merchandise or for store credits.
Their menu consists of brunch, coffee, lunch, and drinks. You can enjoy selections such as avocado toast, gluten-free banana bread, acai bowls, and veggie breakfast burritos just to name a few. A wide variety of coffee, specialty coffee, lattes, tea, smoothies, and coolers are available as well. Their menu is modern and fresh.
Check out their website Drift to see even more selections on their delicious menu, get their app, and see more locations.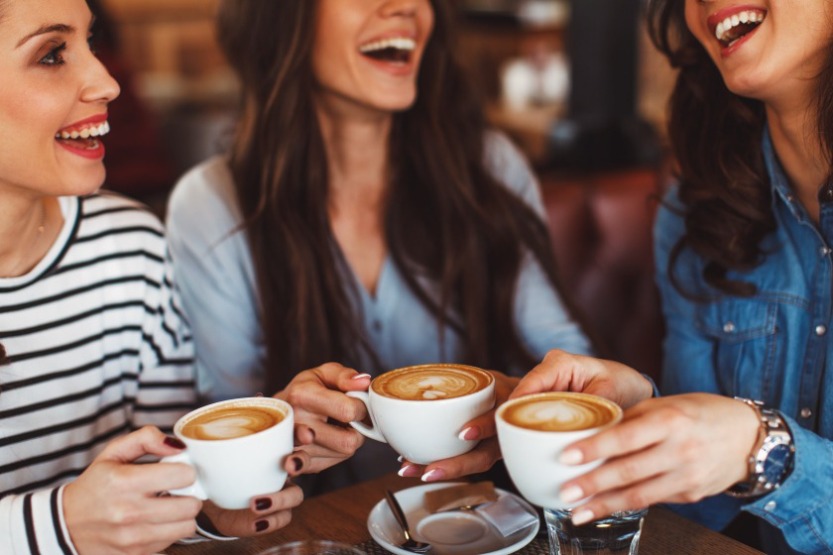 10152 Beach Drive SW Unit 7, Calabash, NC 28467
This local coffee shop and bakery has a wonderful vintage vibe that is a favorite among local coffee lovers. If you love to support small businesses, check this one out. The patrons rave about the amazing and knowledgeable staff who are friendly to boot. And that's a real treat indeed to have customer service that really cares about you.
Here you can enjoy a laid-back atmosphere, with great coffee like a regular house blend, latte, or cappuccino, but you can also get them iced. Their tea menu has iced and hot teas, plus other drinks like lemonade and Italian sodas. If you'd like a specialty drink, they have delicious choices like the Unicorn Frappe or Death by Chocolate plus many others.
They offer a variety of baked goods and goodies like chocolate-covered almonds, chocolate chip cookies, cinnamon rolls, muffins, brownies, Bavarian cream croissants, fritters, and coffee cake. Are your taste buds awake yet? All of these taste so good with coffee and other drinks!
Conveniently located and they offer free wi-fi while you relax and enjoy your refreshments.
If you'd like to see their menu, their recent updates, and rave reviews, check out their Facebook page Cottage Coffee.
When the cooler temperatures set in it's fun to throw on a cozy jacket and enjoy the changing weather hanging out at a local coffee shop or deli. Sit back, enjoy, and take in the people and the view. Try one or all these coffee shops during your next vacation in Sunset Beach!
If you haven't yet made any plans, we'd love for you to see our Fall specials on vacation rentals. Check out these wonderful places to stay and let us know if you have any questions by reaching us on our contact page.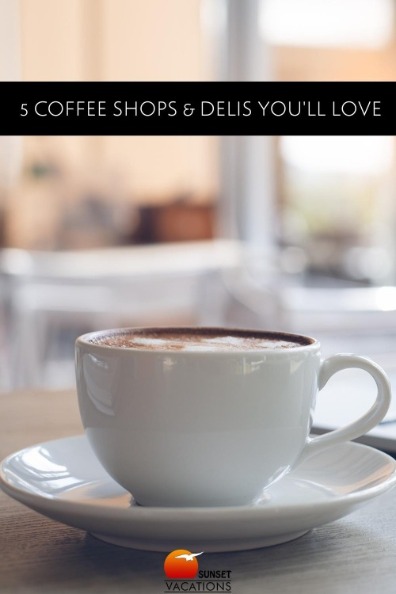 Did you see our recent post on Fall fishing tips?
Check it out and add it to your list. You can grab coffee at one of these great shops before your trip!
Comment on this post!