---
Sunset Vacations Most Frequently Asked Questions - Answered.
Posted On Monday, June 8, 2020
---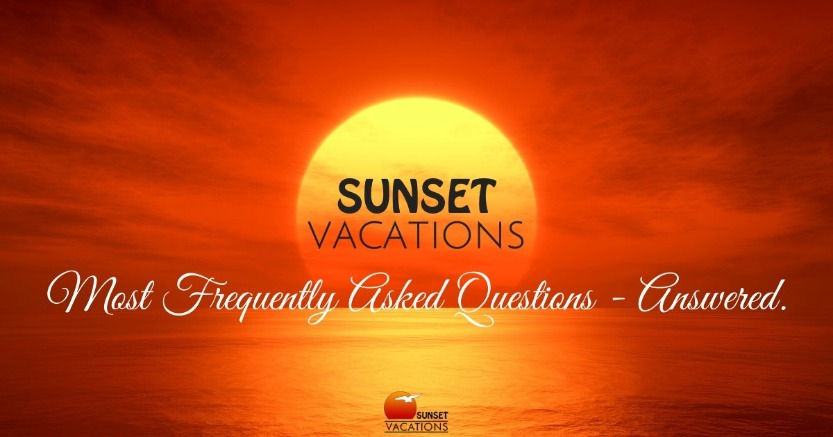 Confused about renting a vacation home?
We get it! Renting a vacation home IS very different from other types of vacations. There are certain things you need to bring, questions about insurance and payments, and more. Today we will share answers to some of the questions we hear the most, and some you didn't even think to ask!
1. What should we pack?
More than you'd think!
Do you know what is included (and not included) in a Sunset Vacations rental home? Unlike a hotel, there are some items YOU need to bring ... and they are pretty important! Packing for a vacation rental is very different from packing for a hotel, or even a visit to a relative's house.
What to Bring:
Sheets & pillowcases
Bath & hand towels
Washcloths
Hand soap/body wash
Toilet paper
Paper towels & napkins
Cleaning supplies, dish soap
Garbage bags
Aluminum foil, bags, plastic wrap
Beach towels
You'll need to bring all of your own linens except for mattress pads, bedspreads and pillows. You will also need to bring towels, washcloths, and hand soap. Our homes are not stocked with paper products, staple items, or cleaning materials (although often, some will be left behind by other guests).
Read more by clicking the links below:
2. Can we rent linens?
YES!
There are a couple of companies here in and around Sunset Beach where you can rent linens, and even have them delivered and put on the beds for you! If it's worth it to you to have this checked off your list, definitely look into linen (and towel) rentals. Sunset Vacations will work with the rental company to get everything set up for you.
Try Care Linen Service at 910-619-7190, or Julie's Rentals at (910) 579-1211. Click here for more resources.
3. Can we rent large items, like a stroller, bike, or kayak?
YES!
Our local rental companies realize that you can't always fit everything in the minivan. They also know that you would like to try out a new experience here on vacation, like kayaks, paddleboarding, a golf cart, bicycle or you just might want to borrow a beach wagon to carry your stuff to the shore each day. Read our blog "Did You Know You Can Rent That" to get some great ideas, and find a list of places you can rent these fun items.
4. Can we bring our dog?
YES!
Over 35 of our Sunset Vacations rental homes are dog-friendly!
If you have a well-behaved dog and want to bring him along on vacation, be sure to rent a pet-friendly rental home (and do it as early as possible, since they fill up quickly).
Bringing pets into homes that are not designated pet friendly will result in immediate eviction.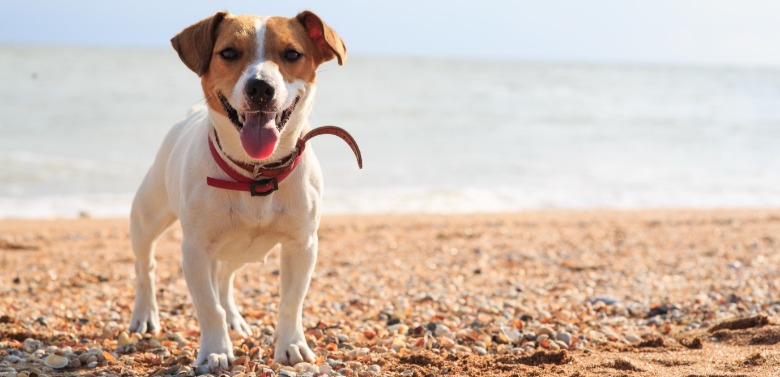 5. What are the rules on the beach for dogs?
The rules are simple:
Dogs must ALWAYS be on a leash.
Clean up after your pet.
Dogs are allowed on the beach during certain times only:

During the summer (Memorial Day through Labor Day), dogs are only allowed on the beach before 8 AM and after 6 PM.
During the off-season (Labor Day through Memorial Day), dogs are allowed on the beach at all times of day.
6. Should we buy travel insurance?
YES!
Most vacation rental homes are booked months in advance. It just makes sense to insure your investment. By purchasing travel insurance, you can rest assured that in the case of illness or extreme weather you might recoup your deposits. It can also cover medical expenses, roadside assistance, lost or stolen luggage, cancellation due to storm or illness and it will often cover you if your rental home is uninhabitable.
7. How do we pick up the keys?
Come to our office (located at 401 South Sunset Blvd., Sunset Beach, NC, 28468).
At check-in you will receive two sets of keys and directions to the property.
Check-in is 3:30 pm. on Saturday (for our weekly rentals). If you plan to arrive late, let us know in advance so we can make special arrangements. Once you receive your key packet, you are checked in!
8. How do we check-out?
Check-out is no later than 10:00 a.m. on your day of departure.
Guest check-out duties should be completed and keys returned to our office. If you leave prior to our office opening, please leave keys in the key drop at the office.
9. What are our "check out duties"?
There will be a comprehensive list of your check out duties included in your key packet.
Here are some of the items you will be expected to complete as you vacate your rental home:
Make sure any rented items (like linens) have been gathered and returned (follow the instructions given by the rental company)
Remove all linens and remake the beds

Check laundry room for clothing and trash
Make sure all dishes are clean and put away
Empty all trash cans and roll the large outside container to the curb
Check outside showers for forgotten bathing suits, towels, toiletries and more
Do one last sweep for phone chargers, stray socks and food you bought for your trip
10. How do I book, and when is my payment due?
Here is how to rent a home through Sunset Vacations:
1. Call our reservation HOTLINE (1-800-331-6428) or book online.
2. Once booked, we will mail you a confirmation and request for deposit.
3. A 50% rent deposit must be sent to us within 10 days of receiving the deposit request (failure to do so will cancel your reservation).
4. FULL PAYMENT is due 30 days prior to arrival.
11. Are there any charges in addition to the rent?
Yes, a few!
An explanation of accompanying charges will be in your correspondence including, but not limited to: 6.75% North Carolina sales tax, 4% occupancy tax, 2% local sales tax, and a damage/cleaning deposit.
Please note that a $125 administration fee is added to all reservations.
12. How do I report a problem with our rental?
If you find a problem with your rental, please call us at (910) 579-9000.
This may include a broken appliance, faulty heating or air conditioning, or missing items. Any necessary repairs will be made as soon as possible. Remember, the earlier you report a problem, the earlier we can make it disappear! Inspect your rental up on arrival.
13. What if we have to cancel our reservation?
Should you need to cancel your reservation, please notify us as soon as possible.
We will make every effort to re-rent the property. If we re-rent your home, all monies (less a $50.00 cancellation fee) will be returned within 45 days after receipt of the re-booking payment. If we are unable to re-rent the property, the full advance rent payment will be forfeited.
Refunds can not be made due to inclement weather. In the event of a hurricane watch, no refunds will be given. Only when a MANDATORY evacuation by Brunswick County Officials is issued will any consideration be given for refunds to those who purchased travel insurance.

14. What is there to do in Sunset Beach?
LOTS!
Browse our blog for hundreds of ideas. Just type in your interests, like golf, paddleboarding, parks, museums, beach games, movie nights, restaurants, bars, ice cream, shopping, farmers markets, plantation tours, horseback riding and much more!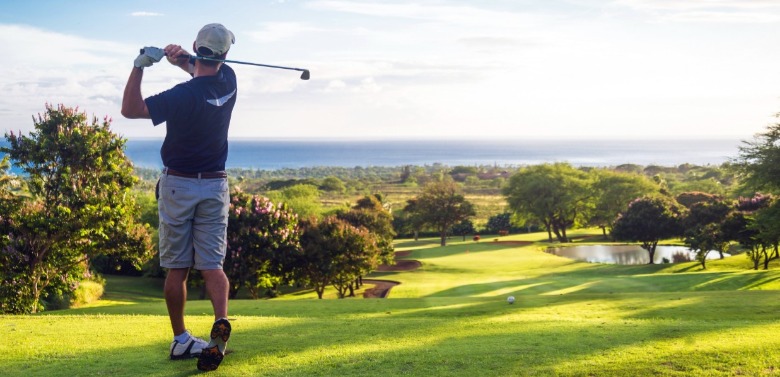 15. Is it better to rent a home directly through Sunset Vacations?
YES!
When you book directly through Sunset Vacations we are able to give you our lowest rates and also our best customer service (feel free to ask about our favorite restaurants or spots to fish!). When you book through a third-party reservation site, you are giving up that personal touch (and also will find additional fees that are passed on to you). Call us directly for the best prices and service. Read more about the benefits of booking direct in our blog, Book Direct and Save Money on Sunset Beach Rentals.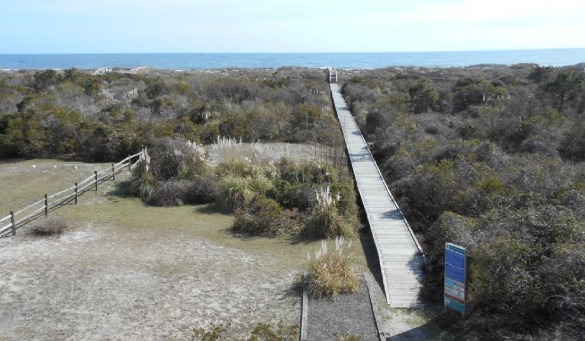 Sunset Vacations
401 South Sunset Blvd.
Sunset Beach, NC 28468
1-800-331-6428 (Reservations Only)
(910) 579-9000 (all other calls)
E-mail:
[email protected]
Renting a home in a beach community like Sunset Beach, North Carolina is a great way to vacation. Not only do you get a house all to yourself, but you can truly make yourself at home, enjoying big, comfy couches, beautifully decorated bedrooms, a full kitchen for convenient snacks and meals, and a deck to enjoy your coffee or maybe a glass of wine after a fun day.

Hopefully this list of questions answered some of yours! Have a wonderful vacation in Sunset Beach, North Carolina.
Comment on this post!