---
Family Friendly Activities Near Sunset Beach, NC
Posted On Monday, August 19, 2019
---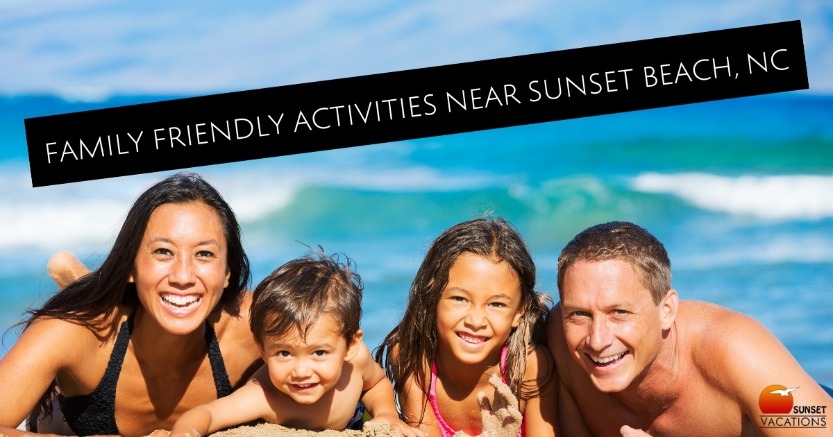 Bringing the family to Sunset Beach?
Here is your perfect checklist of family-friendly activities that will keep your crew entertained and happy (without totally busting your vacation budget). What does family-friendly mean to you? We have selected activities that are:
1. Fun for ALL ages
2. Not complicated to execute
3. Close to Sunset Beach
What will you try?
Shallotte River Swamp Park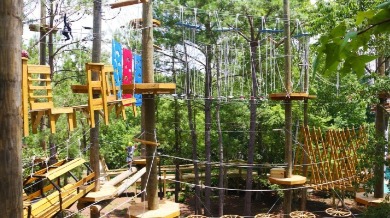 For a real adventure that is fun for the whole family, check out the Shallotte River Swamp Park, located in Ocean Isle Beach (right next door to Sunset Beach).
Enjoy a guided Zipline Tour, guided ATV Tour, or Aerial Adventure Tour (there are choices for all ages). The Park is open year-round so it's a great option if you are visiting Sunset Beach during the off-season. Click here for hours, prices, and tours.
Kid-friendly restaurants
Kids don't always love going out to eat, but it's a big part of your vacation agenda. Finding a kid-friendly restaurant should be top of your list. Luckily, most of the restaurants in a casual beach town like Sunset Beach are going to cater to kids. If they love fried seafood –and most kids do– make sure you head to Calabash (it's the seafood capital of the world, after all).
If you don't want to leave Sunset Beach (and who does?), try the Boat Landing. They have a basic kids menu as well as several grown up options that should make you happy. They have great outdoor seating and marsh views.
Make reservations and try La Cucina Italian Grill, also in Sunset Beach. Popular and busy for good reason, we think this is a good spot to take the family because most kids like pasta and you may be craving something other than seafood for the night (although they offer plenty of delicious seafood dishes that will tempt you).
Mini Golf
It's a little embarrassing how fun mini golf can be. You kinda forget how entertaining it is until you start playing again. That competitive fire starts burning, and the joy in your child's face when they sink a putt (even after 12 tries) is priceless. If you are going to play mini golf near Sunset Beach, just make sure you call ahead to ensure they are open for the season (most are open on weekends, even during the winter months).
Find courses here
.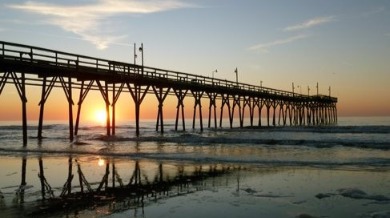 Jutting out 900 feet into the ocean, this pier isn't just for fishermen (although if you fish, this is a great spot. You'll find a double sink at the cleaning table, a bait shop and rod rentals). In addition to nature's most stunning sunrises and sunsets, you will find a snack bar, juke box and game room in the air-conditioned pier house. Kids will enjoy playing under and around the pier while looking for shells and ghost crabs (especially in the early evening hours). Just pay a dollar per person to access the pier.
Located at 101 W. Main Street, Sunset Beach, NC
Sunset Beach Park
Situated on the Intracoastal Waterway, the Sunset Beach park is the perfect place to watch boats float by or visit the Veteran's Memorial. Dotted with beautiful oak trees, this park is known for its porch-type swings along the shoreline. It's a great place to stop in the evening after a long day at the beach. The park often hosts events like concerts and the Summer Market (Thursdays from May to October). Amenities include restrooms, fishing piers, kayak launch, walking trails, and benches.
Located at 206 Sunset Blvd N, Sunset Beach, NC

Play Games!
The goal of your vacation is to spend some quality time with your family and get away from the habits of home. One great way to spend the day with your family is playing a game. There are plenty of options both on and off the beach. From a simple game of catch to a full on Bingo marathon (with prizes!), a family game session creates memories, passes the time, and keeps everyone off their iPads. Read
our blog
about the best family-friendly games you can play on vacation.
Walk to Bird Island
From Sunset Beach, Bird Island is a two-mile walk (round trip). So, if your family is up for a hike along our beautiful coast, this is it. Along the way you will find various shells, sand dollars, and are sure to spot birds and other wildlife. Make sure you pack a small bag with waters, sunscreen and other provisions (heaven forbid the kids go more than 10 minutes without a snack, right?). A walk (or run) along the beach is best scheduled in the early hours or after dinner, once the sun is not at its peak. If you are visiting during the off-season then you can go at any time! Don't forget to check out the Kindred Spirit Mailbox while you are visiting Bird Island. Leave a note for others to find! Here is our full blog post about Bird Island and the Kindred Spirit Mailbox.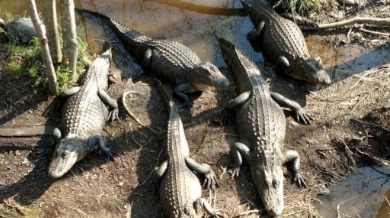 Try a laid back Swamp Boat Eco Tour, where you can learn all about North Carolina nature and history while gliding through the river. Part of the Shallotte River Swamp Park, Swamp Boat Eco-Tours generally last 50 minutes. This is a great way for the family to get up close to some coastal nature in a safe and educational way.
Price: $20.00/person until April 1st then $29.99
From their website: "You've heard of a bird's-eye view, but how about a frog's-eye view? Travel the pristine Shallotte River Swamp and get up close and personal with the natural environment. Enjoy history, nature, and explore the ecological benefits of the natural river. Our Swamp River Tour offers plenty of history in the swamp; including a landmark possibly used by George Washington himself back in 1791! This majestic tour will take you winding through the river allowing you to take in the sights and sounds of this North Carolina natural environment.
Visit the Museum & Planetarium
The Ingram Planetarium (located in Sunset Beach) and the Museum of Coastal Carolina (in Ocean Isle Beach) are both cool choices for a family outing. Both part of the same organization, they offer all sorts of programs for kids, events, and exhibits to enhance your Sunset Beach vacation. Check their website for an event schedule and ticket information.
"The Museum of Coastal Carolina is a natural history museum located at Ocean Isle Beach in Brunswick County, North Carolina. Animal exhibits include an aquarium and a touch tank with live sea animals, shells, fossils, insects, a display about sharks, live snakes, bird dioramas and an ocean reef diorama that includes life-sized models of whales, sharks, sea turtles and rays. Other exhibits include river basins, the effects of storm water runoff and beach litter on the water's ecology, barrier islands and tides. The museum also includes displays of local and maritime history, including shipbuilding and area Native Americans."
A simple beach day
Just go to the beach. It's certainly fun for all ages, easy to execute, and – well – it's why you are here! Collect shells, frolic in the waves, eat some snacks, take a nap. Family friendly activity = achieved.
Looking for even more ideas for the best vacation with kids? Read this blog post: Fun Tips For The Most Amazing Vacation With Kids. Traveling with your family can be super stressful. We get it. There are so many things to think about. You have to figure out dates, book a rental, do some budgeting, meal planning, not to mention packing, getting a pet sitter and finally, figuring out your activities for the week. We hope this blog post can start you on your way to a great vacation here in Sunset Beach, North Carolina.
Need help with a rental? Contact us!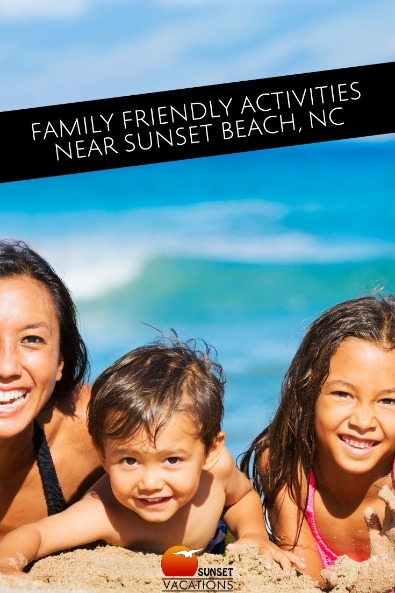 What is your favorite sunset beach activity?
Please share it in the comments for our readers.
Comment on this post!