---
Visit Calabash: It's Cute, Charming, and Close to Sunset Beach!
Posted On Monday, August 5, 2019
---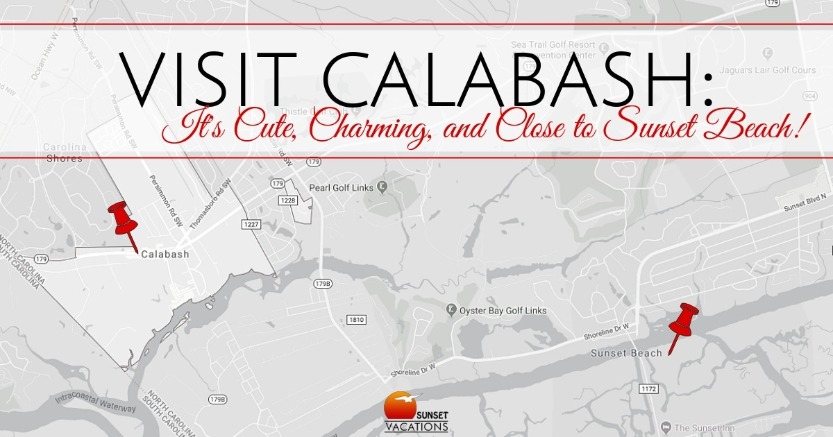 The sleepy little town of Calabash is located just 10 minutes from our office here at Sunset Vacations. Calabash is one of our favorite spots to eat, shop and explore, and we will tell you all about it here in this blog!
Your guide to a day out in Calabash starts here.
Where did Calabash get its name?
A "calabash" is actually a type of gourd! When dried out, it serves as a perfectly formed utensil for drinking well water. The Calabash River was named for this crooked-necked gourd, and soon after, the town was named after the river.
What is the town's history?
In the late 1700's, Calabash was home to a very large plantation that farmed indigo, peanuts and other crops. Towards the middle of the 1800's, the growth of these plantations helped create a large shipping center working out of Calabash (at Pea Landing). When they built a post office (in 1883), the Village of Calabash was official!
What is Calabash famous for?
Calabash is most famous because it's the "Seafood Capital of the World"! Many have tried to imitate the fresh, local, battered and deep fried fish and seafood for which Calabash is so famous, but it has been deemed impossible. Only in Calabash will you get the true flavor and atmosphere that makes it so special.
Jimmy Durante (a popular American singer, pianist and comedian in the 1940's) made Calabash even more famous because every night he would sign off his radio show with "Good night Mrs. Calabash, wherever you are." Legend tells us that he ate an amazing meal right here in Calabash and wanted to make it famous!
We aren't sure if it's Jimmy Durante or the fabulous seafood. Either way, Calabash has made its mark here in North Carolina.
What type of seafood makes Calabash famous?
The trademarks of Calabash seafood are the freshness, the huge portions, and the family-style serving methods. If you visit a Calabash seafood restaurant, you will be greeted by the smell of deep-fried, locally harvested fish and seafood.
Shrimp, clams, fish and oysters are coated in a light batter and quickly fried to lock in their freshness. True Calabash-style means that the seafood is first dipped in evaporated milk. Then, it's coated in flour that has been seasoned with salt and pepper. Next is a dip in some cornmeal, and finally, the fish goes into the deep fryer for about two minutes.
What restaurants serve Calabash-style seafood?
Try these spots, you won't be disappointed:
This restaurant specializes in seafood and raw bar items, but they also offer quality beef, chicken and pork dishes. Great views.

9931 Nance St, Calabash, NC 28467

(910) 579-6875

"One of the town's founding restaurants & a pioneer in Calabash-style fried seafood."
1014 River Rd, Calabash, NC 28467

(910) 579-6776

"Calabash Waterfront Seafood Shack is a Fresh Catch Seafood Restaurant and Market. We offer unique, outdoor, riverfront dining for lunch and dinner."
9945 Nance St., Calabash, NC 28467

(910) 575-0017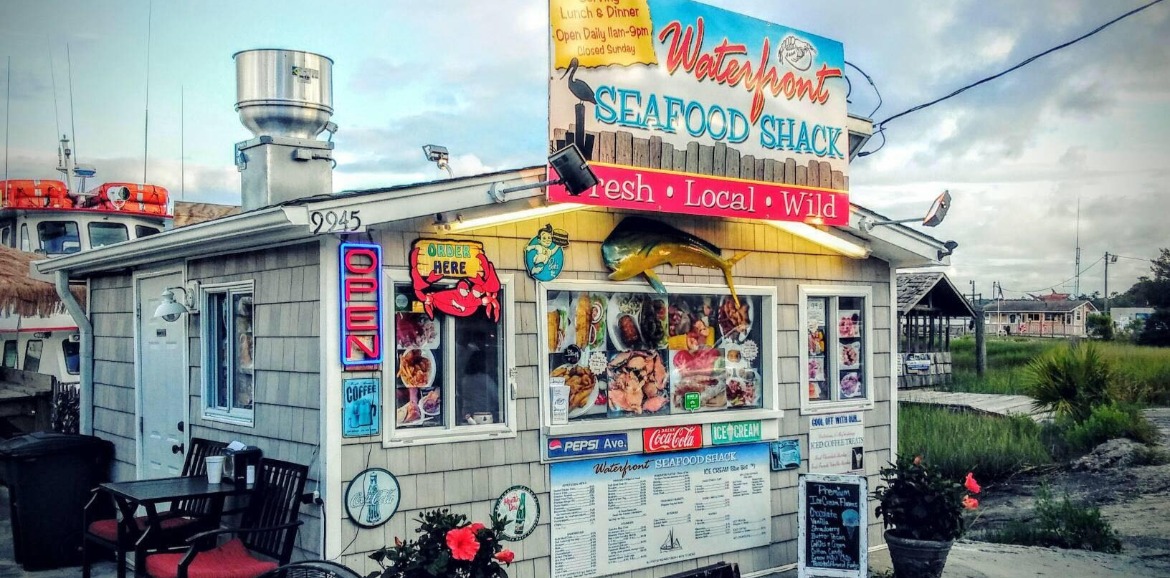 "A family style, smoke-free seafood restaurant on the Calabash River offering steak, chicken, and seafood lunch specials as well as children and senior plates."
9939 Nance St, Calabash, NC 28467

(910) 579-2574

What are the best places to shop in Calabash?
You can easily spend hours shopping in Calabash! Here are a few local gems we love.
"Huge", "Organized", "Clean" and "Wonderful" are just some of the ways people describe Callahan's! It's an enormous store where you could easily browse for over an hour. Callahan's is most famous for their amazing Christmas Shop, St. Nick Nacks. Over 100 decorated Christmas trees await you year round, and you will find decor for every interest.
Nautical decor and gifts | t-Shirts | visors and hats | delicious homemade fudge and toffee | brands like Simply Southern, Vera Bradley | Christmas ornaments and accessories

9973 Beach Dr SW Calabash, North Carolina
(910) 579-2611

In business for over 20 years, Ms. Gail and her staff will welcome you with fun finds in this lovely consignment shop, located on Beach Drive in Calabash.
9990 Beach Dr SW, Calabash, NC 28467
(910) 575-4949

Nell's specializes in boutique and high end department store labels including Chico's, Talbots, Ralph Lauren, Kate Spade, Dooney & Bourke, Coach, Louis Vuitton, Nautica, Lilly Pulitzer, and many more. In addition, they carry really cute, smaller scale furniture and accessories.
10152 Beach Dr. SW
The Calabash Cottages
Calabash, NC 28467
(843) 455-9200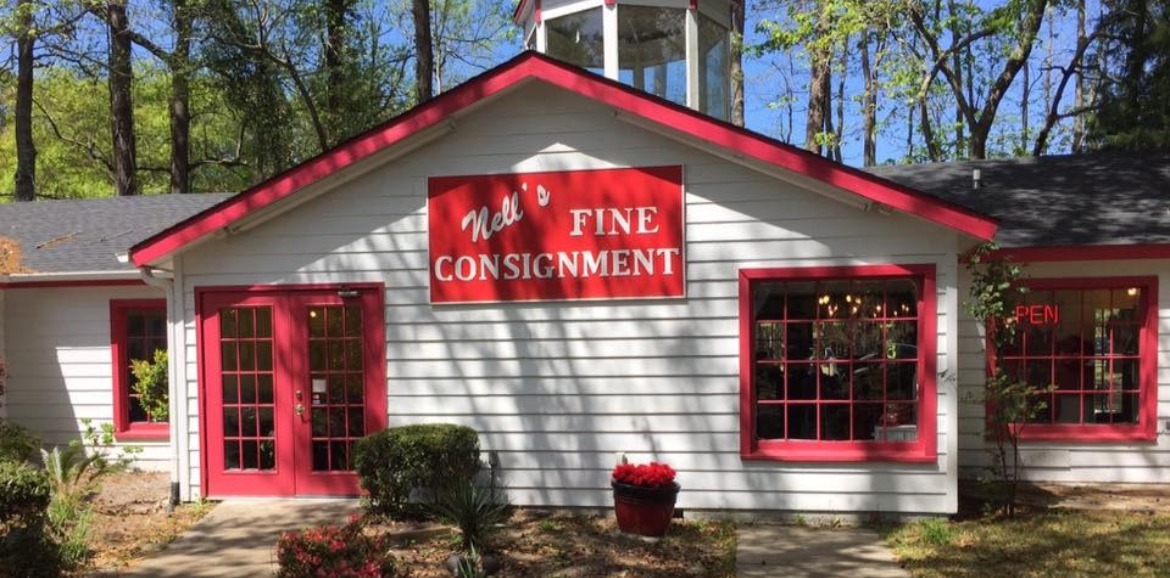 What else is there to do in Calabash?
Since Calabash is only 10 minutes from your vacation rental in Sunset Beach, it's easy to take advantage of their restaurants and shopping.
🏌Golf: There are several award-winning courses in Calabash. Try the Farmstead Golf Links or Brunswick Plantation. Click here for a full list of Calabash golf courses.
🎶 Free concerts: The Calabash Summer Concert Series are every Tuesday night and the concerts start at 6 pm. Featuring great beach and rock and roll music, the concerts are the perfect on a summer evening! (Don't worry, our Sunset Beach summer concerts are on Wednesdays, so you can do both!) The concerts start on June 4th and go through August 6th, 2019. To check cancellations, please visit www.calabashconcerts.com or call 910-579-6747.
🎣 Charter a Dolphin Adventure boat ride: Starting on Nance Street (on the Calabash waterfront), you will embark on a two hour cruise where you are guaranteed to see dolphins or your next cruise is free! Why are you sure to see dolphins? Well, they LOVE the shrimping and fishing boats and will eagerly await any discarded shrimp, all while putting on a show for spectators. Kids love this tour! For more information, click here.
☀️ Go to the park: The Calabash Community Park, located at 868 Persimmon Road, has a large picnic shelter, a grill, restroom facilities, a children's play area with slides and swings, horseshoes, shuffleboard and bocce ball. If you need a break from the sandy beach, the park is a nice alternative for a picnic or evening stroll.
🍦 Get some ice cream: The Back Porch Ice Cream Shoppe is famous for their fresh ice cream, friendly staff, and rocking chairs in which to enjoy your dessert, southern-style!
Sunset Beach, NC is the perfect launching point for many adventures, and we think that the cute town of Calabash is worth a stop. After all, you don't get to visit the seafood capital of the world every day! Make sure to stop in next time you are here in Sunset Beach. See you soon!
Comment on this post!