---
A Simple Checklist for the Best Beach Vacation
Posted On Monday, March 4, 2019
---
When you commit to a week-long vacation at the beach you want to make the most of it! After all, a vacation is a huge investment of time, money, and requires plenty of planning. We would like to outline the steps you should take to have the BEST Sunset Beach vacation, from start to finish.
1. Plan your dates & book your rental...and do it early.
This might be the hardest part of vacation planning, so luckily, it comes first and you can cross it off your list!
Finding just the right week to take off work and head to the beach can be tricky. Between kids' camps, appointments, and everyday life, not to mention coordinating schedules if you are traveling with other family members or friends...blocking off a week is the most important first step!
We always suggest choosing your week as early as possible. That way, you can plan your other activities and work schedule around your vacation, not the other way around. By booking early, you also get your pick of the absolute best vacation rentals. This is especially important if you require a pet-friendly home, or really want a certain number of bedrooms, a hot tub, or an amazing ocean view.
If you are traveling with a large group (perhaps for a family reunion or friend getaway) consider renting some neighboring homes using this cool tool. That way, you all get your own space and can still be close to each other.
2. Get in a vacation frame of mind.
Want to know a secret? Thinking about your vacation before you take it is actually the best part. No, really! Studies show that the anticipation of something awesome can be as good, if not better, than the actual event. So browse some inspirational vacation or beach-related quotes, or peruse some blogs about the area and activities to help transport you.
It's also true that learning more about your vacation destination can increase your happiness and excitement, both before and after you arrive. Maybe you are interested in the history of your destination, or perhaps you just want to know what the locals' favorite coffee shop might be. No matter what is important to you, take some time to research your destination so you can fully appreciate it once you arrive.

10 Beach Quotes That Will Transport You to Magical Bliss

The Most Inspiring Vacation Quotes That Will Make You Happy
3. Plan activities ahead of time, and try new things.
Start researching your activities now. There is so much to do on and around Sunset Beach, so it's smart to narrow down your choices before you arrive. Set your budget, make a list, consult the family, and get excited. We can offer plenty of advice when it comes to staying busy (or not!) on the Brunswick Islands.
Don't forget to try something new on your next trip. It's been proven that doing new things actually stimulates dopamine in your brain and energizes you! You are already getting that wonderful buzz by going on vacation, but you can enhance your happiness quotient by learning a new skill (like paddleboarding or fishing), or by exploring the local area, which is probably a far cry from your desk at work.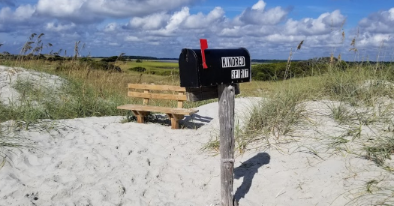 4. Meal plan to save stress later.
Food is an important part of every vacation. Honestly, a beach getaway is a great excuse to eat Doritos or indulge in a fruity drink. Vacation meal planning can seem daunting, but it's actually super easy and fun if you do just a bit of forward thinking.
Definitely research our local restaurants and decide which ones suit you best! There are some spectacular choices for breakfast, lunch, dinner, coffee, and ice cream. Don't forget to find a spot to enjoy a flight of beer or try a wine tasting. Some restaurants are super family-friendly and others are more suitable for a romantic night out.
Read more about meal planning, restaurants, and more:
Make the Most of Your Sunset Vacations Rental Kitchen
How to Have the Most Romantic Getaway on Sunset Beach
How to Meal Plan For Your Beach Vacation In Four Easy Steps.
5. Pack and prepare.
To have the best beach vacation, it pays to pack and prepare properly. Any vacation could go off the rails if something important is forgotten at home (the toddler's favorite blanket, the tweenager's iPad charger, or important medication all come to mind). Make your lists. Check them twice.
We recommend creating lists and packing in categories to help make the task more manageable. For example, have one list for kitchen items and groceries. Another for household items like sheets, soaps, and toilet paper. Make a separate list for each member of the family (clothes, shoes, stuffed animals, electronics, lovies, etc). A list for the car is useful (trash bag, entertainment, first aid kid). And of course, don't forget beach essentials!
Here are some resources to consult as you pack for your next trip: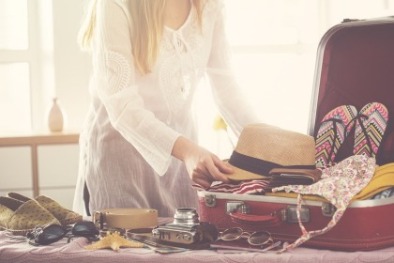 6. Make yourself at home!
Once you arrive at your vacation destination, make yourself at home. It's so much fun checking our your new digs for the week. Put your sheets on the beds, check to see if the previous guest left you any hand soap, put your beach bag near the door, and check out your view from each and every window.
Since you already did some pre-planning for your activities and meals, this week should be an absolute breeze.
7. End your vacation on a high note.
This article from Fast Company explains why you should try to save your most anticipated experience for the end of your vacation (rather than doing it right when you arrive):
"The human brain gives outsized consideration to things that happened last in a series. This so-called "recency effect" means the end of a vacation is more easily recalled than the beginning. In a recent article on vacations, the Wall Street Journal suggested using this recency bias to consciously end vacations with a bang."
- Fast Company
To take full advantage of this recency effect, try to plan your most exciting Sunset Beach adventure towards the end of your week. Or save the really fancy dinner out for your last night in town. It's a great way to celebrate your wonderful week off and the experience is sure to stick with you as you travel back to reality.
8. Preserve your vacation memories.
Have you ever noticed that when you look back on an important event, like a wedding, the birth of a child, or even a vacation, you smile and remember the good times, and tend to block out any stressors or negative feelings? You can enhance your positive vacation memories even more by consciously retelling your story through social media and photos.
One great idea is to create a photo book because it can not only tell your vacation story through your photos, but you can type up any special stories, anecdotes, funny quotes or other explanations that will bring those memories to mind.
We also love to take all of the little clips from our trip and create one movie (try an app like Splice or use iMovie on your computer). This can be easily shared with family members and watched before you book your next big trip to Sunset Beach!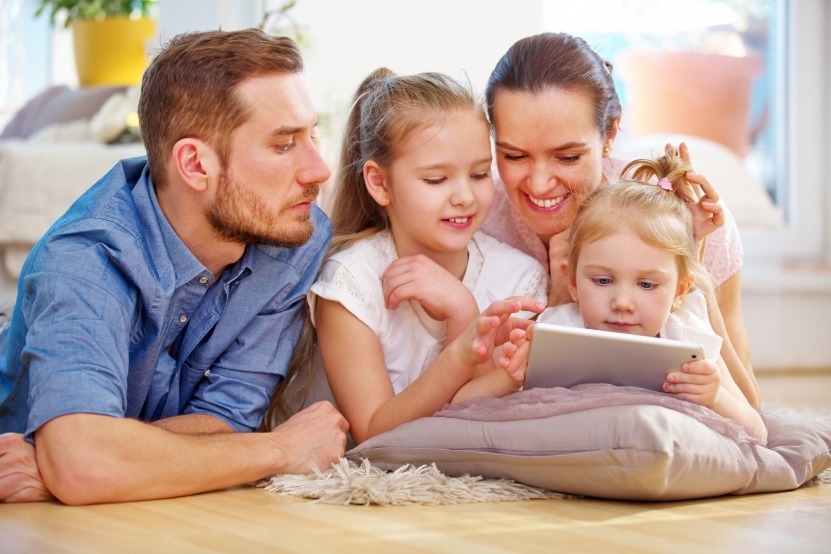 It's not hard to have a wonderful beach vacation. We hope you have found this checklist useful and that it guides you as you plan your next trip. If you need additional help, please don't hesitate to contact our reservations specialists at Sunset Vacations. Our goal is to help you have the absolute best vacation ever!
Contact Sunset Vacations
401 South Sunset Blvd.
Sunset Beach, NC 28468
1-800-331-6428 (Reservations Only)
(910) 579-9000
E-mail:
[email protected]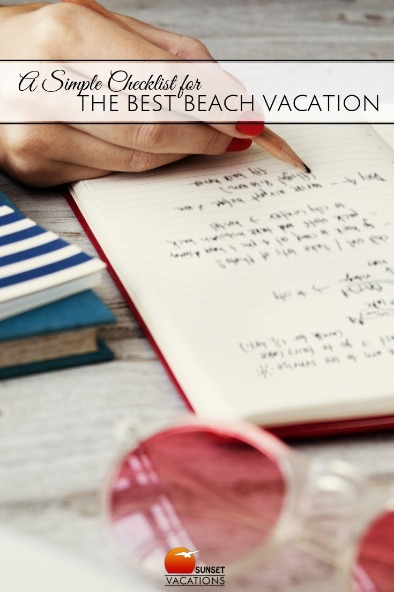 Comment on this post!