---
10 Ways to Get Active On Vacation
Posted On Monday, February 1, 2021
---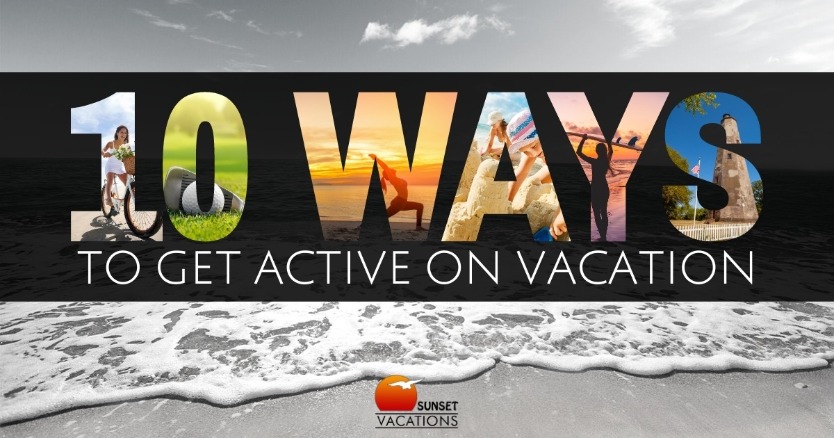 Don't let vacation ruin all your hard work.
Sure, you might indulge in an extra drink or two, and sneak a few of your kid's chips. But actually, a vacation is a great time to get (or stay) active, especially if your trip takes you to the beach. There are so many ways to get out, move your body, and have fun, even while on vacation.
Today we will give you 10 great ideas for staying active next time you visit Sunset Beach, NC!
Here are 10 great ideas for staying active next time you visit Sunset Beach, NC!
1. Take a surf lesson.
Did you know that several local companies offer surf lessons? And paddleboard lessons? And kayak tours? Vacation is a great time to try a new sport or activity, and Sunset Beach businesses make it super easy.
Read this blog for ideas and a full list of places to get you started: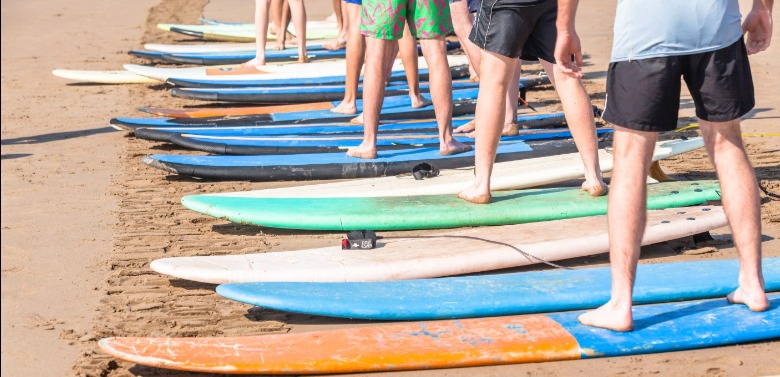 2. Run (or walk) in the sand.
Soft, mushy sand makes every step that much harder! Take your morning run to the beach and feel the burn in those calves. If you get tired too quickly, feel free to move towards the harder, packed sand near the water and then swerve back to the soft stuff once you catch your breath.
3. Play.
We're guessing you didn't come to Sunset Beach alone! Whether you are visiting with the kids or with a group of friends, there are plenty of games to be played that will get your heartbeat racing. Swim, play frisbee, crush 'em at cornhole, or go out for a round of mini-golf. Hey - it all counts!
4. Take a walking tour.
Because Sunset Beach is so walkable and small, it's possible to tour the entire town, with stops for coffee, ice cream and shopping, in just a few hours! Or, divide up your walking tour into different days. Either way, walking is not only great exercise, it's the best way to really get to know your vacation destination.
Print This Sunset Beach Walking Tour to Level Up Your Vacation!
5. Rent a bike.
Many of the same companies that will rent you a kayak will also rent you a bike.
For example, Julie's Rentals is open every day from 7am - 8pm, and has rentals available for just about everything you could want!
You can rent a bike for as little as $5 / hour or $20 for the whole day. Many companies also offer kid trailers, baby seats, and tandem bikes.
What a great way to explore!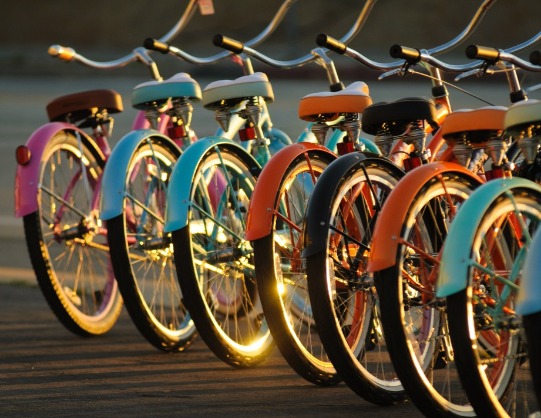 6. Climb a lighthouse.
Did you know that we have a lighthouse not too far from Sunset Beach? "Old Baldy", located on Bald Head Island, is a great day trip. Make sure you are trying to visit while they are open (the lighthouse is closed each winter). You will need to take a ferry over to Bald Head Island and from there, can take a self-guided tour.
Read all about how to Enjoy A Wonderful Trip to the Bald Head Island Lighthouse in our blog.
7. Golf.
Golf seems like just a game, but is actually great exercise. The Sunset Beach area is home to tons of award-winning courses, all featuring stunning scenery and nature. It's also possible to rent clubs during your vacation, so don't worry about bringing one more thing from home.
Here is Your Guide to the Best Golf Near Sunset Beach.
8. Try yoga.
8. Whether you book an actual yoga class or just watch a YouTube video on your phone, yoga is a great way to stretch out, relax, and enjoy the beauty of your beach vacation.
9. Carry your kid's stuff to the beach.
Honestly, just going on vacation with young kids can be a workout. You don't really need THAT much stuff for a day at the beach, but by the time you strap the baby into a backpack, carry a cooler, toys, towels and all the other gear for the day, you have certainly earned that bag of chips.
10. Build a sandcastle.

Any activity that keeps you moving and having fun counts (in our humble opinion)! So build a sandcastle, collect some seashells, play some ping pong or dance around the vacation rental!
Ready to book your next vacation? Please take a look at Sunset Beach vacation rentals to get started!
Comment on this post!