---
Your Guide to the Best Golf Near Sunset Beach
Posted On Monday, September 23, 2019
---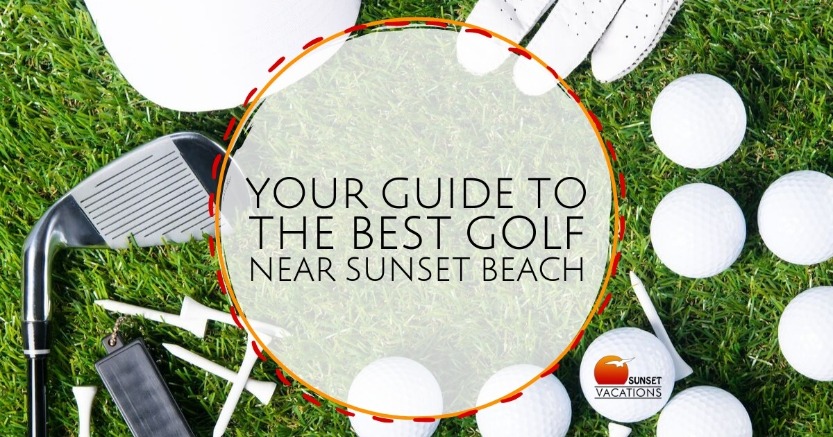 We bet you didn't know that Sunset Beach is a premiere golf vacation destination! There are over 30 golf courses located super close to our fabulous Sunset Vacations rentals, so you can have your beach and golf it, too! Here you will find championship, award-winning courses, beautiful scenery, and awesome prices. In this blog we will tell you more about some of the best courses near Sunset Beach, North Carolina.
Want to play on one of Myrtle Beach's famous courses, but don't want to stay in such a touristy, expensive city? If you are reading this blog, you already know that Sunset Beach is the best option for you. It's close to Myrtle Beach (and a hundred golf courses), but Sunset Beach is quiet and tranquil - truly the best combination.
So, whether you choose to golf right here in Sunset Beach or head down the coast towards Myrtle Beach, there is plenty to choose from for the golfer in your group!
*Please note that all course descriptions and information have been pulled directly from business websites and may be subject to change.
🏌 Thistle Golf Club (Sunset Beach)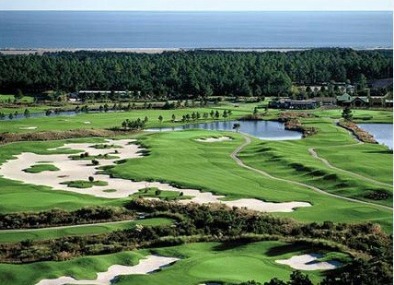 The original Thistle Golf Club was located in Leith, Scotland. Our Sunset Beach version is based on that historic course, right down to the beautiful Scottish-themed club house.
There are three courses at the Thistle for a total of 27 holes of golf. Enjoy tee times at 10-minute intervals (vs. the usual 8) for a leisurely, calm day.
Address: 1815 Olde Thistle Club Road, Sunset Beach
Phone: (910) 444-2500
Website: https://www.thistlegolf.com/
#1 Rated Golf Course (mbgolfinsider.com, 2016)
#11 Rated Golf Course (golfadvisor.com, 2015)
🏌 Oyster Bay Golf Links (Sunset Beach)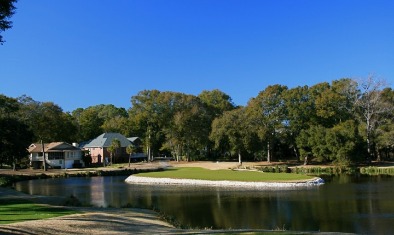 Part of the Legends Golf Resort, Oyster Bay Golf Links (aka "Gator Country") is conveniently located in Sunset Beach near the Calabash River. Look for strategically placed freshwater lakes and a challenging short game.
Address: 614 Lakeshore Dr, Sunset Beach , NC
Phone: (910) 579-3528
Website: https://legendsgolf.com/oyster-bay
Best Public Golf Courses In North Carolina (Golf Magazine, 2008
#11 "America's Top Golf Courses" (Zagat Survey, 2009)
Golf Digest's Best Places to Play (2005: 4 stars; 2003: 5 stars; 2001: 4 1/2 stars)
🏌 Sandpiper Bay Golf & Country Club (Sunset Beach)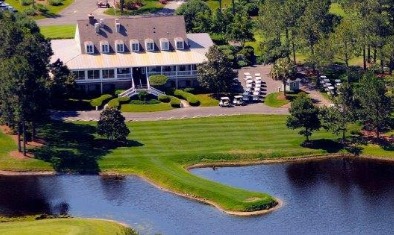 Sandpiper Bay prides itself on excellent customer service with the Southern hospitality you might expect when you are visiting Sunset Beach! Fees range from $30 - $75 depending on the time of year that you visit, and they have a 27 hole layout to challenge you.
Address: 800 N. Sandpiper Club Dr, Sunset Beach
Phone: (910) 579 – 9120
Website: https://sandpiperbaygolf.com/
TGD Magazine Golf Course of the Year (2018)
🏌 Sea Trail Golf Resort & Convention Center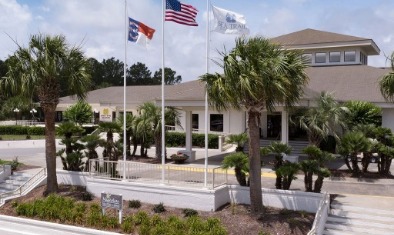 Sea Trail offers three signature courses, each with its own challenges. There are also two clubhouses with full-service golf shops, lounges and dining.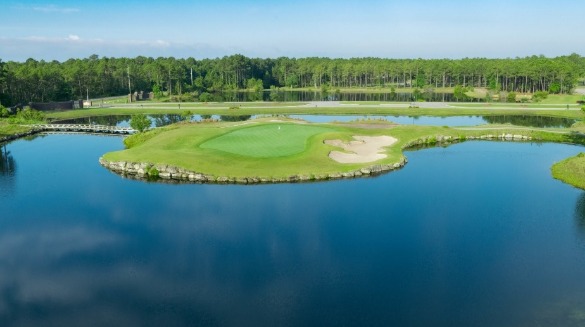 Enjoy a stunning waterfall after playing a round at Leopard's Chase, right next door to Sunset Beach in Ocean Isle. They also feature a restaurant and pro shop to help you up your game.
Address: 6330 Castlebrook Way SW, Ocean Isle Beach

Phone: (910) 579-5577


Ranked in the Top 5 among GOLF Magazine's "Top Courses You Can Play - State by State".


Leopard's Chase is among Golf Digest's "Top 100 Public Golf Courses in America".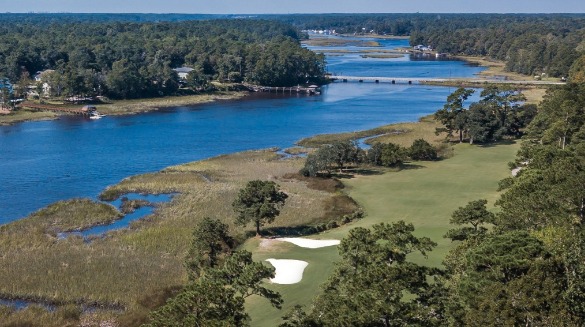 "The Pearl golf course challenges golfers at all skill levels while showcasing the spectacular 900-acre marsh surroundings. The golf course is open to the public year-round and offers seasonal specials for snowbirds as well as golf packages for vacationers."
Address: 1300 Pearl Blvd SW, Calabash
Phone: (888) 947-3275
Website: www.facebook.com/ThePearlGolf/
Ranked in the Top 5 among GOLF Magazine's "Top Courses You Can Play - State by State".
Leopard's Chase is among Golf Digest's "Top 100 Public Golf Courses in America".
We get it. The kid and beach gear took up all the space in the family mobile and there is no room for your beloved clubs. Or, perhaps you flew to Sunset Beach and didn't want the hassle of traveling with your golf gear. Fear not... there are ways to rent quality clubs that will serve you well during your Sunset Beach golf vacation:
Low Country Golf Clubs
Quality clubs delivered free to your rental or to the golf course. Serving Calabash, Sunset Beach, and all area courses. Ask about discounts for seniors & veterans.
Golf Pro Shops
You can rent clubs, bags, umbrellas and of course, golf carts at most of the area courses. Just call ahead to the one you want to play to check availability.
ClubHub
If you want to rent clubs for a whole week, ClubHub has some options for you at around $27/day. You do have to order clubs in advance.
Take some time for yourself this fall with a fantastic golf vacation in Sunset Beach, NC! We have the courses, the weather, and plenty of beautiful, comfortable vacation rentals ready to welcome you.
Comment on this post!