---
Super Fun Activities to Do with Kids Near Sunset Beach
Posted On Monday, July 18, 2022
---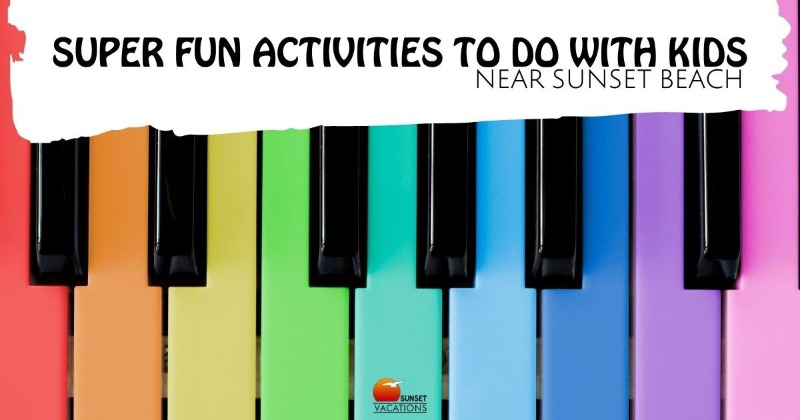 Amp Up the Giggle Meter in Your Kids

What's on your 2022 vacation itinerary at Sunset Beach this summer? If you haven't reserved your summer rental yet, pop on over to see the best! And make your itinerary while you're at it. Your kids will thank you.

Even though the beach is so amazing that no other entertainment could ever replace its ever-changing, mesmerizing, and exciting experiences, kids will be kids, and sometimes you just need a little change of pace. Let's put a little more giggle in their steps!
Kids are explorers who love adventure so why not shake it up a little and swing by one of these places for something a little different?
Free Spirit Music Conservatory of the Arts
Learn and play is the best for fun, fun, fun. Located in Sunset Beach, they offer a summer camp which started in June but extends through August 2022.
They have something for every age in your family. Six different camps which include:
• Music Fun Jumpstart Camp/Kindermusik – a program for your youngest cuties who can learn about music in a fun way.
• Camp Rock - for aspiring rock musicians who want to learn how to play in an ensemble.
• Instrumental Discovery - helps new, aspiring musicians to find the best instrument that suits their talents and dreams.
• Piano Jumpstart - helps develop the foundations of piano skills by exploring solid concepts of piano playing.
• Songwriting Camp - for song creators who wish to fine-tune their lyric writing skills in ways that will progress the song forward in its natural form.


You and your kids will get top level instructions from professional musicians in fun and exciting ways.

If you'd like more information about these camps, lessons, or about their company, please visit their website Free Spirit Music, or call them at 910-886-1357.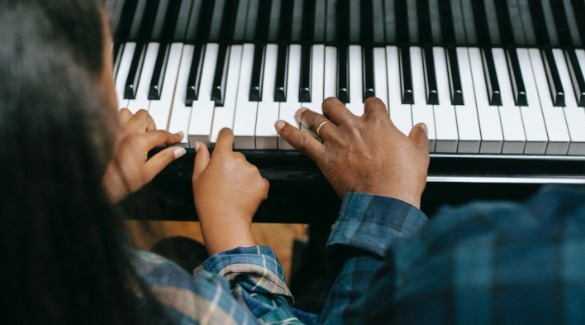 Planet Fun Center
Here's just the place for your kids to have a blast playing games. Planet Fun has so much fun indeed! Who could resist a place called Planet Fun?
Take your kids and your inner child to play 45+ arcade games. Or enjoy their 2-story black lighted laser tag arena for only $5 a game!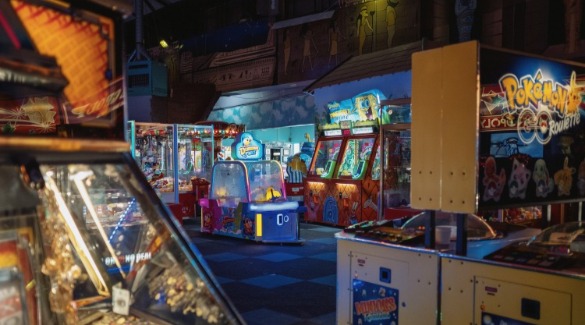 Their Constellation Alley features 32 bowling lanes. At only $4 a game, you can have tons of indoor fun here.

Their safety and sanitation standards throughout the facility are top-notch ensuring a safe and fun experience.
They also have a full menu of pizza, wings, burgers, salads, and a kid's menu making it an ideal place to catch lunch or dinner.
With their affordable prices and one stop shop for fun, this is a great place you can spend the entire day with your family.
For more information, go to their website Planet Fun to get directions and more information.
Pirates Voyage Dinner and Show
Arrgghh! Bring out your inner pirate with this delightful show just across the state line in Myrtle Beach, SC! The whole family can enjoy a night out watching an amazing acrobatic pirate show centered around the infamous Blackbeard and his quartermaster Calico Jack!
They will lead you on a journey with the Crimson and Sapphire crews in battles showcased on a full-sized pirate ship in a hideaway lagoon! You'll meet other amazing characters like tropical birds and beautiful mermaids all while enjoying a fabulous dinner.
Check out this 30 second video on their YouTube channel showing just how fun and exciting this experience is. Don't miss this one on your vacation. Take your kids and entire family to enjoy the fun and excitement of indoor theater for a wonderful night out!
For more information, showtimes and location, visit their website Pirates Voyage.
And if you haven't done it yet, check our summer vacation rentals. With all Sunset Beach has to offer, you're sure to give your kids the memories of a lifetime by renting out a home this summer on Sunset Beach!
Comment on this post!