---
Here Are The Most Kid Friendly Sunset Beach NC Rentals
Posted On Monday, March 2, 2020
---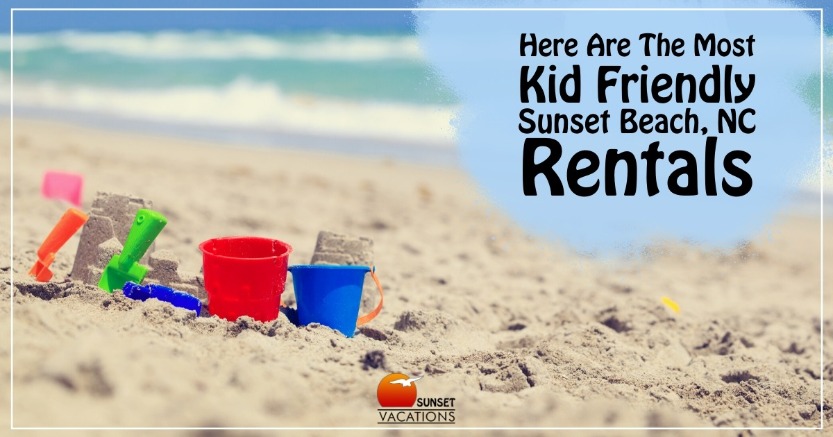 Make your vacation actually feel like one by booking a home your kids will love!
If you are taking kids on vacation, you already know that it can be a little stressful.
If you have babies under two years old, you might worry about steep stairs and other safety issues (we suggest bringing your own baby gates). If you have elementary-aged kids, a house close to the beach would be ideal (lots of gear and bathroom breaks at that age!). And if you are traveling with teens, you might not need to be quite as close to the beach (they can carry their own stuff!) but you would love a separate game room for them to escape.
Today we will highlight some fun Sunset Beach NC rentals that will make your vacation a little easier and more fun!
* Pool * Crib * Linens Included * Elevator * Plenty of Space *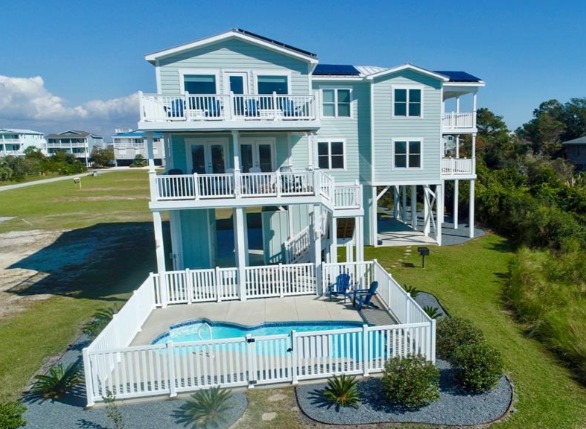 "Miller Time"
This property is truly stunning. Check out the kid's bedroom which includes two sets of bunk beds and a crib!
Miller Time will make your vacation with kids super easy for several reasons: There is an elevator to help get your stuff up and down the stairs (and kids have a lot of stuff). There is a pool on the property so you don't have to hit the beach every day, just go out back! Linens are included here, so you don't have to pack your own or make beds once you arrive.
Sleeps 12 | 5 Bedrooms | No Pets
* Adorable Decor * Yard Scrabble Board * Game Center *
"Cody's Cove"
This house is so cute and charming! Your kids will love the fun, fishy decor, mermaid vibes and comfy living areas. Located just a few blocks from the Sunset Beach fishing pier, your family will really enjoy staying at Cody's Cove.
Check out the super unique Scrabble Board in the backyard! I mean, who doesn't want to get a Triple Word Score on vacation?
Sleeps 10 | 4 Bedrooms | No Pets

* Pet Friendly * Easy Access to Town * Comfy Family Room * Updated! *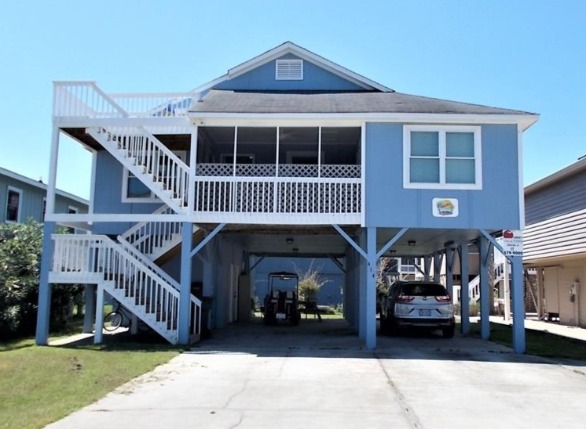 "Paradise Beach"
Have teens who want to explore the town? Send them on their way... it's all within reach from this rental on the west side of Sunset Beach. The pier is also super close, and that's always a great place to walk after dinner.
Paradise Beach allows dogs, and your kids will love having their furry family members on vacation!
Sleeps 10 | 4 Bedrooms | Pets Welcome!

* Ping Pong Table * Screened Porch * Lots of Books * Easy Walk to Beach *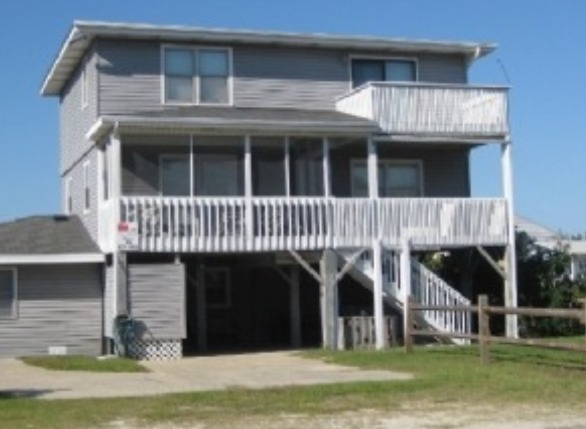 "A Avalon"
Family fun is in store at an easygoing property like A Avalon, located on the second row on the east side of the island. Older kids will like escaping to the game room (which features a ping pong table).
The screened porch is out front, and is a great place to corral a little one with her toys while you get ready for a day at the beach.
Sleeps 10 | 4 Bedrooms | No pets

If you are visiting Sunset Beach with kids, don't forget to check out our Delightful Parks and Playgrounds. While there isn't a playground right near our vacation rental homes, there are several in the surrounding area that will give your kids a chance to take a break from the beach and sand, while still burning off energy.
Some of our Sunset Beach rentals come fully stocked with plenty of games and puzzles! You will just have to see what your choice offers once you arrive. If you want to plan ahead and bring your own, take a look at this blog: Family Friendly Games to Play on Your Next Beach Vacation.
Lastly, just in case you need a reminder about just how great traveling with kids really is, re-read our blog that lists seven, YES, SEVEN reasons your kids will actually enhance your vacation this year: 7 Reasons Traveling With Kids is Actually Awesome
Sunset Beach is known for being super family friendly. And, Sunset Vacations has some of the most kid friendly Sunset Beach NC rentals around.
Comment on this post!