---
Tips For Surviving a Beach Day With a Baby or Toddler
Posted On Monday, September 14, 2020
---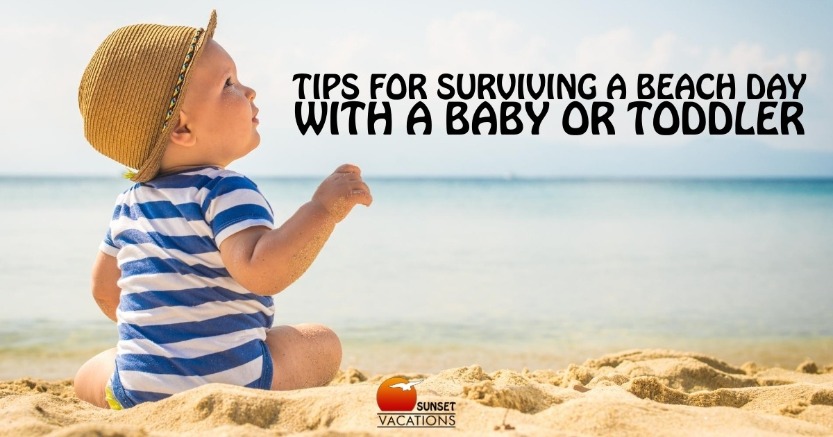 Are you picturing a lovely day on the beach with your baby? She is peacefully napping under the shade of the umbrella. You are reading the latest novel, listening to the ocean waves and drinking something yummy. And ... your toddler is quietly playing at your side, discovering tiny seashells and never, ever eating them! Oh, and, he is definitely NOT throwing sand or running towards the ocean at full speed.
Annnnnd.... we are now back to reality. If only a day at the beach could be that idyllic!
We all know that babies and toddlers add a bit of chaos to our day. But, they can also make your adventure so much more fun! Watching a baby discover the feeling of sand in her toes, seeing her squeal as the ocean races towards her chubby feet, and observing your toddler as he figures out how to build his first sandcastle - these moments make it all worthwhile.

Most of the groups renting Sunset Beach vacation homes have young children in tow, so today we are going to share our favorite tips and tricks to help you survive (and dare we say, thrive?) a day at the beach with the little ones.
After all, we are in the business of helping people have great vacations. And that includes our tiniest guests.
⛱ Let's go to the beach!

⛱
Tips & tricks for a successful beach day for all.

Bring shade
Whether you prefer a canopy, umbrella, or baby tent, shade is essential when visiting the beach with a baby or toddler. You will appreciate it, too.

Pack a playpen
Smaller babies definitely need a safe place to nap. Whether you choose to bring the pack n' play or something more portable (try this), you won't regret it.

Dig a hole
By digging out a hole in the sand, you can create a cool little spot for baby to splash safely, right next to you. Make sure to fill it in before you leave!
Always have baby wipes
Wiping dirty hands, dirty mouths, and dirty bums... this is parenting 101! Don't forget trash bags.
Try the "baby powder" trick
You probably already know that baby powder makes sand fall right off your skin, and baby's!
Wear your baby to the beach
Your hands will be full. Try wearing your baby as you approach the beach.

Sunscreen often
We know, it's a bummer. Apply a nice, thick layer before leaving the rental. Reapply throughout the day. Try a mineral sunscreen - they are safer for baby.

Bring bags
Whether you choose a plastic grocery bag or reusable mesh or plastic ones, waterproof bags are invaluable for collecting trash, seashells and more.

Potty time
Have a potty plan. If your vacation rental is oceanfront, the potty isn't too far away. You may need to pack swim diapers or a portable potty as well.
Have an emergency plan
Know what to do and where to go if you have an emergency while on vacation. This blog has some great info for the whole family. It's smart to pack a little first aid kit.

Fill a spray bottle
Fresh water in a spray bottle can serve several functions. Baby will love playing with it, or you can spray her to keep her cool. Also, you can use the fresh water to clean her hands before snacks.
Use protective swimwear
The more skin is covered the better, and this goes double for little ones. Try a rashguard suit with SPF and a floppy hat if he will keep it on.

Hydrate everyone!
Pack plenty of fresh, cool water for the whole family. We like to freeze our water bottles the night before to use in the cooler so they serve double duty.

Don't forget toys
Babies and toddlers don't need much, but a bucket and shovel can go a long way! You may also want to bring a ball, little trucks or squeezie water toys.

Pack light
It sounds like we are saying to bring a lot of stuff, but really... try not to overpack. Snacks, drinks, toys, and safety stuff - that's about it!
Go early and keep it short
You know the drill. Babies are up early which is actually in your favor when it comes to a beach day. You can grab a spot near the walkway, enjoy a few hours before the sun is too strong, then go in for a nap.
Stay vigilant near the water
We recommend keeping a flotation vest on any mobile child at all times when you are near the ocean. All it takes is a minute for him to run to the water's edge. Also, watch out for critters like jellyfish and crabs!
Have fun!
Take plenty of pictures, try not to get too stressed out, and have fun with your little ones! They will help you see the ocean in a whole new way, and while you may not get a chance to relax this year, the memories will make you smile.


Want more advice?
Traveling with kids is a lot of work but there are ways to make it more enjoyable. Check out our blog for some more great advice from Sunset Vacations.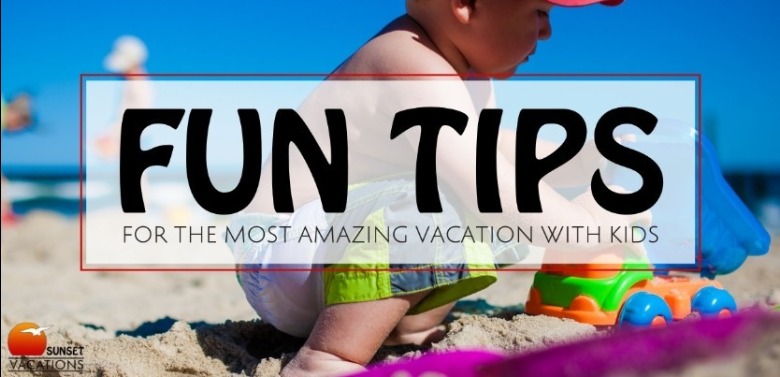 If you are traveling with a baby or toddler, you have come to the right place. Sunset Beach is SUCH a family-friendly destination. We have quiet streets, friendly neighbors, and plenty of things to do for everyone in the family.
If you need help planning your Sunset Beach vacation, please give Sunset Vacations a call at (910) 579-9000. We would love to help.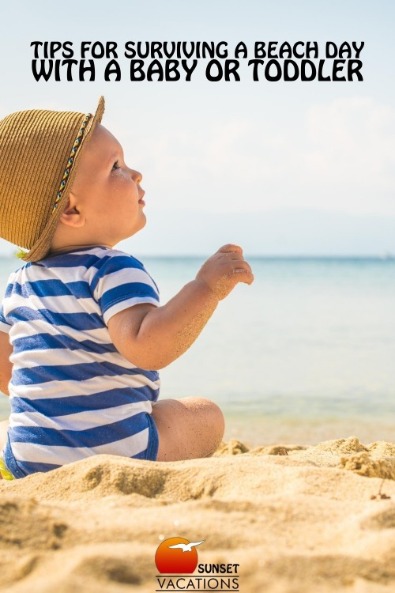 How do you beach with baby? 👶
Share your tips with our readers, and we will use them in a future blog!
Comment on this post!