---
Sunset Vacations Rentals Will Make You Love Sunset Beach, NC!
Posted On Monday, December 2, 2019
---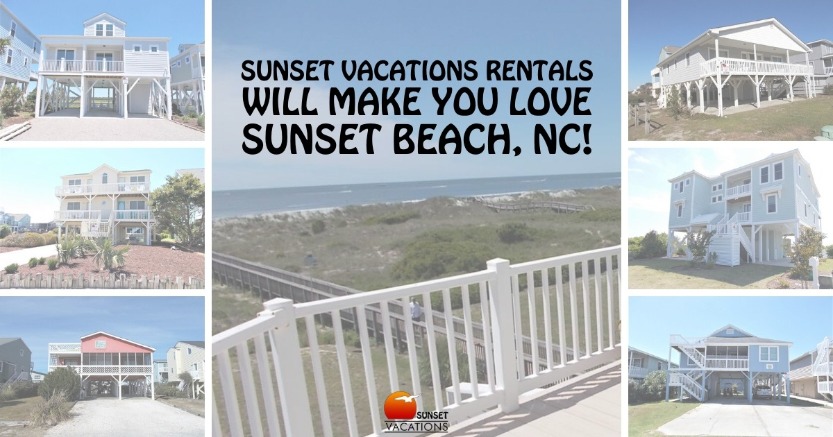 Sunset Vacations has been around for a while.
Since 1984, as a matter of fact! Our little family-owned company has grown so much over the years – managing and maintaining over 250 beautiful, unique vacation homes here in Sunset Beach, North Carolina.
And gosh, we sure do love it. Some days are more challenging than others, and it's definitely a balancing act to provide professional customer service to both our renters and our property owners. But since we see both sides of each transaction, we are truly able to help everyone enjoy these properties to their full potential.
Now we will explain exactly why our Sunset Vacations rentals will help you get the most out of your next beach vacation.
1. This is the best location.
If you are reading this blog, you probably already know all about Sunset Beach! It's still one of the best-kept secrets as far as beaches go. Although Sunset Beach has been named one of the top beaches in the entire WORLD by National Geographic, it manages to maintain its clean, friendly and affordable reputation with plenty of fun bars and restaurants, easy access to fascinating day trips, and some of the best vacation rental homes on the east coast.
One fun tool we feature on the Sunset Vacations website is our Interactive Map. Especially if you have been to Sunset Beach before, you can zoom in to the area of Sunset Beach that you like.
Maybe you want a rental close to the Bird Island side, or want to be close to the grocery store.
Once you access the tool, just click around the area you prefer. From there, you can "save" the houses that meet your criteria, then sort through them.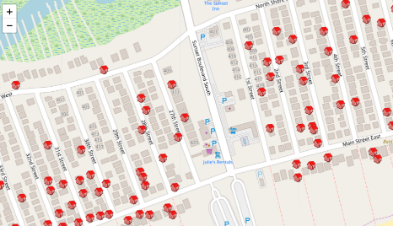 2. We have rentals at different price points.
The price of your rental will depend on several factors. If you want waterfront and need to accommodate 16 family members, yep... that will cost more. Are you traveling with a family of four and don't need to be right on the beach? You can save hundreds, if not $1,000 on your rental price.
3. Our rentals can accommodate small or large groups.
Technically, the minimum number of people who can sleep in one of our rental homes is four. Why? Because they are actual houses... not just hotel rooms! If you only have two people in your group, you can definitely rent one of our smaller homes and get so much more value than a hotel room. You will have the benefit of a full kitchen, a private driveway, balcony, living room and space to spread out.
If you have a larger group, well, that's where Sunset Vacation shines. Did you know we even have one rental, Bear's Lair, that can sleep up to 25 people? It has 10 bedrooms, a game room and an elevator.
4. We have lots of dog-friendly rentals.
As of this writing, we have 39 dog-friendly rental homes waiting to welcome you and your best friend of the furry variety.
Click here to learn more about bringing your dog on vacation, including our rules about deposits, how many dogs you can bring, and how to have a great vacation with your beach-loving dog.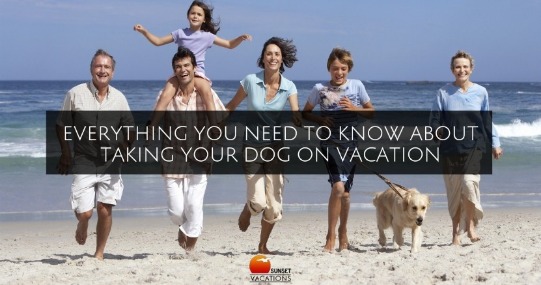 5. Love amenities? Need an elevator? Want a game room?
You probably have a certain vision for your vacation, and it might include certain amenities, like a screened porch for sipping your morning coffee or a ping pong table to crush after dinner time.
On our vacation rental search engine you can click the boxes for the amenities you are looking for. For example, you might have a guest with mobility issues for whom an elevator is a necessity. Here is a list of our properties that feature this great option.
6. We love our guests.
When our guests are happy, so are we. We work really hard to make sure that our rentals are clean, comfortable, well-appointed and ready to host your family or group of friends for an awesome vacation. We also want to provide exceptional service to our homeowners to make sure our houses are cared for properly. We love our guests, and when the same families visit Sunset Beach year after year, it confirms that we are doing a good job. Thanks for staying with us!
If you are interested in planning a trip to Sunset Beach, we would love to help. Whether you are bringing the family down for some quality time, gathering the guys for some serious golf, or finally scheduling an amazing girl's trip with your college friends, we can help you find the Sunset Vacations rentals that suit your needs PERFECTLY.
Comment on this post!