---
Paddleboarding 101 - You Can Do It!
Posted On Monday, July 6, 2020
---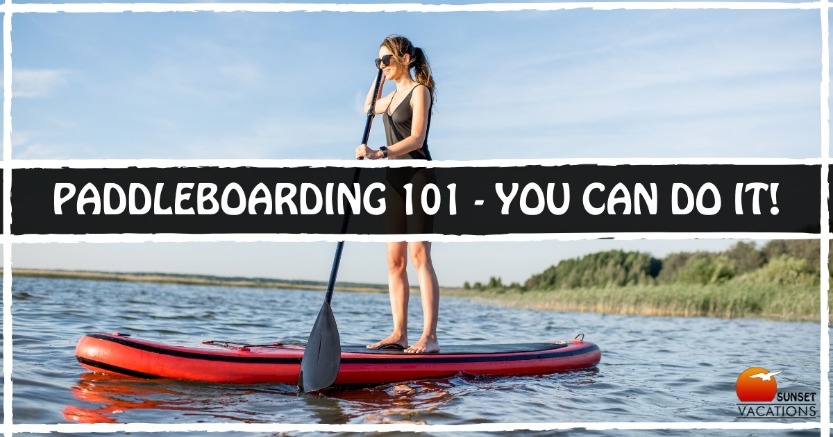 Stand-Up Paddleboarding is fun and easy to learn.
You can rent stand-up paddleboards (SUPs) and kayaks right here in Sunset Beach, North Carolina. Today we tell you where, how, and why you should try paddleboarding next time you're in town.
What is Stand-Up Paddleboarding?
The sport of SUP has been gaining momentum in recent years, and the waters around Sunset Beach are no exception.
Paddleboarding simply involves balancing on a large board and paddling your way through the water, all while standing (vs. sitting in a kayak or canoe).
You can paddleboard in just about any kind of water, from a calm inlet stream to the wide ocean waves.
Some people even enjoy Paddleboard Yoga and other balance-enhancing activities to intensify the challenge.
The first step to successful paddleboarding is finding some calm waters in which to place your board. Save ocean paddleboarding for the pros and try to find a quiet section of water that is sheltered from wind and waves.

The best spot to launch your Paddleboard in Sunset Beach is the Sunset Beach Town Park.
Here you'll find a dock, a sandy shoreline and a boat ramp. These are all great options for launching an SUP.
Another thing to look for as you search for a spot is a smooth, graduated entry into the water. You know how toddlers and dogs love a "beach entry" at the swimming pool? It makes getting on your paddleboard easier, too!
Place your board in the shallow water and get your bearings as you climb aboard.

Make sure you are in water that's about knee deep so that the little fin on the bottom of your board doesn't break off (or flip you off your board!).
Attach yourself to your board using the leash (tether). This way, if you fall off, you won't lose your board.

To get on, place your paddle on the board (perpendicular to the board) and place your hands over the paddle to keep it tight! Place one knee at a time onto the board. For your first time, you might spend a few minutes paddling on your knees to learn how to balance and paddle. You may find that kneeling comes in handy if the winds pick up or if you get tired of standing, too.

To paddle, use both hands and make sure the paddle is submerged in the water for each stroke for maximum power and accuracy.

Now for the tricky part... standing up!
Just place your paddle on the board in front of you, curl your toes under, look straight ahead (not down), and, as if you are doing a squat, raise your body up to a standing position.
Sounds easy, right? Well, it takes some practice but try to stand up quickly and as balanced as possible, and get your paddle into the water to help you.
You may have to shuffle forward or backward to find your center on the board. Again, use your paddle to help by placing it in front of you on the board for support.
Learn more about how to Paddleboard from the experts at REI.com.

What if I fall off?
Don't panic!
You should be "leashed" to your board so it won't go too far. Simply approach your board from either the side or the back and pull yourself up, resting your chest on the board.
You may want to stay on your belly if you need to retrieve your paddle. Just use your board like a surfboard and paddle over to it.
Then, stand up like you did when you first got on! Watch this video to see how it's done.
Where can I learn how to paddleboard in Sunset Beach?
We highly recommend enlisting a local company to teach you how to paddleboard! You will learn the correct techniques right from the start, and have a better, safer experience overall.

Carolina Surf School, located right next door in Ocean Isle, offers Stand Up Paddleboard rentals and lessons.
"We offer private stand up paddle board tours for all skill levels, ages thirteen and up. Newcomers to the sport will be educated on how to stand on the paddle board, proper paddling techniques and how to maneuver the board. After this, the tour will begin. All equipment is included: 9'6″ stand up paddle board and a carbon paddle."
As of this writing, a one-hour lesson and tour is $45 per person. Click here to book.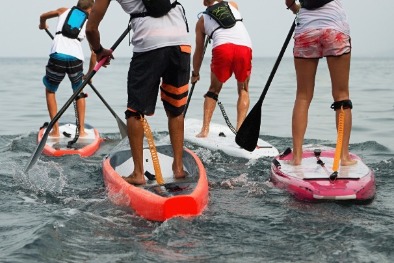 Where can I rent a paddleboard?
424 Sunset Blvd S, Sunset Beach, NC 28468
(910) 579-1211
Rent by the hour, day, or week.
7156 Beach Dr SW, Ocean Isle Beach, NC
(910) 579-2628
Rentals and delivery available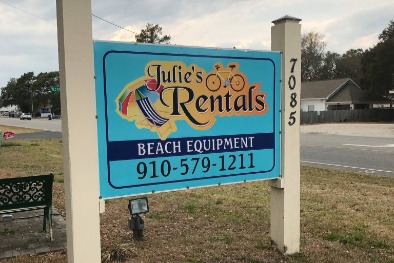 In addition to paddleboarding, there are several sports and activities you should try while you are visiting Sunset Beach on vacation. Our little beach town has several great companies that have everything you need to get started, from rentals to expert advice.
Read More: Sunset Beach is the Place For an Adventure Packed Vacation
Trying something new can really enhance your vacation and will help you create amazing memories. Sure, our vacation rental homes are comfortable and fun, but you need to get out and explore a little, too!
Comment on this post!