---
Myrtle Beach is the Perfect Day Trip From Sunset Beach
Posted On Monday, October 7, 2019
---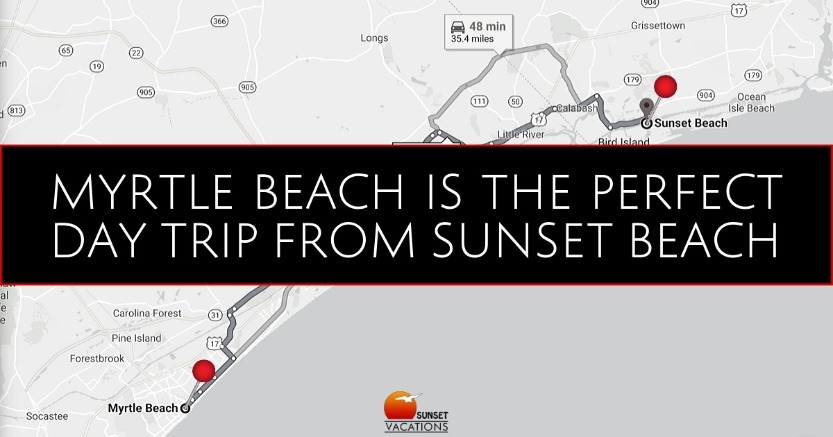 Myrtle Beach is just 40 minutes from Sunset Beach, just beyond the NC/SC border. There you will find a whole new world of restaurants, activities, shows, music, bars and much more.
We get it ... Sunset Beach is a small town!
Maybe your family or friends are looking for a little bit more excitement. A day trip to Myrtle Beach is just the ticket. Then, hop back in the car to escape the madness. Drive back to your peaceful vacation rental and pat yourself on the back for choosing to stay in Sunset Beach, North Carolina.
Here are some great things to see and do during your day trip to Myrtle Beach, SC:
Broadway at the Beach
Broadway at the Beach is definitely one of the most popular tourist destinations in the area. There is truly something for every single person in your family or group.
Find really good restaurants, ice cream, attractions like zip lining over the water, or try the wave park.
Take a close look at their excellent website which really outlines all of the options.
Plan to spend some money and time here... you will need both.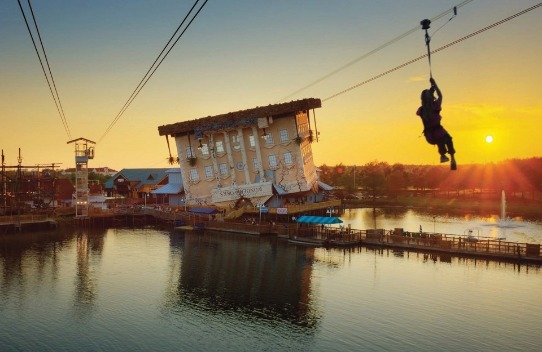 Golf
Already tried all the fantastic golf courses around Sunset Beach? There are plenty more where that came from, just down the road in Myrtle Beach. Many of them have been created by world-famous golf pros like Arnold Palmer and Jack Nicklaus. Find scenic and challenging courses ... and plenty of them.
Check out www.myrtlebeachgolf.com to get started.
Ride the SkyWheel®
The absolute highest point in Myrtle Beach, with a view of the Strand and ocean for miles, you can't miss the SkyWheel.
Enjoy a luxurious ride in fully enclosed (heated and cooled) gondolas with glass windows and doors for optimal views.
The SkyWheel® is fully wheelchair and scooter accessible.
Tickets may be purchased online or in person. As of this writing, tickets are $14 for adults and $9 for children ages 3-11.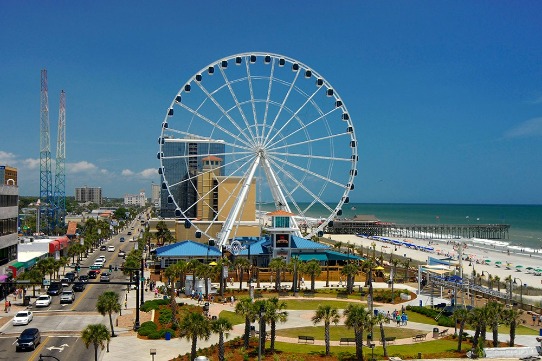 So yeah, a wax museum is a little bit cheesy, but gosh, it's so much fun. The Myrtle Beach Hollywood Wax Museum is no exception, allowing you the opportunity to take selfies with various wax figures, complete with props. Did you know that each wax figure takes 7 artists about three months to create? Although a wax museum is sort of silly, there is true artistry in these amazing figures.
There are a few others things to do at the wax museum. Play a giant piano, or tiptoe through a laser maze. Adult tickets are about $30 each, kids are $20 and children 3 and under are free. Look around for various discounts and promotions before you buy.
1808 21st Ave. N. Unit A
Myrtle Beach, SC 29577
(843) 444-0091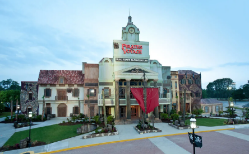 Pretend you're learning some history while on your vacation... but really, this dinner-theater show is just a ridiculous good time. There is a one-price ticket that includes admission to Pirates Village, a four-course feast (call ahead if you want to request something vegetarian), and the pirate show, which includes "spectacular acrobatic competitions, aerial feats, sea lions, tropical birds, beautiful mermaids and much more!"
Pirates Voyage Myrtle Beach, SC8: 907 N Kings Hwy, Myrtle Beach, SC 29572
Phone: 800-433-4401

If you are willing to drive a little bit past Myrtle Beach, you should visit the Hopsewee Plantation for a truly educational experience. It is known for "rice slavery" (where skilled African slaves brought their knowledge of rice planting and harvesting to America) and the tragic life they lived, even while others lived in luxury. Tour the house, the slave quarters, and the grounds. There is also a fantastic "River Oak Cottage Tea Room" boasting a full lunch menu (and amazing desserts).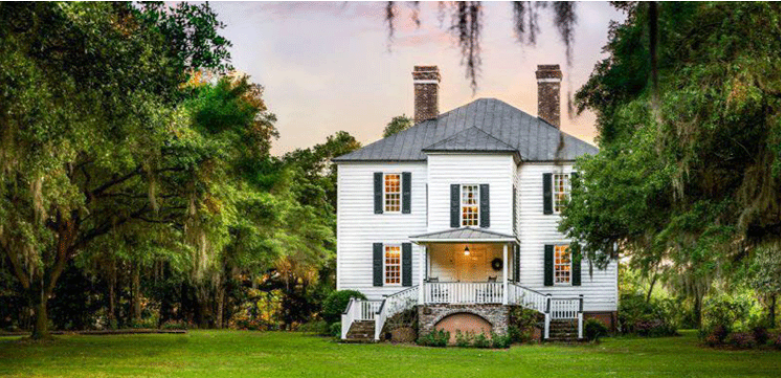 Riding horses on the beach sounds pretty dreamy, doesn't it? You can do just that, year round, with Inlet Point Plantation Stables. They offer a couple of different options depending on your budget, skill level, and sense of adventure. You can start out slow with a simple pony ride for the kids (ages 7 and up, $35 per person for a half hour guided walk through the pecan groves). For $60/person, you can enjoy a "Waterway Trail Ride" (again, for ages 7 and up). If you want to ride on the beach you can opt for the one (or two) hour oceanfront rides on Waites Island. This place gets fabulous reviews for their knowledgable and caring staff, not to mention the sweet, gentle horses. You will love special touches, like the option to purchase photographs from your ride at the end, and a delicious ice cream treat when your ride comes to an end.
Reservations are required!
Phone: (843) 249-2989
[email protected]
5800 Highway 236 • N. Myrtle Beach, SC 29582
Climb high at Radical Ropes Aerial Adventure Park
Myrtle Beach is a great place to try an Aerial Adventure Park or Zipline tour. There are different levels for different skills, ages, and abilities, and you can choose to try everything or stick to just one activity. No kids under 4 can participate, but this is fun if you have older kids / adults in your group.
Plan ahead... this is sort of an all-day adventure (and perfect for the off-season, when it's not too hot). The zipline tour will take around 1.5 hours and the aerial adventure park ticket lasts 2.5 hours. Both of these activities include a short ground school. You can also buy a pass to give you access to everything. This is a more expensive activity but one you're sure to remember when you think back on this vacation.
301 19th Avenue, South Myrtle Beach, SC 29577

Phone: 843-RADICAL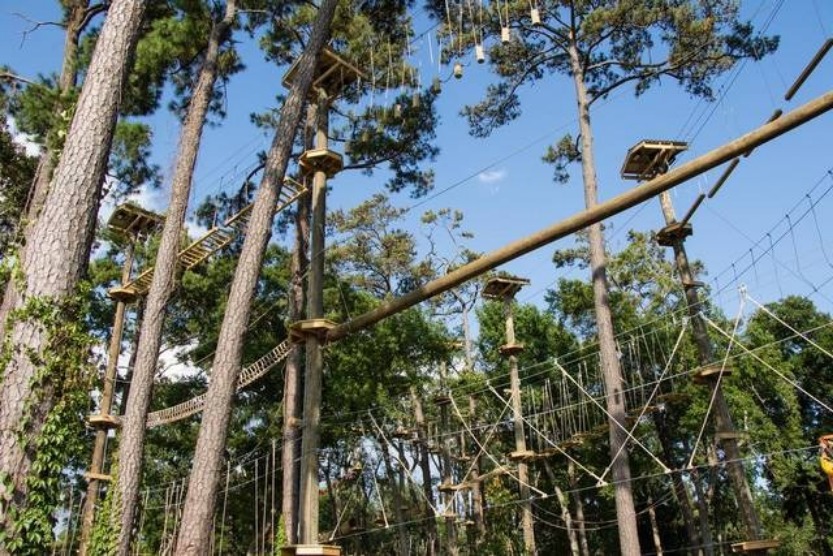 So what activities will you try on your Myrtle Beach day trip? Don't forget, there are also plenty of great restaurants, parks and shopping to be had while you are down there. When you are done, pile yourself back in the car for a quiet, peaceful ride back to Sunset Beach. We will be waiting for you!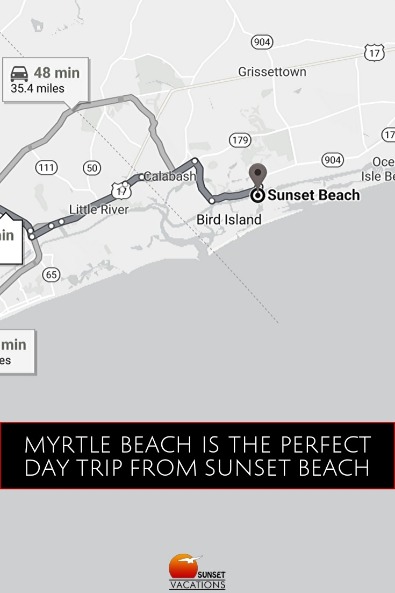 Want to stick close to sunset beach instead?
Read our blog for activities, events and outings close to "home".
Comment on this post!