---
How to Update Your Beach House With Style
Posted On Monday, April 26, 2021
---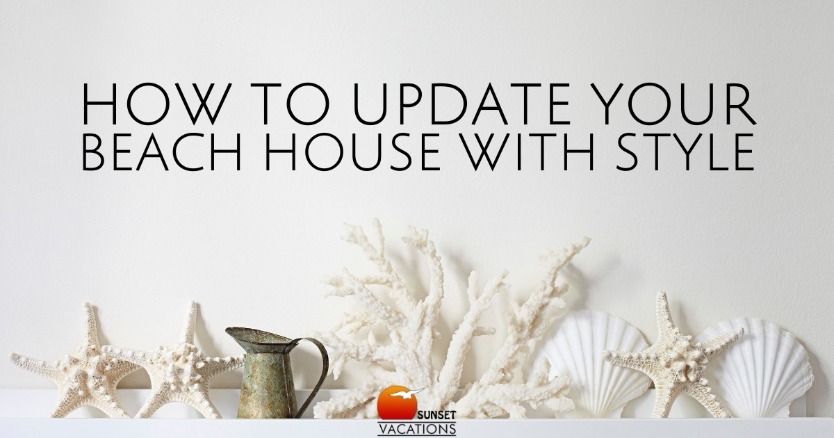 Do you own (or want to own) a beach house?
Here at Sunset Vacations, we know that certain improvements get your beach house rented out faster and for more money.
Whether you have the budget for am entire kitchen overhaul or are more interested in a few (less expensive) updates, there are several changes you can make so that your beach house is more comfortable for you – and more appealing to renters.
Here are 6 ideas to try. These updates can improve any home, on and off the beach!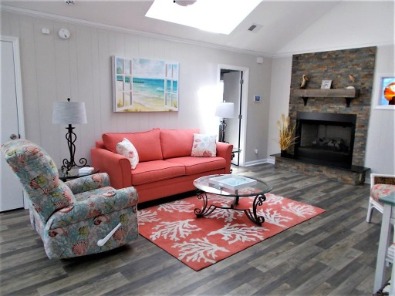 Many small beach towns saw growth in the 80's and 90's - and it shows! Wood paneling was all the rage, and boy - did we love wallpaper back then!
While there is a certain charm to these nostalgic finishes, you might consider these simple updates:
Paint paneling a fresh white, gray or cream
Replace paneling with shiplap or beadboard
Remove wallpaper, or update the pattern
For example, check out Tequila Sunset, a newly updated Sunset Beach rental with freshly painted wood paneling and new flooring throughout.
The kitchen is the heart of the home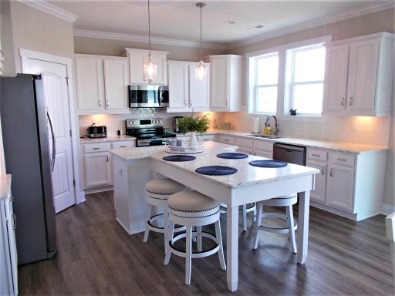 If you are going to update any room in the house, start with the kitchen. Even something as simple as new counters can give your beach house a totally new vibe.
Check out My Three Crabbers, which is a gorgeous 4 bedroom home located on North Shore Drive. This home was built in 2019, so the kitchen is more up-to-date than many other homes on the island.
It provides guests with a clean, modern space in which to prepare meals, hang out, and feel at home.
Are there simple updates you can do to your beach house kitchen? Try new hardware, painting cabinets, or installing a backsplash.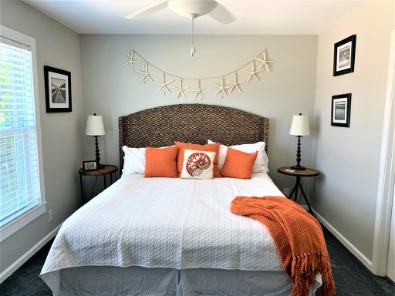 Follow the lead of some of the larger hotel chains and do away with the old fashioned quilts and comforters. Guests today love to see clean, white bedding in the master bedroom, accented with pretty pillows and art pieces.
Check out this bedroom at the Sunset Vacations rental named "Moonlit Shoes East".
The simple rattan headboard is perfect for a beach house, and that little starfish garland above the bed is just darling. This simple, modern and clean decor is sure to please just about any guest.
(no worries - guests will love lots of color and fun in the other bedrooms!)
...but keep the kids' bedrooms colorful and fun!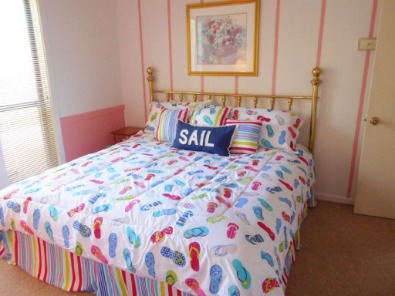 A beach house is the perfect place to have some fun with whimsical decor!
We love how the owners decorated "200 Shell Box III", which is a 3-bedroom, pet-friendly home located close to the center of town. Look at this adorable flip flop comforter and colorful pillows.

What a sweet bedroom for your little one!
Some Sunset Vacations rentals have each guest bedroom painted a different color, with bedding and art to match. Some are decorated in a certain theme (like pirates or "under the sea").
Incorporate beachy details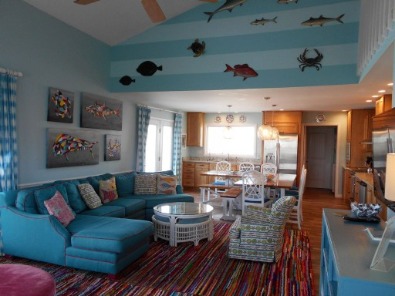 There is no shortage of beach-inspired decor out there. A quick tour of Etsy, Pinterest, and Amazon will inspire you to update your beach house with fun pillows, paintings, and signs.
Even better, shop local. We have several shops right here in and around Sunset Beach that offer beautiful beach-themed decor for your home. Read this blog to learn more.
Check out this amazingly colorful living room. This Sunset Beach rental is called "High Priorities", and it features 5 bedrooms and sleeps up to 14 people. Definitely view all the photos on our website because this home has so many cool details, like built in bunk beds and a sweet little play area outside.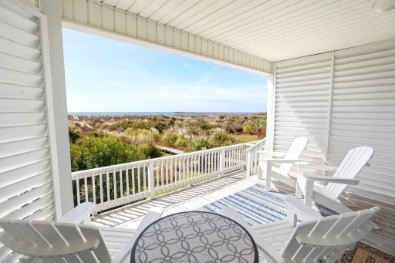 Being outdoors at the beach is the BEST. When your beach house offers a comfortable, clean and inviting outdoor space, you are sure to get great reviews. Adirondack chairs are a classic choice and easy to hose off if necessary. They come in beautiful colors! Rocking chairs are also great. For a screened porch, throw down a colorful indoor/outdoor rug and fun pillows and cushions. Don't forget a coffee table for drinks and snacks!
Many families will appreciate an outdoor table (picnic tables work great). After all, kids often come home from the beach covered in sand and wanting to eat something messy, like watermelon!
We like this little porch nook at La Casa Blanca East. What a great place to relax while visiting Sunset Beach!
Replace your doormat
Install updated lighting
Paint the front door
Put in an outdoor shower
Use indoor/outdoor rugs for easy cleaning
Provide a game cabinet
Hang new shower curtains
Replace outdated hardware
Fence the yard (for kids or pets)
Get professional photos taken of the property


How would you update your beach house?
Can you use any of these tips in your own home?
Comment on this post!