---
What Should I Bring? Last-Minute Ideas For Your Thanksgiving Feast
Posted On Monday, November 19, 2018
---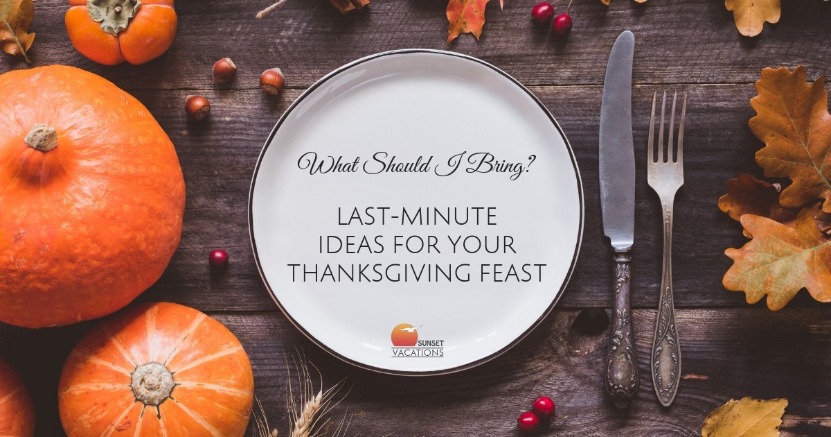 It's almost turkey time!
Maybe you are the one hosting the big meal this year, but if you are lucky, you received an invite to spend the day with friends or family! Either way, you know that you need to contribute to the feast because expectations for fantastic food run high this time of year.
Here on Sunset Beach we like to prepare dishes that are regional, flavorful, and easy to prepare. If you were smart enough to book one of our vacation rentals during the holidays, these ideas are perfect for you because they are simple to prepare in your beautiful, welcoming beach house.
Whether you are the host or the guest, there are three main categories where you can truly shine: Appetizers, sides, and desserts.
Here are a few choices for each!
Appetizers:
It's no secret that tummies start rumbling before the main event because of all the amazing smells coming out of the kitchen, so it's a good idea to have a few light & easy appetizers ready to go. These are all super simple to transport. We recommend not offering something that will need time in the oven, since your host will already have limited space in that regard.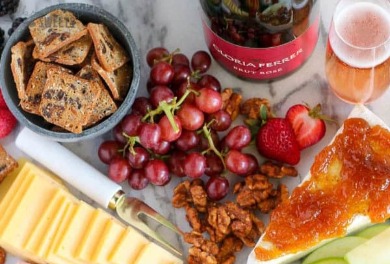 Cheese & Fruit Board
An assortment of cheese, various crackers and bunches of grapes look great arranged on a pretty tray and are definitely a crowd-pleaser. Especially if there are picky eaters (i.e. kids) involved, this combo will stave off pre-meal meltdowns.
To class it up a notch, add the components outlined on this list from celebratingsweetness.com. Dried fruits, nuts, olives and even some chocolate will impress everyone in the room, and all you have to do is gather ingredients and arrange them on a tray or board... without even turning on the oven!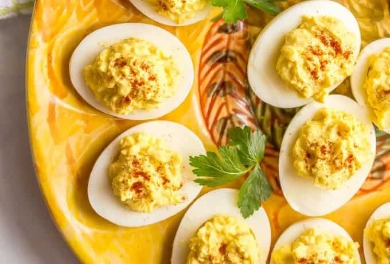 Southern Deviled Eggs
These are a classic choice for a reason, most people just love them! There are plenty of variations and you could even prepare a few different toppings. Here is a recipe from familyfoodonthetable.com we like.
How do you transport these beauties to the big meal? Eggs need to be kept cold, so make sure you keep some ice packs inside whatever container you choose. Here are some awesome ideas from foodandwine.com for transporting your deviled eggs safely!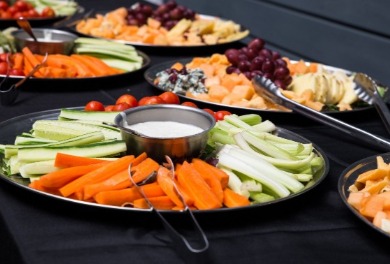 Raw Vegetable Tray & Dip
We think that a tray prepared by you looks and tastes better than a pre-made tray from the grocery store but either way works!
Raw veggies are a welcome addition to the appetizer spread because they are light, nutritious, and often preferred by kids to the heavy, cooked vegetable sides they will be offered at the main meal.
Want to be fancy? Check out this blog by thekitchn.com, where they suggest adding some new players to your life like jicama, fennel, and fingerling potatoes!
Side Dishes:
Turkey gets a lot of press time at Thanksgiving, but we think the sides are the stars of the show! Chat with your host to see where you can fill in the gaps, because no one wants several dishes of sweet potato casserole... well, almost no one. But seriously, some of the most delicious dishes are super easy to make!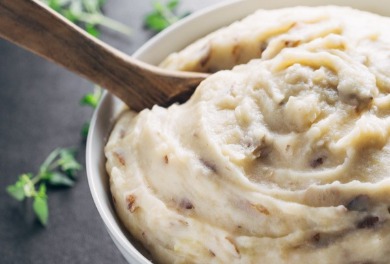 Easiest Garlic Mashed Potatoes
These slow-cooker potatoes are the perfect last-minute grab...just give yourself enough time for the potatoes to cook (at least four hours on high).
This recipe is great because you can bring the whole slow cooker to your event and plug it back in, ensuring hot, creamy potatoes that will impress with no stress. Follow this blog for more ideas!
Recipe courtesy of Pinch of Yum
Sweet Sautéed Apples
This recipe is so easy and it's very likely you have all of these ingredients on hand!
Warm, cinnamon-y apples are the perfect side to any meal, but especially the ultimate autumn meal: Thanksgiving.
If by any miracle there are leftovers, your host will love serving these for breakfast with some pancakes and whipped cream. Yum.
Recipe courtesy of Allrecipes.com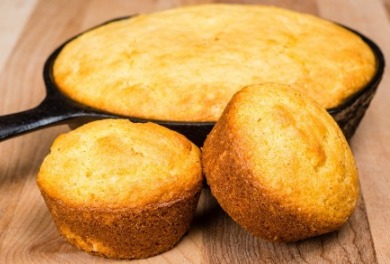 Buttermilk Cornbread
Cornbread checks all the boxes: It's super quick to prepare (30 minutes), only requires a few simple ingredients, and it's a classic Southern dish.
Cornbread is ideal because it holds up well when you are traveling. Kids often like it, too, which is helpful if they aren't fans of the varsity-level vegetables that usually steal the show at Thanksgiving!
Recipe courtesy of MyRecipes
Desserts:
Desserts are probably the easiest thing to bring to a holiday gathering. After all, they can usually be prepared at least a day or two ahead of time, they travel well, and they don't usually need to be refrigerated or heated up before serving. Here are a few ideas for easy desserts to share!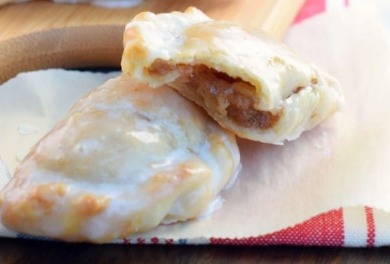 Apple Hand Pies
Store-bought pie crust and apples are probably the only ingredients you will need to go to the store and purchase for these flaky, sweet apple hand pies.
You could probably even cheat and make extra apples to bring as a side, as listed above!
Try this recipe from shugarysweets.com.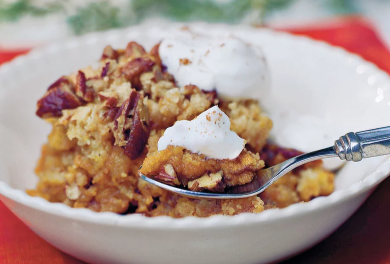 Pumpkin Crisp
We love everything "crisp"! Usually reserved for apples, this recipe is ideal for Thanksgiving because it features sweet, creamy pumpkin, crunchy pecans and a buttery crisp topping made with store-bought cake mix.
Don't forget the whipped cream!
Find this recipe on SouthernLiving.com.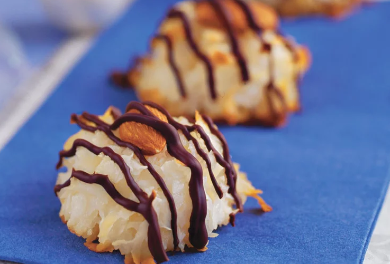 Chocolate & Almond Macaroons
Take a break from pumpkins and apples and really impress your friends with a dessert that looks like you bought it straight from a designer bakery. These macaroons come together quickly with just six ingredients. Arrange on a pretty platter and enjoy all of the compliments coming your way.
Recipe courtesy of Myrecipes.com.
Nah...I'm not cooking.
That's ok. There are really so many great options available at our local grocery stores and wine shops, you really don't need to bother with a homemade appetizer, side or dessert this Thanksgiving. You can pick up a pre-made snack tray, purchase a beautiful cake or pie, or show up with a bottle of wine or a six-pack of delicious beer! It will be very much appreciated. Check out this blog post listing Sunset Beach wine shops if you happen to be in the local area.
We also love the idea of bringing your host something unique to reward them for their kindness. Some ideas include a beautiful centerpiece or flower arrangement, a collection of soaps for their guest bathroom, a fresh, new fall-inspired kitchen towel, or a basket of breakfast goodies for the next morning (when they don't even want to THINK about cooking).
Have an absolutely wonderful Thanksgiving from your friends here at Sunset Vacations!
What is your go-to dish at holiday time?
Please share it in the comments.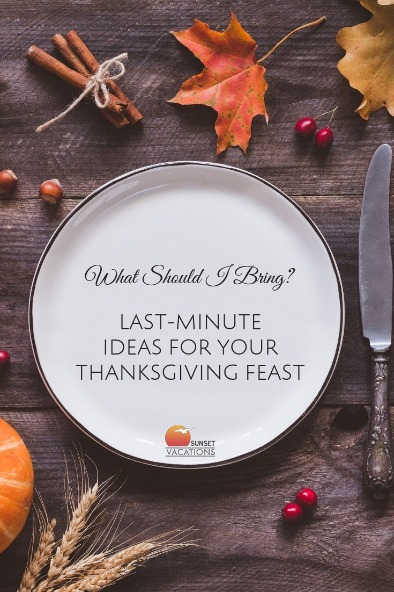 Comment on this post!