---
This Guest Room Checklist Will Make You the Host With the Most
Posted On Monday, November 5, 2018
---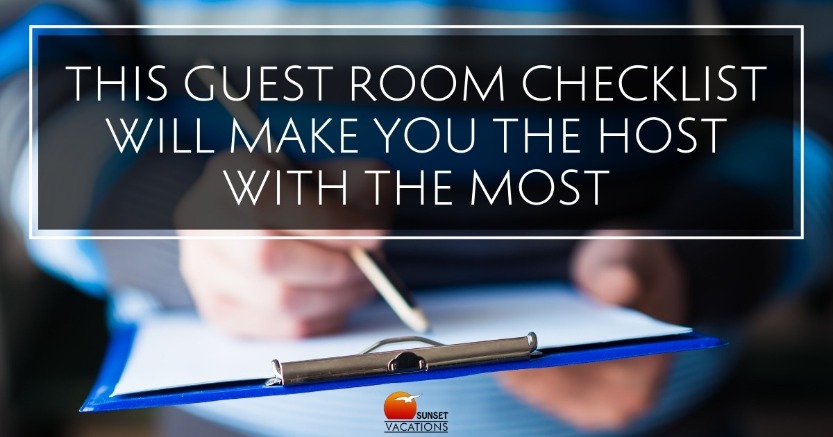 Hosting doesn't need to be stressful!
When you have a well-equipped space that is always guest-ready, you will be thrilled to get the call that visitors are on their way!

As fall and winter approach, we enter the most popular time for out-of-town guests. We have prepared a helpful checklist to use as you prepare a calming, functional space for your friends and family to enjoy.
We do have a confession: A lot of these ideas were stolen from our vacation rentals here at Sunset Beach. Sunset Vacations beach homes have so many amazing amenities available to our vacationers. We really love the special touches they include to make sure every room is useful and comfortable.
Read on for our list of the 20 must-have Items for your guest room.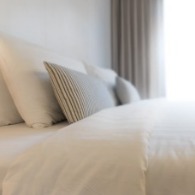 1. Comfortable bed
This is one of the most important items for our Vacation Rental owners here at Sunset Beach. If the beds aren't comfortable, guests aren't happy! If you can't afford to replace your guest bed, consider adding a high-quality topper to your existing mattress. Memory foam is a great choice, and don't forget a pillowy, thick mattress pad. Your guests will thank you!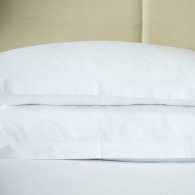 2. Freshly washed pillow cases
Even if you change the sheets right after your last guest, always re-wash the pillow cases right before the new arrivals. There is nothing better than a soft, clean smelling pillow at the end of a long day. We also recommend using washable, zippered pillow protectors that provide a barrier against allergens and dirt. These are definitely used in the rental home industry and should be at home, too!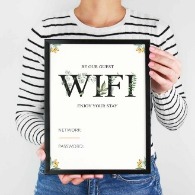 3. Wifi password
You can do something as simple as a sticky note or as elaborate as a framed print-out of your network name and password, but this is a nice item to provide so your guests don't have to ask (and you don't have to look for it!). There are some really cute choices on Etsy, or you can print and frame your own!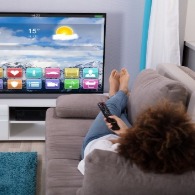 4. Instructions for the TV
If you have a television in your guest room (or other device) it's a nice idea to write down simple directions for its use. TVs have gotten so complicated now and it's never just a simple on/off situation! Let your friends know how to access Netflix, Hulu, and your cable.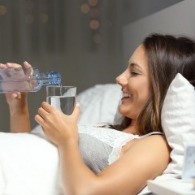 5. Waters and snacks
Guests will really appreciate finding a small basket with some bottles of water, a few granola bars, nuts, dried fruits, and definitely some chocolates. Traveling is exhausting and finding food and drinks in the room will make their day.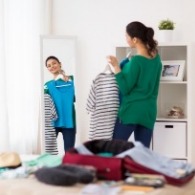 6. Mirror
Odds are good that you will be doing some fun stuff while your guests are in town! They want to look their best, but might not want to hog the bathroom while they are getting ready. Provide a mirror with good lighting in your guest room. Full-length is preferred. You can find inexpensive mirrors at big box stores that hang on the back of a door or lean against a wall.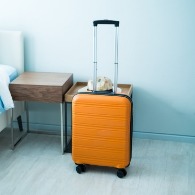 7. A spot for a suitcase
Hotels and Vacation Rentals often provide luggage racks, and they really are handy for guests if you can afford to get one. If not, just make sure there is a place cleared for a suitcase (even on the floor). A crowded guest room leaves no room for stuff, and that isn't very welcoming at all! On a related note, leave furniture surfaces mostly clear so that your guests can feel free to unpack and organize their things.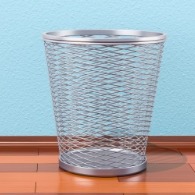 8. Garbage can
It's amazing how many guest rooms forget this simple but important detail. A small, decorative can is all that is really necessary. Line the can with a plastic bag and put it in a corner. Guests will probably only use it for their baggage claim stickers and maybe candy wrappers (from your snack basket!) but not having one forces your guest to find the kitchen or bathroom to throw things away.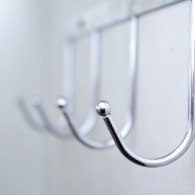 9. Hooks for towels and clothing
Your guests need to be "hooked up" with a place to hang their stuff! It's awkward to take a shower somewhere and have no place to hang the towel. Or, they might want to hang up some clothing or a robe. Provide your guests with a hook. It can be as simple as a low-budget Command hook (they make some great looking ones now!) or a nice piece you hang on the wall. Or, you can do an over-the-door hook that won't damage your walls (great for renters).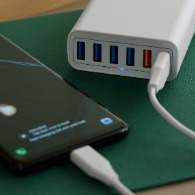 10. Charging station
Everyone needs to charge all the things nowadays. Make it easy on your guests by providing a charging station right in the guest room. We like the ones with multiple cords so you can have one for each type of device (Android, Apple, etc). Try something like this. If you don't want to purchase a charging station, try just providing a cord near the bed, already plugged in and ready. Your guests will be happy not to dig a charger out of their bag at bedtime!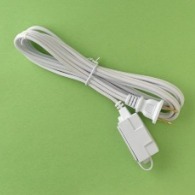 11. Extension cord
Have you ever stayed in a hotel or house where you couldn't find or reach an outlet? It's so frustrating, right? If you can leave an empty wall space with an outlet, that is the best option. But in a smaller guest space you might not have that freedom, so your next best choice is to run an extension cord or power strip discreetly from the power source. One that leads to the nightstand is great because that is where most people like to plug in their phones and other devices.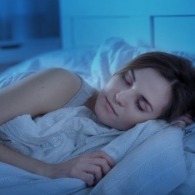 12. White noise machine
It's a thing… most people prefer to have some sort of noise while they sleep, especially in an unfamiliar house where new sounds might keep you up at night. A white noise machine or fan provides your guests with the option to reduce outside sounds or even provide a distraction from too much quiet. This one offers several sounds and volumes.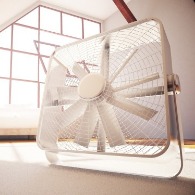 13. Fan
Some people just run hotter than others, so it's a nice touch to provide a table or box fan if your guest room does not have a ceiling fan (or even if it does). A fan can also be used as white noise if you don't want to purchase a separate machine. Pro tip... make sure the fan doesn't make any loud noises while in operation. There is nothing more distracting than a rattling fan when you are trying to fall asleep. Check the ceiling fan at all speeds, too.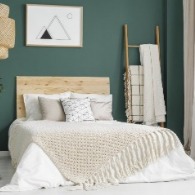 14. Extra blankets
Some people run hot, and others run cold! Make sure you leave a few soft, clean blankets in a basket or at the end of the guest bed so your visitors can bundle up. Another beautiful, decorative choice for storage is a blanket ladder. So cozy-looking and functional, too! Offer blankets made of different weights and materials.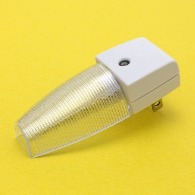 15. Nightlight
A small nightlight costs next to nothing, but it's a simple touch that goes a long way with guests (especially those with young children). Provide one nightlight in the guest room (that your friends or family can simply unplug if they don't need it). Also make sure your guest bathroom and the hallway have nightlights so your guests aren't stumbling around at night.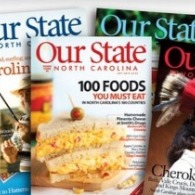 16. Magazines
Put a few recent magazines near the bed for your guests to read (or bring back with them when they go home). It's nice to include one or two local brochures for out-of-towners to enjoy. We recommend a copy of Our State Magazine which is all about North Carolina!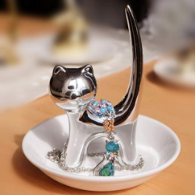 17. Jewelry holder
At home, you probably have a specific spot for your rings and jewelry if you take them off at night. Your guests will be touched by your thoughtfulness if you place a small jewelry holder on the nightstand. We like the ones that have a specific spot for rings (try this cutie). Oh, a box of tissues is another nice item to place on the nightstand!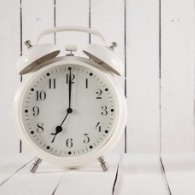 18. Clocks
You should really have two clocks in your guest space. An alarm clock on the nightstand is still pretty standard practice, even in this age of phone alarms. We like to also see a clock on the wall, because it's not only functional; it is a decor element that never goes out of style. Make sure the wall clock doesn't tick-tock too loudly!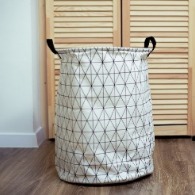 19. Laundry basket
When you are traveling, where do you put your dirty clothes? Some people travel with a mesh laundry bag or some other way to differentiate clean from dirty, but it's awfully nice to find a laundry basket or hamper right in your guest room. Especially if your guests are staying for any length of time… they might want to drag it to your laundry room and do a load or two.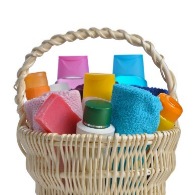 20. Basket of toiletries
Our favorite addition to see in a guest room (or bathroom) is a basket of items that people often forget to pack! Include toothpaste, toothbrushes, floss, razors, tampons, soap, lotion, cotton balls, Q-Tips, makeup remover wipes, Ibuprofen or aspirin, and band-aids. Don't forget to put a fresh bar of soap in the shower and have a few different shampoos and conditioners from which to choose.

What happens when you don't have a designated guest space?
Don't worry about it! Whether you use a corner of an office or the pull-out couch in your living room to accommodate guests, you can still provide many of these items to ensure their comfort. Just try your best to make the bedding as cozy and clean as possible, give them some privacy when needed, and know that your friends and family are there to hang out with you!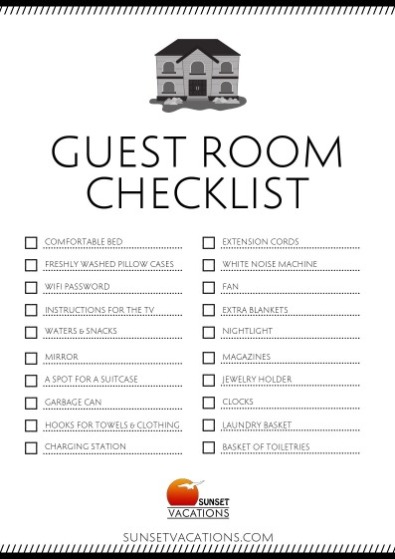 Click Here to Download Our Printable Guest Room Checklist!
Can't even fathom hosting visitors for the holidays? Save the guest room checklist for another day and head to the beach!
We have great availability and prices this time of year and would love for YOU to be OUR guest.
Did you find this Guest Room checklist helpful?

Share it with friends!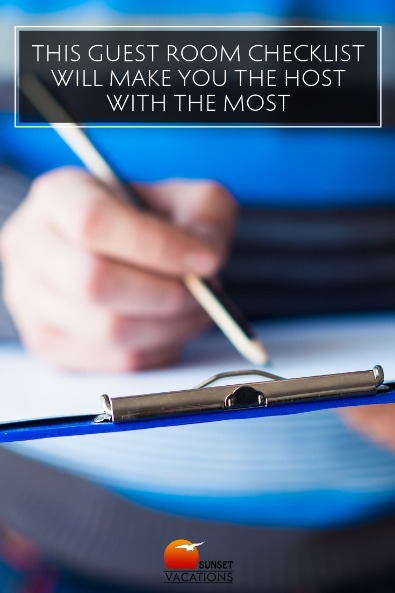 Comment on this post!