---
No Need to Hibernate! Fun Winter Events Near Sunset Beach
Posted On Monday, December 3, 2018
---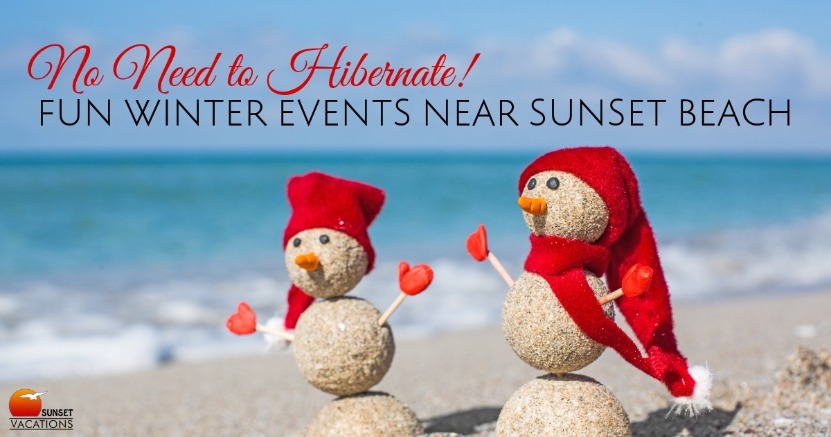 It's important to stay active and engaged even during the dreary winter months. Luckily, there is still so much to do and see when the weather turns colder. In fact, getting out and about on and around Sunset Beach can be even more enjoyable because there is less traffic and more opportunities to enjoy our beautiful coast and hang out with us locals. 😎
Here is a quick list of happenings, events, and other fun things to do in the Sunset Beach area, whether you live here full-time or have decided to pay us a visit during the off-season. We're glad you're here!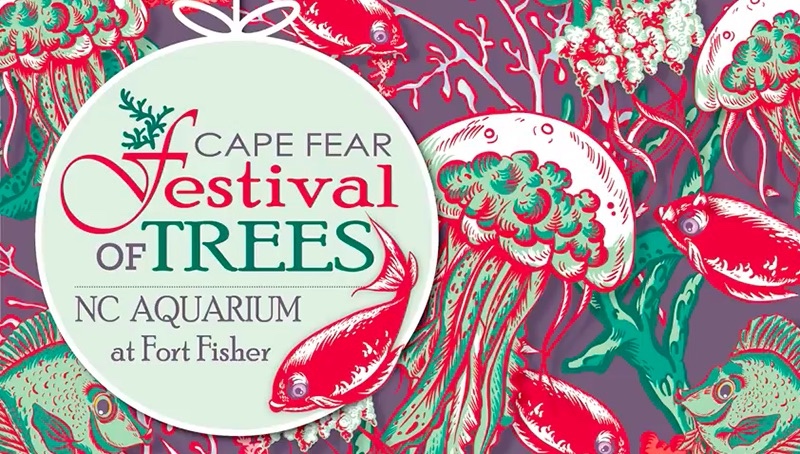 Cape Fear Festival of Trees
Where: North Carolina Aquarium at Fort Fisher; 900 Loggerhead Road Kure Beach, NC 28449
When: Nov. 19 - Jan 2, 2019 from 9am - 5pm
Cost: Visitors who purchase a general admission ticket to the Aquarium will also experience the Festival of Trees.
For more information, click here.
The Cape Fear Festival of Trees returns as one of the most heart-warming holiday traditions in our area. During the two-week festival, you are invited to wander through a winter wonderland of holiday elegance.
Glittering trees decorated by local businesses, various organizations and individual artists transform the aquarium space into an enchanted forest for all to enjoy. In addition, enjoy performances by local musical groups and artists.
Treat your ears to the wonderful sounds of harps, handbell and ukulele choirs, A Capella singing and more. This is the perfect way to kick off your holiday celebrations!
Set amidst the inspiring and educational backdrop of the North Carolina Aquarium at Fort Fisher, this year's Cape Fear Festival of Trees is sure to be one of the most unique festivities on the Cape Fear coast!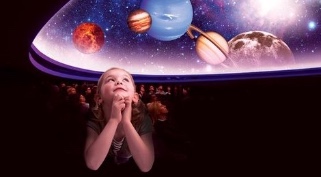 Sky Movies at the Planetarium
Where: Ingram Planetarium: 7625 High Market St. Sunset Beach, NC 28468
When: Sept. 6 – Dec. 29, 2018 (Doors open 11:30 Thurs. & Fri. and at 10:30 Sat.) Open Dec. 26!
Cost: $9.50 adults (13-61), $8.50 seniors (62+), $7.50 children (3-12), Free - age 2 & under
For more information, click here.
The Ingram Planetarium (which is located right in Sunset Beach) offers so many cool programs all year round! It's the perfect choice during the colder winter months. During December, try "Holidays Under the Laser Lights" or the cute kid program, "The Accidental Astronaut". Also check out "Seven Wonders" or "Tales of the Maya Skies" for a unique educational experience. Great for all ages. All Sky Theater movies are followed by a live star show!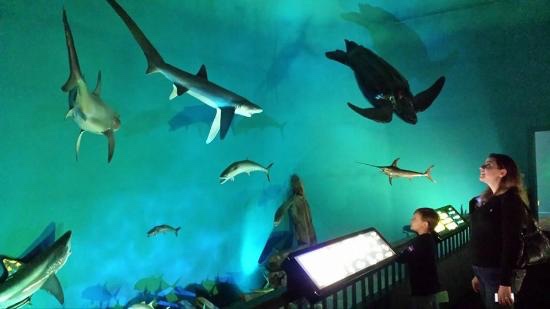 Programs at the Museum of Coastal Carolina
Where: Museum of Coastal Carolina; 7625 High Market St. Sunset Beach, NC 28468
Cost: $9.50 adults (13-61), $8.50 seniors (62+), $7.50 children (3-12), Free - age 2 & under
For more information, click here.
The Museum of Coastal Carolina has several themed galleries with outstanding dioramas and exhibits about the natural history, environment, and culture of the Coastal Carolinas. They offer plenty of events and demonstrations including Touch Tank Feedings, "Budding Scientist Discovery with Mom and Dad", Make & Take Holiday Crafts, and a Stomp Rocket Launch! Make sure you check out their awesome schedule for times and details.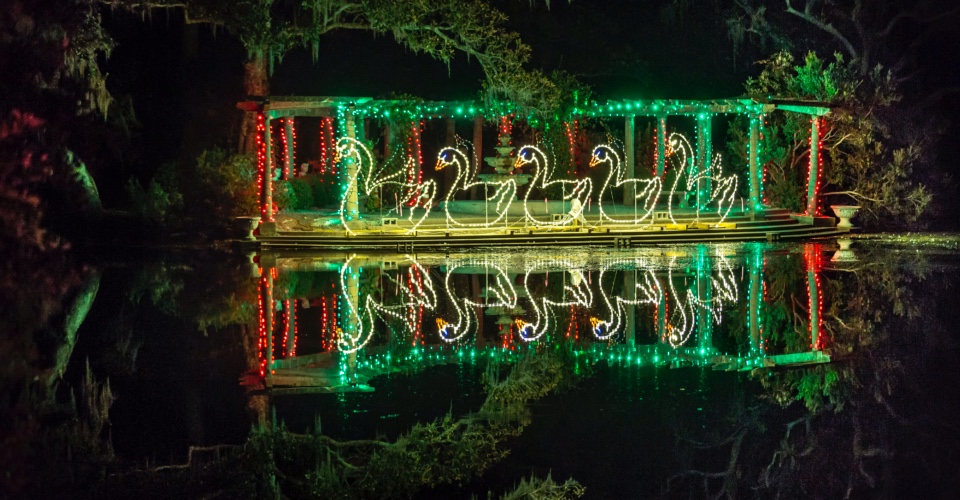 Enchanted Airlie Gardens
Where: Airlie Gardens; 300 Airlie Road Wilmington, NC 28403
When: December 7th - 22nd, 2018
Cost: $30/Carload Ticket – Ticket includes onsite parking and admission for all passengers in your vehicle.
For more information, click here.
A Wilmington tradition since 2005, guests from around the world have visited Airlie Gardens from Thanksgiving to Christmas to take in the sparkling sights and festive sounds of the season. Guests will experience a 0.5m stroll through the Gardens, on a self-guided tour while feasting their eyes on a spectacular array of lights and holiday displays. Also in attendance, Santa Claus himself, and a few local food and beverage vendors with coffee, hot chocolate, popcorn, cookies and more! The year 2018 marks our 14th anniversary of Enchanted Airlie!

There are two run-times per evening, 5-7 pm and 7-9 pm. Tickets often sell out in advance!
For more information call (910) 798-7700 or email: [email protected]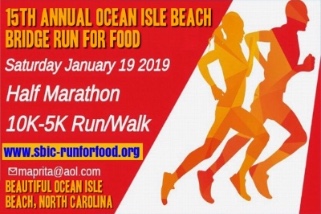 Ocean Isle Run For Food
Where: Ocean Isle Beach, NC

When: January 19, 2019 at 9am
Cost: Click here for prices and info
For more information, click here.
Benefitting the South Brunswick Food Pantry, the Ocean Isle Beach Bridge Run for Food will be held January 19, 2019, in beautiful Ocean Isle Beach NC. Choose the Half-Marathon, 10K Run/Walk or the 5K Run/Walk to get the distance that is just right for you. Any one of these races will both challenge and inspire you while you enjoy the spectacular views from atop the Ocean Isle Beach Bridge. Get active and have a lot of fun along the way!
Online Registrations will close on Friday, January 18th at 8 AM. Learn more here.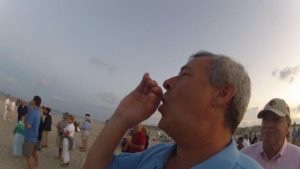 The "Howl" Party
Where: Bald Head Island, East Beach Access 39
When: December 22, 4:00 - 6:00 pm
Cost: FREE! BYOB (drinks and food)
For more information, click here.
An Island tradition since January 2011, the Maritime Market hosts the largest beach party each month when the full moon rises out of the Atlantic Ocean. The "Howl" party (as it's called by the locals) happens on East Beach (Access 39) and attendees BYOB and bring appetizers to share. The Market brings huge pots of soup and some of Chef Chip's famous appetizers to share as well.
When the Moon rises, the entire throng of attendees breaks into a collective "howl"! A bonfire is usually blazing and the event draws hundreds. The event is free and open to all. After the Howl, head up to Mojo's for their "moonrise to Midnight" bash - a moonlit post-Howl extravaganza on the porch.

FREE and OPEN to all.

What gets you off the couch in the winter?
Share your ideas in the comments!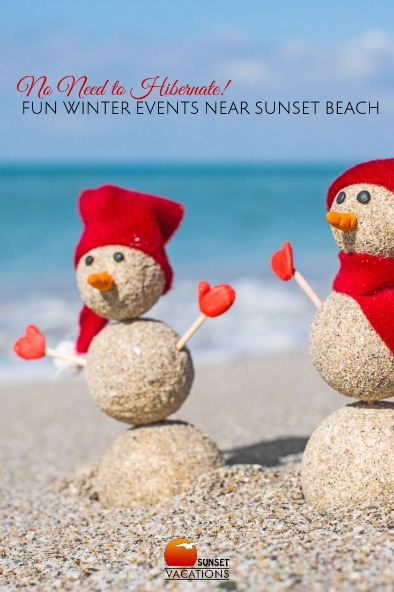 Comment on this post!