---
How to Fly a Kite On the Beach
Posted On Monday, July 26, 2021
---
If you are like most people, you buy a kite, run around with it, and hope it will end up in the sky. But as we did a little research for this blog, we realized that there are actually some tricks that will help your kite get airborne, stay airborne, and hopefully not impale anyone on the way back to earth. We have gathered some of the best tips and tricks right here in the blog, so hopefully you will find great success next time you try to fly a kite on the beach!
Choose the right kite
According to online kite retailer Kitty Hawk Kites, there are 4 basic one-string kite shapes: Diamond, Delta, Parafoil, and Box. We love this photo of a Parafoil Kite! It's among the easiest to fly because of its inflatable design.
They actually say that the basic "diamond" shape we all think of is one of the hardest to get off the ground! If you plan ahead (and shop around), you can get the right kite for you, and not be stuck with a cheap version from the local dollar store.
Know when to fly
Never fly a kite during a storm or when you see lightning. Only fly a kite when winds are mild (under 15-20 mph). Ideally, you want that sort of wind that makes flags stand straight off the local fire station, but not so strong that they are whipping about.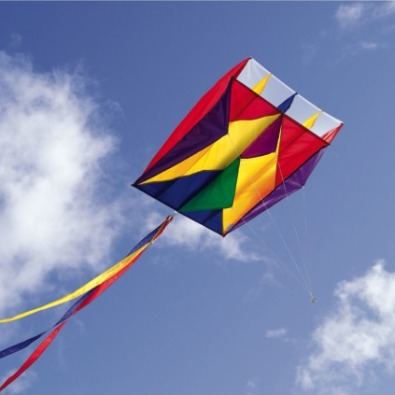 Find a wide open space with no power lines or people
Flying a kite on the beach IS ok to do, but PLEASE make sure you choose an area of the beach that is not heavily occupied! Ideally, you will walk down to a part of the beach where the umbrellas, towels, and people are scarce. If you are visiting Sunset Beach on the off-season, it's actually the best time to learn to fly a kite! Not only are the beaches nice and quiet, you will also have the advantage of seasonal winds and less sun in your eyes.
Be aware that kites can crash and be destroyed by the waves of the ocean!
How to fly a kite
1. Stand with your back to the wind.
2. Have your helper bring the kite downwind as you let out a little line at a time.
3. If there is enough wind, the kite should fly right up when your helper releases it! If your kite nosedives, there might not be enough wind.
4. Keep tension on the line at all times.
5. Watch this mesmerizing video of beautiful kites being launched, over and over. It will give you confidence, we promise!
More great tips
🪁 If your kite starts to dive, don't panic. Try thrusting your arm towards the kite in order to take away some tension on the line (which will help it lose power). Don't let go!
🪁 Need to get your kite down FAST? Throw down the reel and just pull in the line, hand over hand.
🪁 Air speed is FASTER the higher you go (and SLOWER down low). Try to go just a little bit higher (by letting out more line) if your kite is struggling to stay aloft.
Want more tips from the experts? We found them:
Visit the American Kitelifters Association here.
The beach is the perfect place to try a new sport, skill, or activity - like flying a kite! Most of the activities you can try at the beach are also super affordable. Get tons of great ideas for your next Sunset Beach vacation on our blog. And, if you need any help reserving a Sunset Beach rental, Sunset Vacations is here and ready to help. Please contact us at 1-800-331-6428 (Reservations Only), call (910) 579-9000, or E-mail: [email protected].
Comment on this post!