---
How to Decorate Your Home With Coastal Flair for the Holidays
Posted On Monday, November 4, 2019
---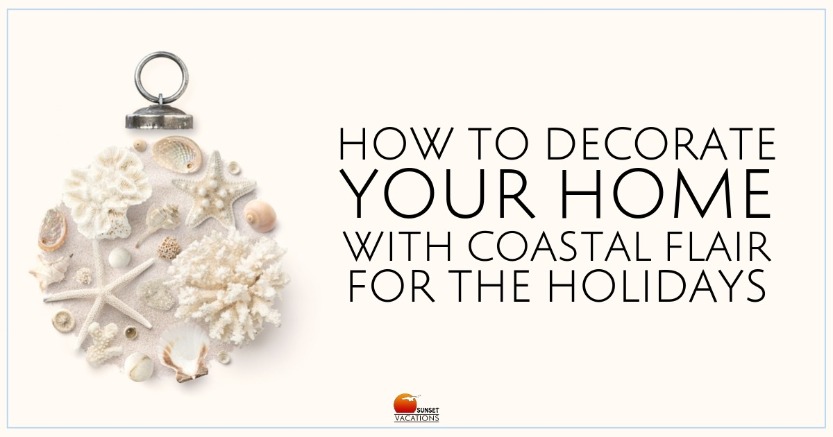 You love the beach. You love the holidays.
What could be more fun than decorating your home using the beautiful beach as your muse? Get inspired this holiday season with these carefully curated ideas, projects and products that are just bursting with coastal flair.
Everyone has their own signature style, whether you are talking about fashion or home design. We are going to explore a couple of different ways to bring the beach to your holiday home, no matter your personal taste.
Add just a touch of coastal flair - or go all out!
STyle 1: Classic Vibes
We love the look of a traditional, rustic beach house, right down to the last starfish-laden Christmas tree. And, subtle nods to the sunny shore are in style all year long.
This style is a crowd-pleaser all year long, and it provides the ideal backdrop for your winter celebrations! Think textural grasses, muted colors, and traditional pieces that can be updated each season by adding lights or holiday-specific details.
Ohhh how we could get lost in all of the gorgeous blogs that highlight the beauty of the beach! Many of the projects you will find like to employ obvious coastal elements (like shells, driftwood or sand) but others incorporate pieces with a nautical edge (oars, anchors, and sailboats) or by using dried seagrass, sea glass, and lots of light, bright colors.
See that cool "flower" arrangement above? It features snow-sprayed pine cones, sticks, grass, shells and starfish in a pretty blue vase. We think that would make a great hostess gift next time you're invited to a holiday meal.
STyle 2: crafty Cool
There are so many cute craft ideas out there! All you need is a glue gun and a dream. Here are just a few we LOVE.
Sure, you have seen your basic popsicle stick Rudolph, or maybe you have glued some glitter onto a seashell, hung it on the tree and called it good. Maybe this is the year to up your game! These DIY crafts are simply gorgeous (and not even that complicated).
Did you collect a bunch of shells on your trip to Sunset Beach this year, and aren't quite sure what to do with them? Well, a quick browse on Pinterest will give you about a million and one ideas, so no worries there. One craft you will see over and over is a Christmas tree fashioned out of beautiful seashells. Some are created with silvery oyster shells facing down, and the one above is made with a mixture of several types (click the photo to visit the Etsy page of the artist if you aren't up for the challenge yourself). Add a starfish on top and you have won the holidays this year.
The second craft idea is super simple, and one that even a novice can achieve. Add some sand to a clear ornament, drop in some of the tiniest shells your children shoved into your pockets this summer, and you're done. You might want to add some spray adhesive to keep your display in place!
Wreaths are in fashion all year long and this beachy one is no exception. Simple and lightweight DIY wreaths aren't just for the front door. Try one over the TV, in the bathroom, or on a window.
Style 3: Fun & Kitchy
Hey, a little cheese never hurt anyone. Grab a sunglass-wearing Santa and celebrate the holidays with this fun style that will make your guests smile.
If you love a bright and colorful home, there is no shortage of adorable ornaments and decorations that scream "we love the beach"! From fall right into the New Year, we have seen Santas on surfboards, turkeys wearing sunglasses and palm trees or starfish lovingly carved into pumpkins.
You could try decorating with a specific theme (like funny beach-loving Santas, for example) or just grab whatever strikes your fancy. Make sure to shop local thrift stores and resale shops for this type of decor, especially while you are near the beach (ahem... Sunset Beach, of course). This stuff was very popular in the 80's and you can find some really cute items!
Just a reminder to visit the St. Nick Nack's Shop if you are in the Sunset Beach area! Open all year round, this shop is a must-stop for all of your holiday decor and gift needs.
From their website:
Those who love decorating for Christmas will be as happy as kids on the big morning when they reach the St. Nick Nacks area of the store. Beginning years ago with a single tree hung with sand dollars, the Christmas shop has grown to include 100 decorated trees in dozens of styles and colors, from traditional decked in red and green to the currently popular tinsel trees in a number of bright hues. Look closely and you'll even spot an upside-down tree! Among the more than three million shimmering, shining, and colorful ornaments are a wonderful selection of Christopher Radko, Dept. 56, and Mark Roberts Fairies. Also popular are the exquisitely detailed Jim Shore figurines. A Christmas shopping experience unlike any other on the Strand!
St. NIck Nacks, at Callahan's of Calabash
We hope you have a wonderful holiday season and that these ideas have inspired you to bring a little bit of the beach to your celebration this year. Need to refill your shell collection or get more ideas in real life? Come visit Sunset Beach! Fall and winter are pretty awesome down here, and we have lots of great rentals available, some for almost half-price since it's the off season.
Check out what Sunset Vacations has to offer by clicking here.
How does the beach inspire your home design?
Please leave your ideas in the comments for our readers to enjoy!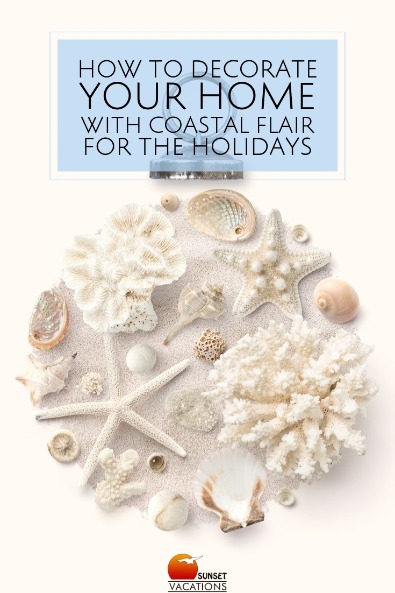 Comment on this post!