---
Historical Local Lore - Ghosts, Pirates and More!
Posted On Monday, July 22, 2019
---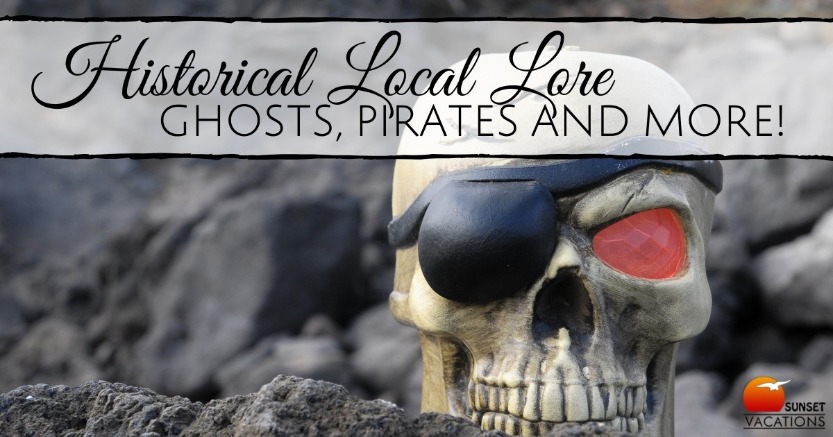 Ghosts abound in the Brunswick Islands, even if you aren't visiting on Halloween! The beaches and towns in and around Sunset Beach, North Carolina have seen their share of bloodshed, wars, sunken ships, pirates battling for booty, murders and lost treasure. This history has created the perfect backdrop for ghost stories!
Come along with us as we show you a few places to get your fright on.
First, a little history.
Sunset Beach has only been a town since 1955, when it amazingly survived the epic Hurricane Hazel. The town was purchased by Mr. Mannon C. Gore, who then helped create and develop the beautiful beach escape we know and love today.
But before Sunset Beach was a haven for residents and tourists, it was the site of some interesting events. First influenced by Europeans about 500 years ago, it saw bits and pieces of the Civil War, Nazi U-boats, Spanish settlers, plantation owners, slavery, hurricanes, and of course, pirates.
According to the Ocean Isle Beach Ghost Walk's website, it is "one of the most haunted places in one of the most haunted counties on the East Coast".
👻 Find ghosts near Sunset Beach 👻
Ocean Isle Beach Ghost Walks
Are you visiting Sunset Beach during the summer? You're in luck, because the Ocean Isle Beach Ghost Walks only run from the end of May through mid-August.
(They re-open in the fall for special Halloween ghost walks.)
Will and Allison are your tour guides and they have become experts in the local history and paranormal activity of the area.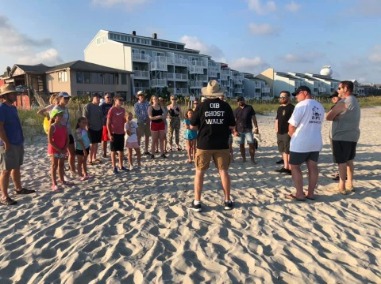 According to their website: "We do not tell 'Bloody Mary' type ghost stories. Our stories are based in the rich history of the Silver Coast. Our favorite pastime is hunting down Ghost stories, exploring local myths and legends and telling the forgotten history of our islands, and paranormal stories of its residents."
No need to plan ahead... just purchase your tickets 10 minutes before the tour. Walks are held on Wednesday and Thursday evenings only. Meet the group between the Pier and Salty's Surf Shop at 6:45 PM and the walk begins at 7:00 PM. The tour is about one mile and there are several stops along the way. It ends around 8:30 pm. Don't worry, the Ghost Walks are family-friendly (more historical than scary).
Website: https://sites.google.com/site/oibghostwalk/ and Facebook Page
Contact Info: [email protected] to request a reservation for a group or call (910) 221-4387.

Cost: $10 per person, kids 5 and under free.
The Mako Light
Mako Station, a few miles west of Wilmington, NC, was the site of a tragic accident that ended in a horrible decapitation of a heroic railway worker.
For many years, a mysterious light was spotted here and there along the tracks, and the legend says that it was the railway worker, Mr. Joe Baldwin, looking for his missing head.
Read the whole story here, or watch the video!
"Pirates Ahoy!" show at the Museum of Coastal Carolina
Stop by our very own Museum of Coastal Carolina for "Pirates Ahoy" - which is a special program running every Wednesday evening starting at 7:00 PM from Memorial Day through Labor Day.
"Learn all about the famous — and infamous — pirates who sailed along the NC coast. Then join in a family treasure hunt led by Captain Nobeard. Search for the secret pirate clue — when you find it, you'll get a cool pirate prize to take home!"
For more information, visit http://museumplanetarium.org/pirates-ahoy-museum/
Museum of Coastal Carolina | 21 East Second Street | Ocean Isle Beach, NC 28469 | 910-579-1016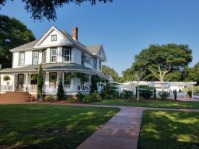 The Brentwood Restaurant
The Brentwood Restaurant was a private home built in 1910. This beautiful Victorian home was moved to its present location in Little River in the 1960's. The home changed hands several times before it was restored and reopened to the public as "The Brentwood", now a popular restaurant and wedding venue.
So, is it really haunted? See for yourself. There are several accounts of paranornal activity, including appliances randomly starting by themselves, wine glasses falling off tables and smashing, staticky phones, strange lights, "orbs" showing up in photos (are they ghosts?), and many people reporting "strange feelings" in one of the bathrooms!
Today, The Brentwood offers Ghost Dinner Tours all year round. Reservations are required, and the tour lasts 45 minutes. You will receive a 3-course dinner plus the ghost tour for $50 a person. Click here for more information.
The Brentwood | 4269 Luck Avenue, Little River, SC 29566 | 843-249-2601
Ghost crabs - spooky!
Ok, ghost crabs have absolutely nothing to do with the paranormal, but we think they are super cute and a fun thing to find in the early evening hours. On your next trip to Sunset Beach, grab the family and a flashlight and go hunting for "ghosts"! Read this blog to learn more about ghost crabs and the other fun wildlife around here!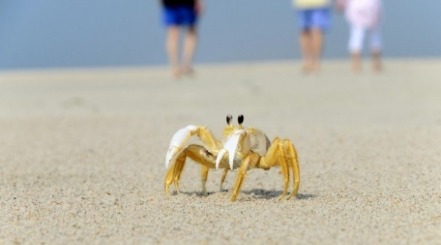 Scared yet?
It's always interesting to get to know a little bit about the history of your vacation spot. Take the kids on a ghost hunt next time you are in town. Whether you are interested in the paranormal or just a bit of history, Sunset Beach has you covered.
Comment on this post!