---
Hey Parents! Do Not Forget These 5 Beach Safety Tips
Posted On Monday, April 5, 2021
---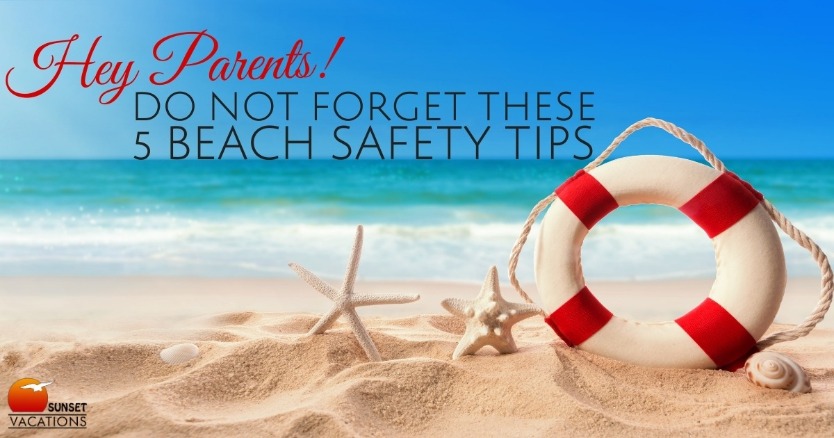 A day at the beach should be stress-free, right?
But as any parent knows, the beach can be a dangerous place if you aren't paying attention. Today we are going to remind you of 5 things you need to remember while visiting the ocean. Have a great day, be safe, and enjoy Sunset Beach, North Carolina!
1. Keep kids in life preservers - always
Even our older kids are required to wear a life preserver any time they are swimming in the ocean. Your child might put up a fight, but a rip tide can sneak up on even the most experienced swimmer. A life preserver will keep your child afloat, help her from getting tired too quickly, and give her peace of mind that she can rest while waiting for help, if needed. Also, life preservers are usually a nice bright color so it's easier to find your child in the water.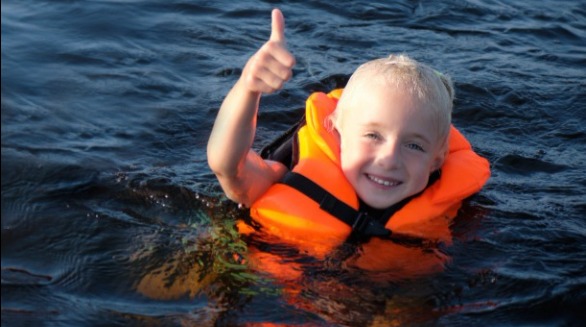 2. Sunscreen. Then sunscreen again.
We know! We know! It's so annoying! Sunscreen is sticky, gets grainy with sand, and kids hate it! BUT - a sunburn is NOT worth it. We recommend applying a really generous layer of (broad spectrum) liquid sunscreen before leaving your Sunset Beach vacation rental. Get every nook and cranny! Then, every few hours, reapply the lotion (and we like to use a spray sunscreen on top of that to really cover our bases). A good stick sunscreen is helpful for little faces & ears.
You should also consider outfitting your kids in a long-sleeve rashguard swim shirt for even greater protection.
Building a sandcastle? See if you can convince your kid to wear a hat! The top of the head is so sensitive and hard to sunscreen, so a hat is a great option. Don't forget your hat and sunscreen, too!
3. Watch out for critters
It's rare, but occasionally we see animals washed up on the beach, like jellyfish or even the elusive Man O' War! Both of these can cause a painful sting (even when they are dead!). Caution your child to let you know if he sees something "cool" - and don't let him touch it until you know it's just a harmless sand dollar or uninhabited seashell.
4. Learn about rip currents
What is a rip current, anyway? Well, a rip current is a narrow channel of fast-moving water that can grab an unsuspecting swimmer and pull them away from shore! Your little toddlers will probably just be playing in the surf near the shore, but if you have older, adventurous kids, teach them about how rip currents work.
According to the NOAA, "If caught in a rip current, don't fight it! Swim parallel to the shore and swim back to land at an angle."

Watching an animation of a rip current in action is also super helpful.
Have you ever noticed that the Sunset Beach Patrol will sometimes have little flags displayed on the back of their vehicles? This is a Rip Current Warning System, will display a rip current warning system utilizing red, yellow and green flags.

🟢 Green means that the risk of rip currents is low. Keep in mind that they are always still possible!
🟡 Yellow means that life threatening rip currents are possible.
🔴 Red means that life threatening rip currents are LIKELY. The surf is dangerous for ALL levels of swimmers. Stay OUT of the water!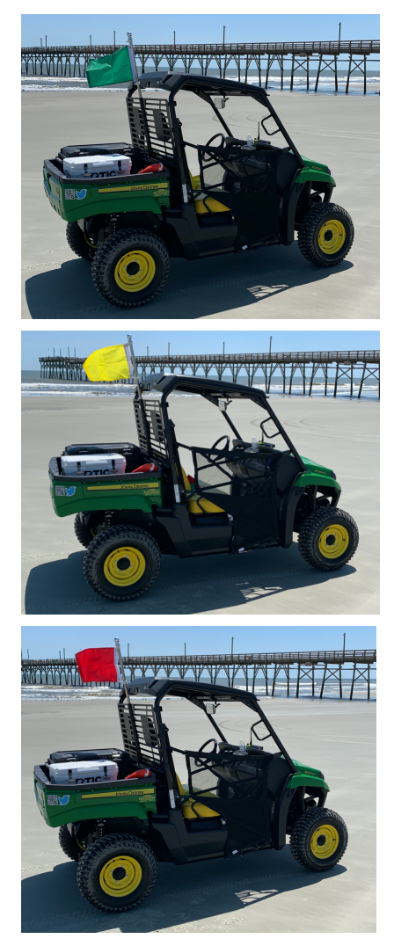 5. Hydrate!
It's crazy how quickly a case of heatstroke can flare up, especially for a small child! Make sure that you push the fluids, especially for very young children. Juicy fruit, icy water, lemonade and other juices are all great ways to keep your kid hydrated.


For more helpful information, read our previous blog: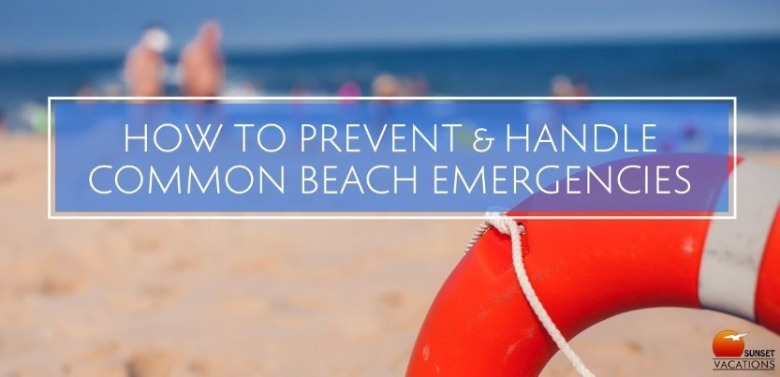 Hopefully your days on the beach will be filled with nothing but fun, laughter, yummy snacks and cute photo opportunities. But it's always smart to remind yourself of the very real dangers of the ocean - especially when small children are involved. Have a wonderful vacation in Sunset Beach, North Carolina, where the rentals are plentiful and the Sunset Vacations staff is always ready and willing to help you plan a fantastic vacation. Contact us soon!
Comment on this post!