---
Enhance Your Sunset Beach Vacation With 5 Attractions in Calabash
Posted On Monday, November 6, 2023
---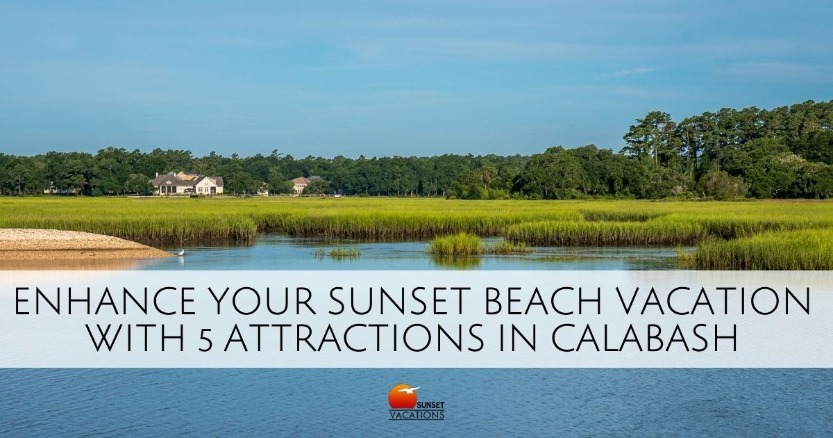 Calabash, NC, tucked beside the captivating Sunset Beach, unveils many experiences for vacationers. Known as the "Seafood Capital of the World," the town presents a rich blend of culinary delights, art, and nature-centric escapades that promise to elevate your stay. Here's a lineup of five remarkable things to do in Calabash, NC. As you sketch out your adventure, think about grounding your experience with a cozy stay at one of the nearby quaint vacation rentals.
The History of Calabash
Calabash's history dates back to 1691, with a notable land grant to Landgrave Thomas Smith. Initially known as Pea Landing due to local peanut cultivation, the region was renamed Calabash in 1873, inspired by the gourds used at local wells.
The town gained recognition for its unique "Calabash Style" seafood preparation by the 1930s, earning the title "Seafood Capital of the World." The meld of historical charm, seafood tradition, and picturesque settings like the nearby Sunset Beach makes Calabash, NC, a captivating spot for travelers, offering a rich blend of culinary, historical, and natural experiences.
Art at Sunset River Gallery
Sunset River Gallery has been a beacon of creativity in Calabash for over two decades. This isn't just a place to view art but a locale where visitors can immerse themselves in artistic explorations through the painting classes and workshops offered here.
The gallery showcases a variety of artworks from local and 20th-century artists, offering a splendid blend of traditional and contemporary art. Its broad spectrum of art forms, including clay, oil paintings, and mixed media, ensures a rich and diverse visual experience.
Callahan's of Calabash
Callahan's of Calabash is a hallmark spot in the area, offering a diverse range of nautical-themed gifts, decorations, apparel, and more. It's more than just a store; it reflects Calabash's coastal charm, providing a delightful shopping experience with a local touch. With something new to discover with each visit, Callahan's is not just a shopping destination but a journey into the heart of Calabash's quaint culture.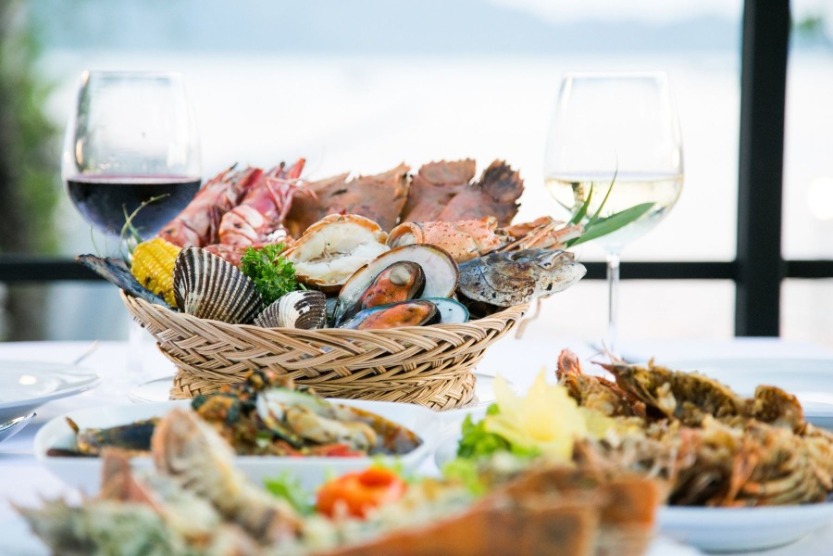 Tropical Adventure Mini Golf
Tropical Adventure Mini Golf in Calabash, NC, offers an engaging escapade with its well-designed course. For just $8, you can enjoy a full day of golfing fun, making it a cost-effective outing for families or groups. It's open on the weekends, Saturday and Sunday, from 10:00 AM to 10:00 PM. There's plenty of time to enjoy a game or two amidst the laid-back coastal ambiance of Calabash.
Sacred Willow Spa
Nestled in the serene town of Calabash, NC, Sacred Willow Spa offers a tranquil retreat for those looking to unwind. This family and veteran-owned spa is known for its warm, relaxing atmosphere and various personalized services, including massages, facials, and Reiki therapy. With dedicated professionals committed to exceeding your expectations, it's the ideal spot to escape the daily grind and indulge in a pampering session.
Indulge in Seafood Galore at Calabash's Finest
For a taste of the local seafood tradition, a visit to Calabash Seafood Hut is a must. Despite its modest size, the venue is big on flavors, offering a range of seafood delights in a cozy, unpretentious setting.
Another spot to satisfy your seafood cravings is Captain Nance's Seafood. With a rustic ambiance and a menu filled with fresh, mouth-watering seafood options, it's a place where every meal is a nod to the town's fishing heritage.
Lastly, The Oyster Rock offers a more modern waterfront dining experience. Overlooking the scenic Calabash River, it combines traditional seafood preparation with modern culinary techniques, making each meal an exquisite blend of old and new.
Each of these establishments embodies the essence of Calabash's seafood tradition, offering not just meals but a culinary journey that resonates with the soul of every seafood lover.
Calabash, NC, is not just a destination. It's an experience that leaves you with cherished memories, making it a great place to visit. The quaint town offers a blend of natural beauty, adventure, and cultural richness that's hard to find elsewhere. And the journey becomes even more delightful and relaxing stay on Sunset Beach. Check available vacation rentals and let the coastal allure of Calabash envelop you in its warm embrace.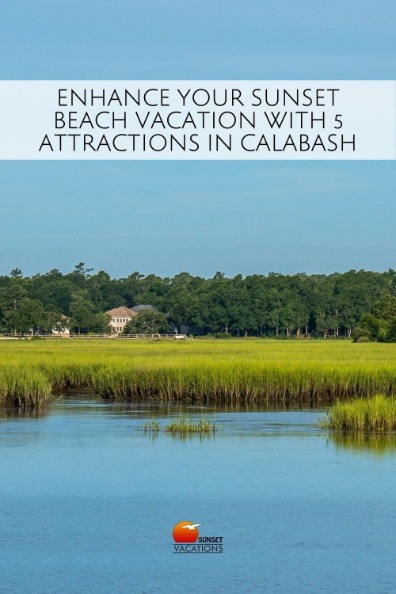 Check out our fall specials on vacation rentals!
Find the perfect place to stay for your fall vacation!
Comment on this post!