---
Dine and Drink Like a Local: Our Favorite Picks!
Posted On Monday, July 15, 2019
---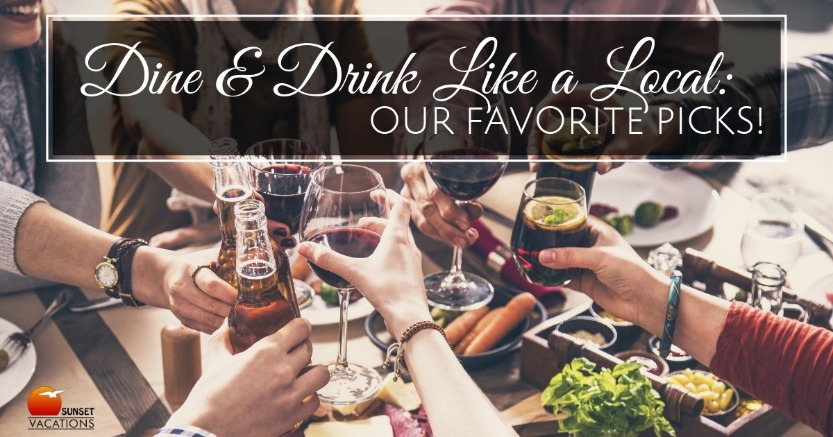 This blog was updated January 2022 for content and accuracy.
The best part of vacation is the opportunity to dine at delicious, local restaurants. The areas around Sunset Beach, NC sure do deliver!
Our crew at Sunset Vacations wants to tell you all about some of our FAVORITE local spots to dine, drink, and deny that calories even matter when you're on vacation. So, rinse off your sandy feet, throw on a sundress and come out to eat with us!

Boundary House
"Casual dining at its finest", the Boundary House, located in Calabash, receives high marks for outstanding service and really, really good food.
Situated right near the "Boundary" between North Carolina and South Carolina, this spot has some interesting history if you are into that sort of thing (click here if you want to read all about it). If you are into fish and chips, they have that, too.
Popular menu items include crab cakes, salmon, croissants and their signature dish, Hurricane Chicken (a boneless breast topped with a fresh fried crab cake, sautéed shrimp and laced with a creamy Velouté sauce).
Website:
Phone: (910) 579-8888
Address: 1045 River Rd, Calabash, NC 28467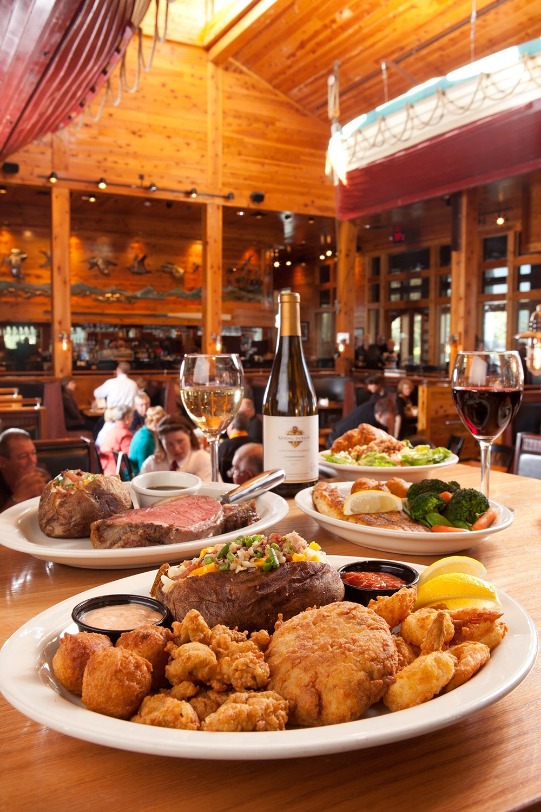 The Oyster Rock Waterfront Seafood
Known for... you guessed it... oysters, the restaurant at Oyster Rock has one of the best views around. Situated on the Little River, you can watch boats pass by as you enjoy Calabash-style seafood. This restaurant obviously specializes in seafood and raw bar items, but they also offer quality beef, chicken and pork dishes as well as a full bar and some fun desserts. Try the Mount Olive Dill Pickle Chips, Oyster Stew, a Charcuterie board to share, Pit Roasted Oysters, or a huge fried seafood platter. Vegetarians take note.. your only options will be a salad, or possibly a meat-free appetizer! All of the mains are meat or seafood.
Website: https://theoysterrock.com
Phone: (910) 579-6875

Address: 9931 Nance St. Calabash, NC 28467
Grapevine Mediterranean Restaurant & Lounge
Need a break from fried seafood, or just craving something unique and delicious? Visit the Grapevine, where you will be warmly welcomed by Mac, the owner. Then you will be treated to a variety of "Salads, Sandwiches and Burgers, Pasta, Steaks, Ahi Tuna, Chicken Kabob, Grilled Shrimp, Salmon, Flounder, Shrimp, Scallops, Clam Strips, Oysters and so much more!" They also have a kids menu that will please most (yep, they have basic pasta for your non-seafood eating kids).
Website: grapevinecalabash.com or visit their Facebook page
Phone: (910) 575-6565
Address: 9991 Beach Dr SW Ste 179, Calabash, North Carolina 28467
Roberto's Ristorante
Serving traditional Italian selections & American steakhouse fare, Roberto's proves that you don't need to drive to Myrtle Beach to have a quality dining experience!
Don't hesitate to check out the chef's specials, including amazing dishes like Sea Scallops Mediterranean, Filet Mignon Marsala, and Mahi Rockefeller.
Website: www.robertosoib.com
Phone: (910) 579-4999
Address: 6737 Beach Dr SW, Ocean Isle Beach, NC 28469
Crabby Oddwaters
Located on Mary's Creek in Sunset Beach, Crabby's dining area features spectacular views of the Intercoastal Waterway and Tubb's Inlet. They also host the largest private collection of exotic seashells on the East Coast.
Crabby's is a good choice if you are looking to stay in Sunset Beach, partake in the local seafood, and enjoy a great view. People rave about their hush puppies, so be sure to give them a try.
Website: https://www.crabby-oddwaters.com/
Phone: (910) 579-6372

Address: 310 Sunset Blvd N., Sunset Beach, NC
Calabash Gourmet & Sushi Bar - Asian Cuisine
We locals love this spot because it's super clean, has a big menu with all of your favorite asian dishes, and the portions are huge. You will never walk away hungry! You can get traditional menu items like fried rice, lo mein, sesame chicken and beef with broccoli, but you will want to check their sushi and sashimi menus as well. The food is beautifully presented and the service is excellent.
Website: https://calabashgourmetandsushibar.com
Phone: 910-579-8887
Address: 10101 Beach Dr SW, Calabash, NC
Boat Landing
The Boat Landing offers "casual upscale waterfront dining, with incredible views". The are located beside the Wildlife boat ramp in Sunset Beach, and the view from the patio is just perfect whether you visit for lunch or dinner. Their Shrimp & Grits is out-of-this world good!
Website: https://theboatlandingrestaurant.com/
Phone: (910) 575-2259
Address: 102 Sunset Blvd N., Sunset Beach, NC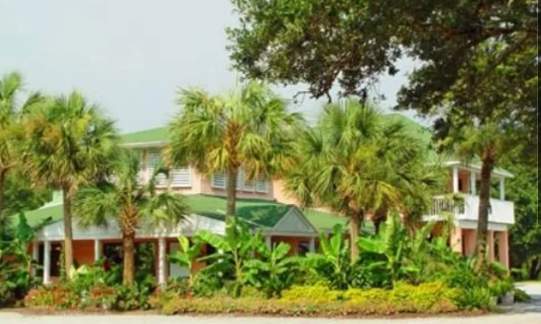 Broadway at the Beach
Broadway at the Beach, located in Myrtle Beach, is definitely the most popular tourist destination in the area. There is truly something for everyone in your family. Find really good restaurants, ice cream, attractions like zip lining over the water or try the wave park.
Take a close look at their excellent
website
, which really outlines all of the options. Plan to spend some money and time here... you will need both.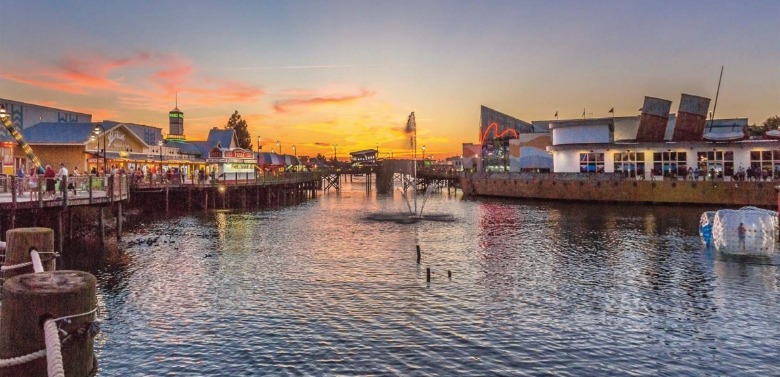 Free summer concerts
The Town of Sunset Beach has taken over the Sunset Beach free summer concert series.
These free concerts will happen every Wednesday night from 6:00 - 8:00 pm at 1791 Queen Anne Street, Village Park COA Gazebo. Concerts run from June through September. Bring your own chair, some snacks and drinks, and enjoy.
Miniature Golf
The quintessential vacation activity is a round of mini golf. Try Tropical Adventure Mini Golf in Calabash. The course is very well-maintained, offers some unique challenges, and there are benches and umbrellas to rest between turns on a hot summer evening! Make sure to call or check their website if you are visiting in the off-season, since their hours vary by season.
Address: 10124 Beach Dr. SW, Calabash, NC 28467
Phone: (910) 579-2226
Coastal Grounds
Need a minute away from the family? Stop in Coastal Grounds, located right in Sunset Beach, for a great cup of coffee or a fresh fruit smoothie.
Bring some pastries back for the family and they will forgive everything.
Address: 424 Sunset Blvd S
Phone: (910) 579-1211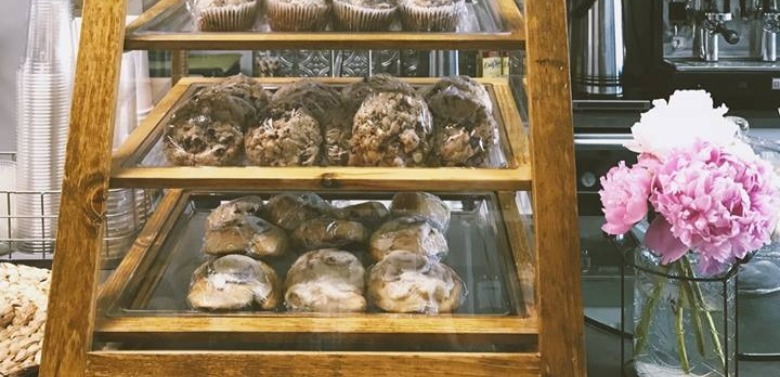 From their website: "Coastal Grounds is the first gourmet coffee bar on Sunset Beach. Our vision is to create a laid back beach vibe once you hit the island, and a place you will revisit for years to come. Founded in 2018, with a long future in mind, we look forward to many seasons to come. Our location is not only convenient, but it is the beach equipment headquarters for Julie's Rentals."
Back Porch Ice Cream Shoppe
Treat yourself to a homemade waffle cone or a delicious shake at the Back Porch. This is a small, family-run ice cream shop that is the perfect stop during your next Sunset Beach vacation.
Address: 9970 Beach Dr SW Ste 8, Calabash, NC 28467
Phone: (910) 579-1533
We hope this wonderful list of places to eat, drink, hang out and indulge has inspired you to get out and about on your next trip to Sunset Beach, North Carolina! Maybe we will see you around town.
What is your favorite Place to go when you are in Sunset beach?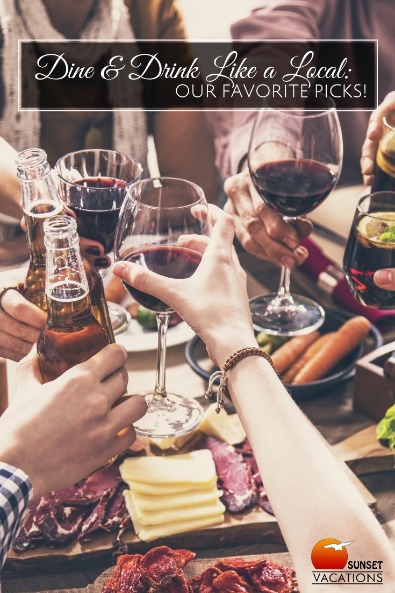 Comment on this post!