---
Bon Appetit: Top 5 Places to Eat In Sunset Beach
Posted On Monday, April 25, 2016
---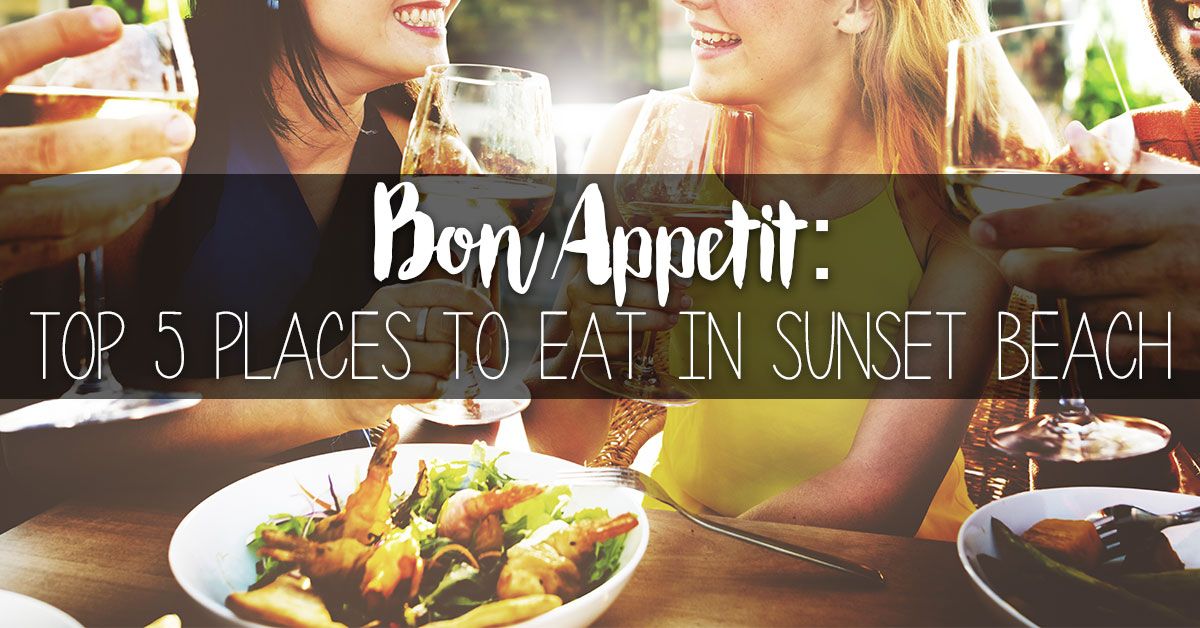 We don't want to admit it but when you go on vacation or a weekend getaway where we are going to eat is one of the top priorities. Local cuisine is always fun to try and when you're at the beach seafood is an obvious choice but don't exclude other options. The coast of North Carolina is famous for delicious seafood but there is plenty cooking up in these parts! We've compiled a list of favorites in and near Sunset Beach, North Carolina. You decide though and let us know your top picks.
Looking for fresh local seafood? Twin Lakes Seafood Restaurant is where you'll find it. Locally owned and operated since 1970, growing from seating 30 guests to now serving up to 500 on a busy summer night. The menu has plenty to choose from but it's not overwhelming, the beverage selection is perfect with beer, wine and signature cocktails and the atmosphere can't be beat! Not a seafood lover? That's ok too. Twin Lakes also serves USDA Choice Steaks and Chicken dishes as well as soups and salads. Appetizers are half off every day from 4:30-6:30!

Loyal customers come back season after season for menu favorites including fresh shrimp, flounder and crab cakes. New guests are pleasantly surprised by the menu choices and the atmosphere. The hushpuppies and honey butter can become an addiction so be careful not to fill up too fast and save room for your entrée and let's not forget homemade dessert.
Sunsets every evening are just an added bonus!
You might be surprised to find The Waterfront Market on our Bon Appetit List. Opening every Thursday from 9am-2pm and located at the Sunset Beach Park right on the ocean, you'll find just about everything to cook up a delicious meal. Bill's Seafood (which we'll visit again on our list) offers the best local seafood and homemade desserts around, Darel's Bakery and Sweets offers a variety of sweets including cupcakes, croissants and pies. Eden's Produce has all the best fresh local produce to make your meal complete. You'll find butter beans, cabbage, lettuce, zucchini, squash and much more! Don't forget to grab a fresh watermelon for your beach cooler the next day. You'll also run into some food vendors in case you want to grab a snack before heading back to the beach house to cook up your own seafood buffet!
Located in Calabash, North Carolina which is only a few miles from Sunset Beach, Gravy is worth the drive for a good ole fashioned Southern meal. Open Monday through Thursday from 11am and serving up some of the best comfort food around! Known far and wide for their consistently good food and reasonable prices, Gravy has been serving the public for 17 years. For meat lovers, Gravy offers mouthwatering meat loaf, country style steak and gravy and baked ham. In the mood for seafood, Gravy offers a wide selection of local seafood, fried just the way we like it here in the south. Specials are offered daily and southern hospitality at it's finest. As one happy customer quoted, "Anytime Chocolate Delight can be one of your vegetables and tea comes with your meal, you are in the right place".
Your entire family will leave happy, we promise!
Bill's Seafood Market and Crabby Oddwaters
As we mentioned above in the Waterfront Market section, Bill's Seafood Market has all the best fresh, local seafood in the area. Daily specials are offered and often include soft shell crab, flounder, red snapper and shrimp. Don't have the equipment or time to steam your shrimp or clams? That's ok! Bill's will steam them to perfection for you. Grab some she-crab soup or chowder to take with you and your dinner is complete. Do not leave without a key lime pie though. You and your guests will thank us later.
Located just upstairs from Bill's is Crabby Oddwaters Restaurant, known for mouthwatering seafood choices and a fun atmosphere. The restaurant opens daily at 11:00am and closes at 10:00pm for those late diners. We suggest you go a little earlier though. Since the seafood is fresh and sometimes a limited supply, they do sometimes run out. It's expected though because it's delicious! Crabby Oddwaters serves the same key lime pie as Bill's Market. Save room for dessert or take a slice home. You won't regret it.
You can find Bill's Seafood Market and Crabby Oddwaters on Facebook where they post specials.

Located about 10 minutes from Sunset Beach in Ocean Isle, North Carolina, The Isles Restaurant and Tiki Bar is known for delicious food and an incredible view of the Atlantic Ocean. Open for lunch and dinner, reservations are suggested but not required. The menu selections include Caribbean Inspired Mahi Mahi, Low Country Boil and Shrimp and Grits as some of the local favorites. Their Inland Specialties include a twelve ounce Ribeye steak and Double-Cut Pork Chop with Rum-Laced Pineapple Jam. Is your mouth watering yet?
Looking for a more laid back atmosphere? Come hang out at the Tiki Bar for lunch, an early dinner or just because you can! Specialty cocktails and a nice selection of beer and wine to choose from. Business meeting, hosting a party, wedding shower, bridal luncheon or reception? This might be where you stop your search! Getting married? This just might be the most perfect place!

Whether you want seafood, steak, fried, broiled, casual or fancy, there is something for everyone in or near Sunset Beach. Great, locally owned and operated restaurants and markets are a great choice when visiting a new place. You never know what you'll find to please your pallet, especially at the beach. We hope you enjoy our top five picks. Let us know where and what you like to eat while visiting the coast of North Carolina.
Bon Appetit and as always, Cheers!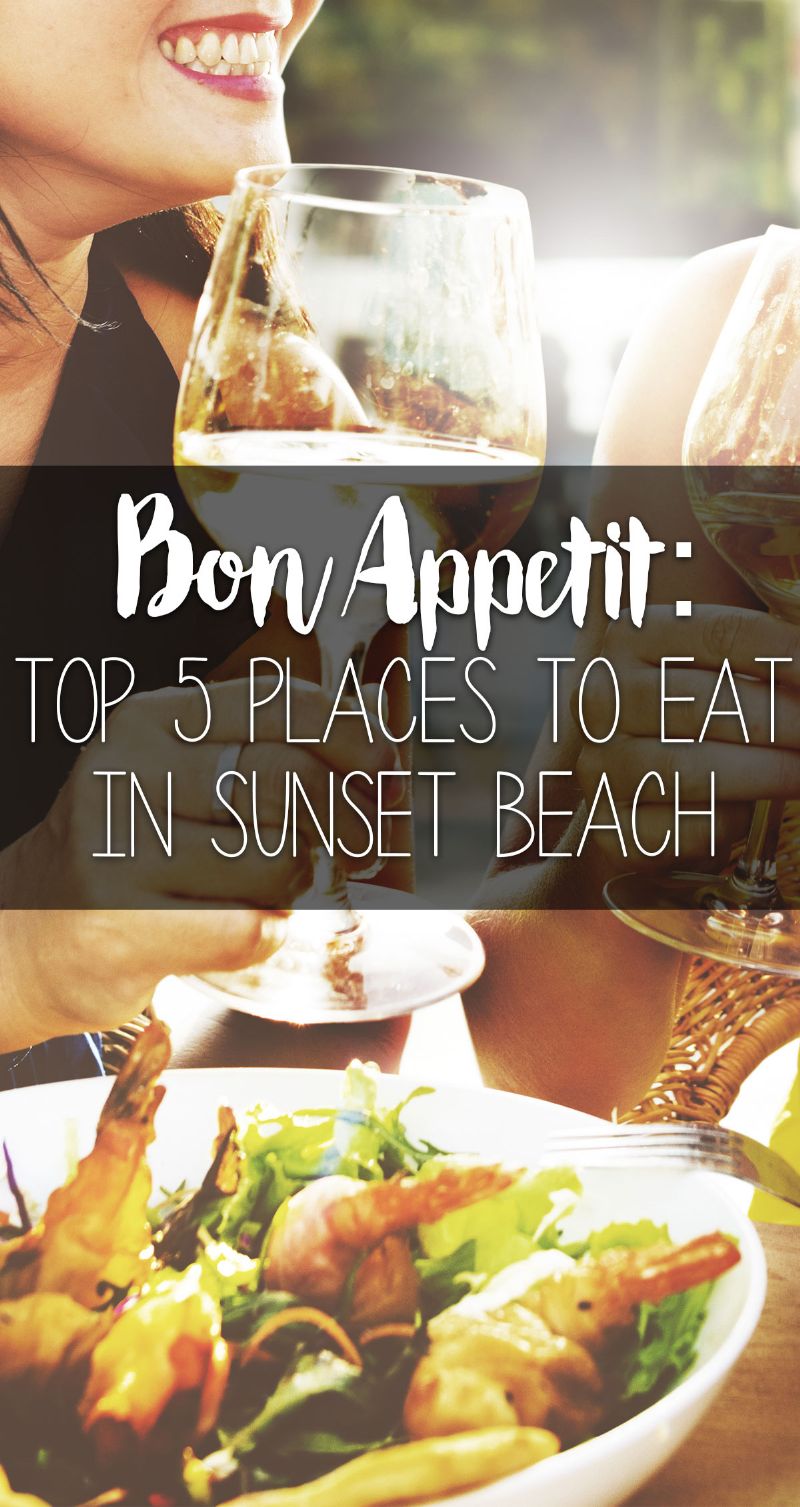 Comment on this post!