---
Beach Bag Essentials for A Perfect Sunset Beach Day
Posted On Monday, April 4, 2016
---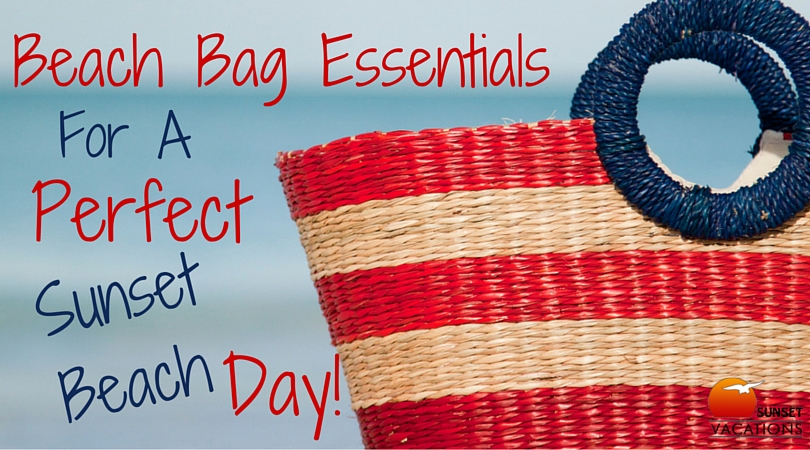 Your vacation rental is booked, car is loaded up and you're ready for a trip to the beach. While you're packing, why not go ahead and pack your beach bag? When you arrive at your destination you can drop your luggage, grab your beach bag and finally put your toes in the sand. No digging through luggage to find your swim suit, towel and suntan lotion. It'll already be packed and ready. We've compiled an easy list of must-haves for your beach bag below:
Swimsuit- unless it's already on your body you are going to want one so you can cool off in the salty surf.
Hat- it is so important to protect your hair and skin.
Sunglasses- are obviously a must when spending the day at the beach.
A good book- there are few pleasures in life like reading while you soak up the vitamin D.
Sunblock- for best protection apply sunblock when you get dressed, and put extra in your bag to reapply at regular intervals through the day.
Camera- you never know when you'll see a dolphin, or just snap a shot to remind you later of your fun day.
Music Player & Earbuds- you'll want some good beach tunes to listen to while you play in the sand.
Beach Towels- the bigger the better, and not only are the a good place to lay down they are handy for drying off on the way home.
A little cash- just in case, you never know when you will need some ice cream!
Bottled water- it is so important to stay hydrated. Heat stroke can ruin a good vacation.
Snacks- some of our favorites are carrots, celery, apples, and oreos.
Quart and/or gallon size bags- help keep our beaches clean and be sure to use these bags for your trash. They are also handy for treasures and wet bathing suits.
Baby Powder- It works like a miracle to remove sand from skin...we promise!
If you are looking for something a little more share worthy then look no further, we have the perfect reminder list for you right here: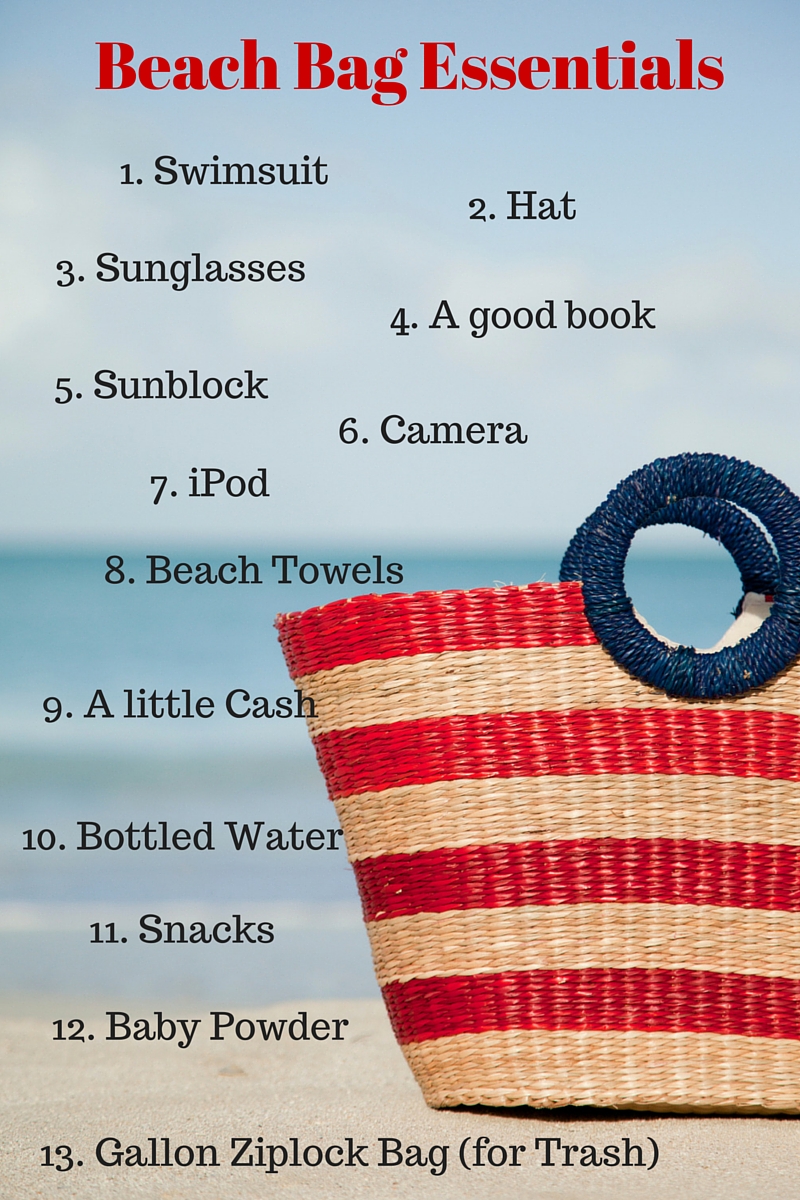 Now you are ready to hit the beach without worrying about whether or not your forgot something! Sit back, relax and enjoy the breeze!
Comment on this post!