---
All the Best Spring Events Blooming on Sunset Beach, NC
Posted On Monday, February 25, 2019
---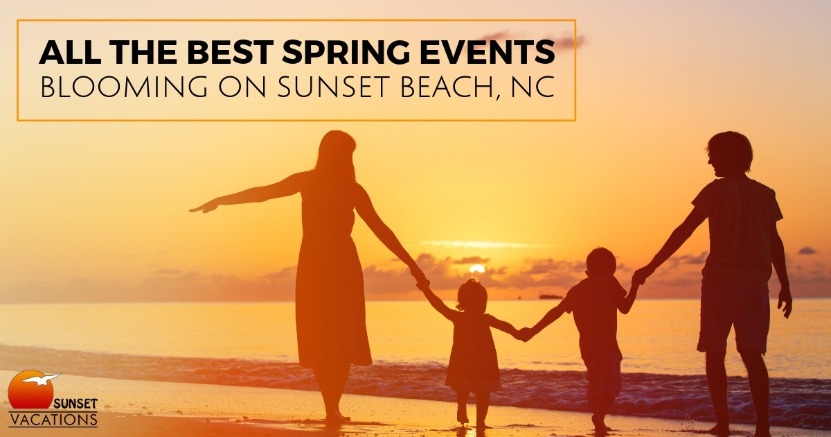 Just imagine yourself here at Sunset Beach ... enjoying your relaxing Sunset Vacations beach house, staring at the ocean, and feeling the warming breezes of the Atlantic. Cruise the beaches for seashells left abandoned after a rollicking spring thunderstorm. Head out to a delicious lunch at one of our awesome local restaurants, not yet bursting with summer crowds. Then, come hang out with us locals at one of these exciting events, sure to put some spring in your step!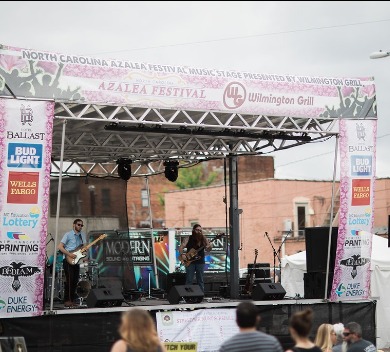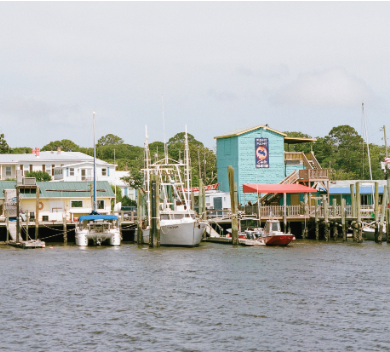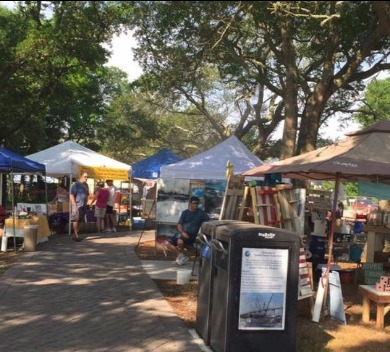 April 3-7
There are too many events and festivities to list here! Please check the website for details.
North Carolina Azalea Festival:
North Carolina Azalea Festival
Each April, a full week of natural beauty, big-name entertainment, festive galas, fun family events and Southern hospitality come together to showcase the charms of the Wilmington area. Read the
visitors guide
to get the inside scoop on the schedule, where to park, and other FAQ's.
April 6-7
Events all day...check website for the 2019 schedule
Music Stage and Beer Garden
15 S 2nd Street
Wilmington, NC 28401

Waterfront Street Fair Music & Beer Garden
The Waterfront Street Fair (part of the NC Azalea Festival) features plenty of entertainment with our special areas such as the Children's Area, Multicultural Area, and Music & Beer Garden! The Fair provides an array of food options and shopping opportunities with over 250 vendors. Make sure you check the website for an updated list of performers and to find out the schedule of events.
April 19-20


Friday 10:00 a.m. – 5:00 p.m. Saturday 8:00 a.m. – 4:00 p.m.
130 East West Street
Southport, NC 28461
Southport Spring Festival
Please come out and welcome spring in style at the Southport Spring Festival, a tradition for more than 25 years. Running from 10am until 5pm on Friday and 10am until 4pm on Saturday, this festival features a wide variety of activities such as musical entertainment, handmade arts and crafts, children's activities, azaleas and other plants for sale, and food vendors. There will also be a 5k Run/Walk.
April 25


10:00 a.m. – 3:00 p.m.
Sunset Beach Town Park,
206 Sunset Blvd.

Sunset Beach Waterfront Spring Market
The Sunset Beach Waterfront Market is the best place to shop for handmade items and pick up some fresh produce, all while enjoying the beautiful Sunset Beach Town Park and local atmosphere. The "Spring Market" will be held on April 25th from 10am - 3pm.
Starting on May 2nd, the weekly market will be every Thursday from 9am - 1pm (until October 10th).

April 26 - 27


Friday 6:00 - 8:00
Saturday 10:00 - 4:00
6680 Barbeque Rd.,
Ocean Isle Beach, NC 28469
Grissettown Longwood Wine & Swine BBQ Cook-Off
Friday Night: Friendly Wing Competition between Cook-Off teams and Grissettown Longwood Fire and Rescue will be selling wings. No Charge for Friday evening.
Saturday: BBQ Cook-Off Competition. $5 admission includes tasting tickets for samples and ticket for choosing people's choice award
April 27 - 28


Events start at 9:00 am both days
Jordan Blvd
(Under Holden Beach Bridge) Holden Beach, NC 28462
Day At The Docks Festival
Vendors, food, live music, hermit crab races, and activities for the whole family. FREE
"Days at the Dock is the Holden Beach way to kick off the Spring and start the vacation season. Enjoy many arts & crafts vendors and food vendors, live music & entertainment, a cardboard box paddle race, hermit crab races, and the world famous "Bopple Race." Lots of activities for the entire family and a children's area for the kids. The Cardboard Box Paddle Race and Hermit Crab Races will be on Saturday and the Family Fun Run and the Bopple Race will be on Sunday."
April 27


11:00 am - 6:00 pm
868 Persimmon Rd
Calabash, NC 28467
A Taste of Calabash
Join the town of Calabash in celebrating the 4th Annual Taste of Calabash Festival. The town proudly embraces the title of the "Seafood Capital of the World" for its famous Calabash-style seafood. Come enjoy great food, arts and crafts vendors, music, children's activities and more! To participate in the local restaurant food sampling, purchase a Taste of Calabash tote bag. Get this "ticket" presale for $8 at many local stores or $10 at the event.
May 16 - 19
Various events:
Click here to purchase tickets and see options.
503 Market St
Wilmington, NC 28401

Wilmington Wine and Food Festival
The Wilmington Wine & Food Festival brings together top area chefs with the best of the wine, beer, and spirits industry to celebrate and advance public appreciation for great food and drink. The festival provides a diverse range of epicurean experiences showcasing the area's unique and rich culture and history.
Don't miss these exciting events and the opportunity to sample hundreds of different wines and beers throughout the weekend paired with scrumptious bites from many of our best locally owned restaurants, caterers, and food trucks! Meet the chefs, wine makers, importers, and industry reps ready to share their knowledge and love for their craft.
Comment on this post!