---
7 Things to Be Thankful For This Thanksgiving in Sunset Beach
Posted On Monday, November 6, 2017
---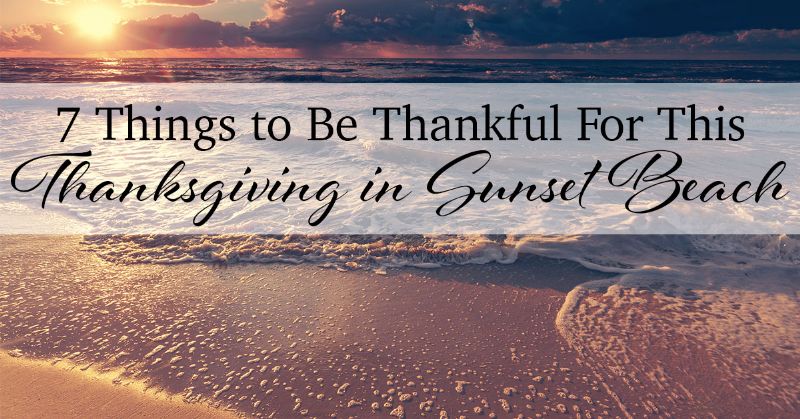 Thanksgiving in Sunset Beach (and everywhere else, really!), is a time full of laughter, family fun, and good food. It is also a time to reflect on some of the things you are most Thankful for at this time of year. We all have the special things we are thankful for that are unique to us: a new job, a raise, a new car, etc. There are a few things, though, that we can all be universally thankful for. Especially if you are enjoying Thanksgiving in Sunset Beach! Here are 7 of those top things to be grateful for this time of year.
1). The Beach Lifestyle
When you come to Sunset Beach, you get to make the beach lifestyle your own - including amazing beach hair! - for the time you are visiting us over Thanksgiving. You get to "own" a little slice of paradise for the time you stay in one of our beautiful vacation rentals in Sunset Beach. Which means you will have the sound of the ocean as a soothing sound track to your beach life, sand squishing between your toes and rubbing all your stresses away, and the beautiful stars at night being magnified by the softly rolling ocean beneath them...and you will have them as your very own. 
2). A Beach Vacation
A beach vacation is always something to be thankful for! After all, it means that you get to be off of work! And away from the normal hubbub of school and after school activities and after-work chores. Plus, a beach vacation means that you get to indulge in the beach lifestyle! Which is always something to be thankful for.
3). A Spacious Rental
Space to spread out in, space to absorb your kids' noise, space to find a little peace and serenity. Roominess is always something to be thankful for! When you reserve a stunning vacation rental for your Thanksgiving Sunset Beach vacation, it is also something you can ensure that you and your family will be able to have for yourselves this Thanksgiving.
4). A Warm Home
Not everyone gets to have a warm home (or cool home!). Including over half a million people in the US itself. This Thanksgiving is a perfect time to stop and think of the homeless all around the world. (And to do more thank think - donate to a worthy charity if you feel so moved!) And then wrap your loved ones in your own loving, warm home.
5). Fall Weather
Ah, fall weather is divine! Cool. A bit breezy. Full of beautiful color and the excitement of change. Fall weather makes everything more beautiful, from holidays to holiday homes, to family get togethers! Since Thanksgiving is right in the middle of the fall, it is the perfect time to be thankful for the changing weather that brings excitement and renewed energy into the air and into your life.
6). Good Food
Thanksgiving is all about family and food! We think for months about the Thanksgiving menu, coming up with new sides and tweaked desserts to wow the whole family. With the beautiful spread of food on the Thanksgiving dinner table, this holiday is the perfect time to sit down and reflect on how thankful you are for all the delicious, warm dinners that you get to indulge in every night. And how thankful you are that you get to go to bed full, when there is so much famine in the world.
7). Family
This reason to be thankful this Thanksgiving should probably be first! But today we decided to save the best for last. Family is what Thanksgiving is all about (and food, of course, but family is at least a little more important!). Thanksgiving is the perfect time to reflect on all the beautiful things you have been able to do with your family this year. All the hard moments you have gotten through together. And the success you have celebrated together. How you have supported and loved each other. Sunset Beach over the Thanksgiving weekend is the perfect place (as well as time) to reflect on how you love your family while treating them to a much needed beach vacation!
If you need any more reasons to indulge in a Thanksgiving in Sunset Beach with us here at Sunset Vacations, check out this blog post here. We can't wait to have you relish your Thanksgiving here with us! Book now before it is too late.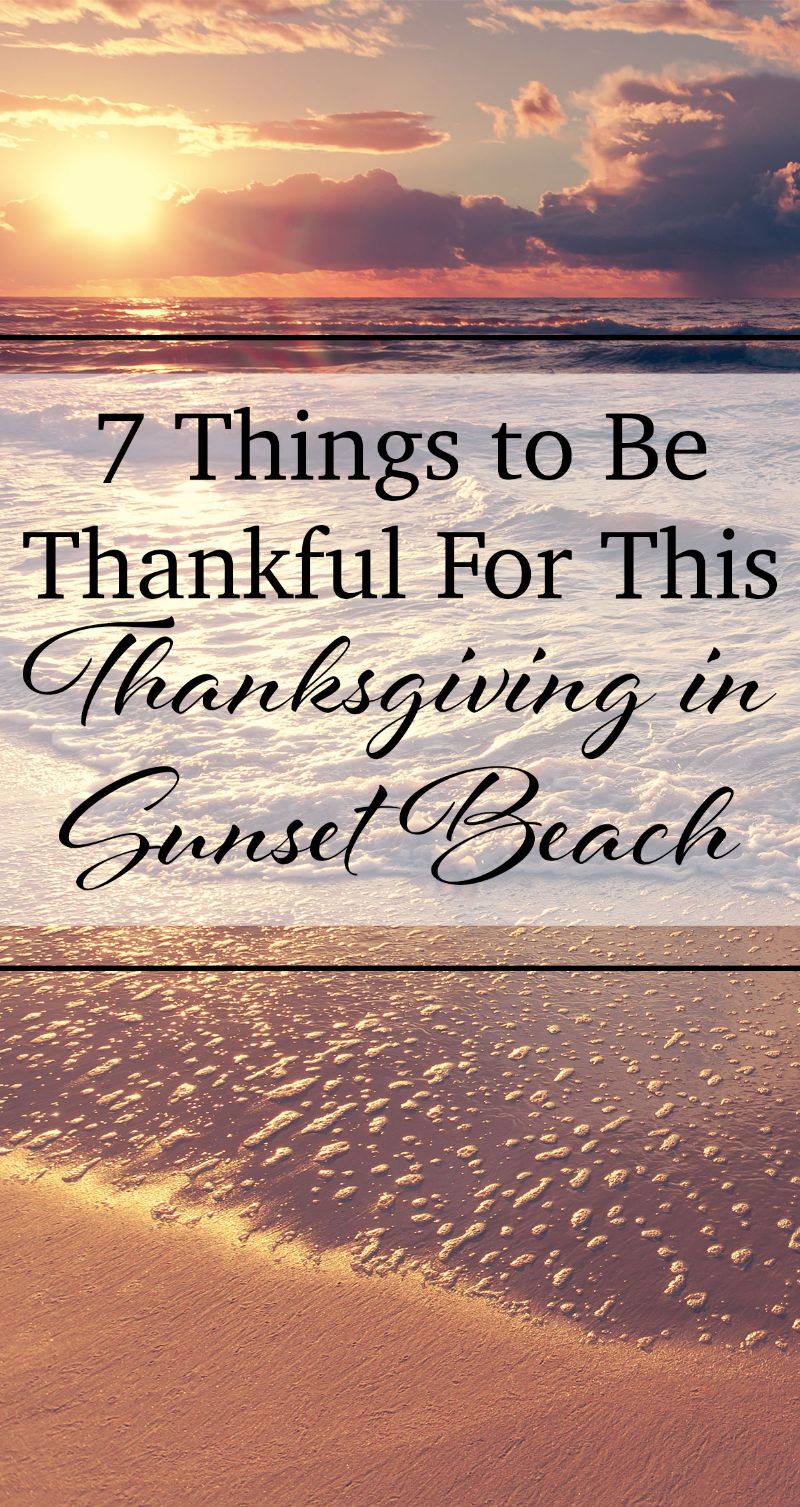 Comment on this post!