---
5 Easy Tips for Sun Safety During Your Sunset Beach Vacation
Posted On Monday, June 27, 2022
---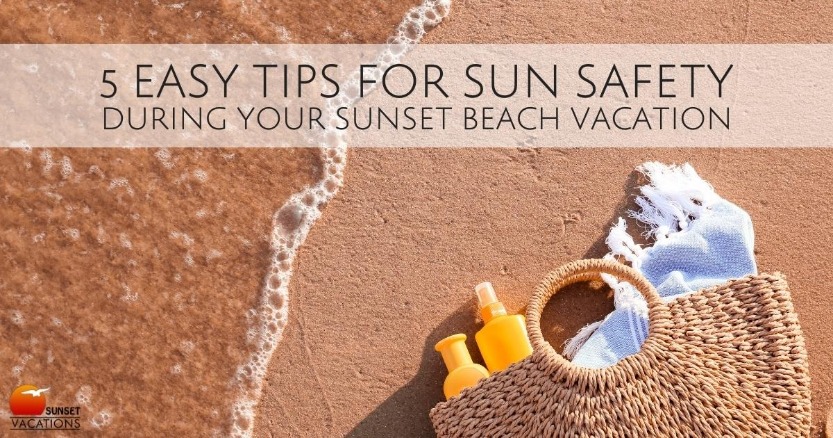 Sun and beach go together like peanut butter and jelly. No matter the time of year you are taking your Sunset Beach vacation, you are bound to encounter the sun. Even cloudy days on the coast can produce enough UV light to cause damage to skin if the necessary precautions aren't taken.
Luckily, allowing yourself the full benefits of responsibly sun exposure is super easy. Follow our five tips for sun safety during your next Sunset Beach getaway. We want you to be safe and have tons of fun!
1. Sunscreen
Applying sunscreen may seem like a no-brainer. However, finding the right sunscreen for your needs is only the first step. Sunscreen should be applied before sun exposure. While you are putting on your bathing suit is the perfect time to apply. Putting on sunscreen before you hit the beach also saves you the struggle of the sunscreen and sand conundrum. If you are using a spray sunscreen, apply outdoors. This will give you a well ventilated space and also save you from slippery floors in your vacation rental. Be sure to apply your sunscreen under straps and bathing suit lines, to the tops of feet, to the back of knees, and the face (be sure to get those ears!). If you have your hair parted and aren't going to wear a hat, be sure to apply to your exposed scalp.
Once your sunscreen is initially applied, the trick is to REAPPLY often. Consider that you will likely be sweating, swimming, and toweling off. For maximum protection, an article from John Hopkins Medicine recommends that you reapply every two hours. The same article states that no sunscreen is perfect, and suggests relying on other methods to keeping yourself sun safe. Keep reading for a few of those ideas.
2. Shade
There is no doubt that the summer sun can be intense here in coastal NC. Finding or providing your own shade can make a difference towards an enjoyable day at the beach. A quality beach umbrella with a screw-in umbrella stand is all you will need for a group of two or three people. Try to find an umbrella that tilts so that you can find shade no matter what position the sun is in.
If you have more individuals in your party, then you may want to consider a shade tent. Traveling with a baby? There are infant and toddler canopies that are designed to offer your little ones much needed shade.
Many of our Sunset Beach vacation rentals also offer outdoor shady spots for you to enjoy.
3. Hat
Provide yourself with the easiest form of shade with a hat. Wide brimmed hats will keep the sun off your face, ears, neck, and even shoulders. A ball cap or visor will help to keep direct sunlight off your face.
No matter what kind of hat you prefer, be sure to consider it an essential item in your beach bag. BONUS: A breeze can almost always be expected at the beach. A hat will help to keep you hair from blowing around.
4. Cover Up
A light-weight long-sleeve shirt can do wonders for sun safety. Give your skin a break from the sun by slipping on some sleeves. Ladies should consider a long-sleeve cover up that will also cover part of their legs. Try to find something that is easy to throw in your beach bags and dries quickly.
A light cotton button-up or a fishing-style shirt is also a great idea. Don't forget to have an option for the children in your family also.
The great thing about a dress-style cover up or a long-sleeve shirt is that they can also be used after the sun goes down and the temperatures drop... or worn for a different occasion (like going to eat a fresh seafood dinner!).
5. Avoid
If you would like to guarantee that your family won't be exposed to the hottest and most direct sun during the day, avoid it! Plan your day so that you enjoy a few hours of early morning beach fun. Then, head indoors around 11:30am. This will give you time to clean up, prepare and eat lunch, rest, rehydrate, play a card game on the deck, or even do a little sight seeing or shopping. Later that evening, around 5:30 or 6:00pm, you can head back out for several more hours in the sand and surf. During the summer months this will give you a few more hours of daylight, and it will offer you a front row seat to gorgeous sunsetting skies.
There you have it! Our five best tips for sun safety. We hope that these tips will help you and your family have the most epic beach vacation ever (without the sunburn!).
If you would like to find a Sunset Beach vacation rental with beautiful covered spaces and easy beach access that is just right for your family, click here!
Want to read more about staying safe and having fun at the beach? Click here to read another one of our popular blog posts.
Comment on this post!